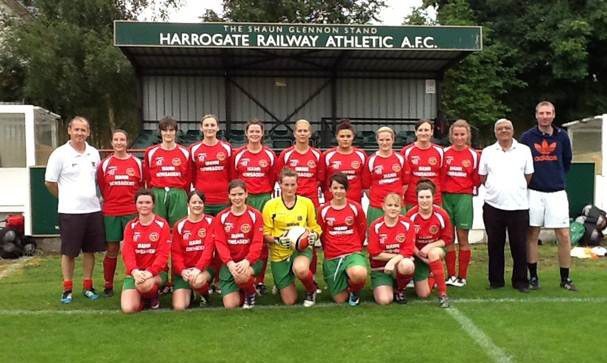 Harrogate Railway Ladies played host to Hemsworth Ladies today and came away with a thumping win, scoring 16 goals and conceding none.
In what became a very one sided game after only 15 minutes Railway were 4-0 up and were just tearing Hemsworth apart from all angles. In fairness to Hemsworth they did try and put in some very strong tackles and had two chances in the first half but all said and done Railway were, bye far, a more disciplined and well organised team and with goals from Nicola Hadley, Dee Swales 2, Jodi Hodgson 2 and Hannah Campbell 3 Railway went into the half time break 8-0 up.
After only 2 minutes into the second half Rails captain Aly Purvis drove a thunderous shot from 30yrds out to open the scoring again, and with out doubt the goal of the match. Again Hemsworth were no match for the Railway ladies who were winning every thing on the park, with a brilliant performance for the whole game left back Cat Purvis got player of the match, Railway just drove on with more goals from Hannah Campbell 1, Nicola Hadley 2, Jodi Hodgson 3 and Lauren Taylor 1, railway made it a complete rout. It could have been a lot more as 4 shots went skimming of the post and one shot that clearly crossed the line was deemed not to have done so by the referee!
Next week the ladies are away at Wakefield again in the league.