Harrogate Rugby team XV had the lion's share of possession throughout the match and consistently attacked. However, Penrith's rugged defence held firm for most of the game and they certainly made the most of every hard earned scrap of ball. They got into Harrogate's 22 twice in the first half hour and scored each time to briefly go into a 12-7 lead.
After 15 minutes of non stop attacking, a sharp Oli Denton break nearly put Arnie Ellison in for a try. The ball was recycled and Jimmy Browne drove over to score from a forward drive. Mike Aspinall added the conversion. The Harrogate attacks continued with some probing breaks from scrum half, Phil Wickham but Penrith counter attacked from a Harrogate knock-on. Full back, Ed Swale dived over in the corner and Steve Wood landed an excellent touchline conversion.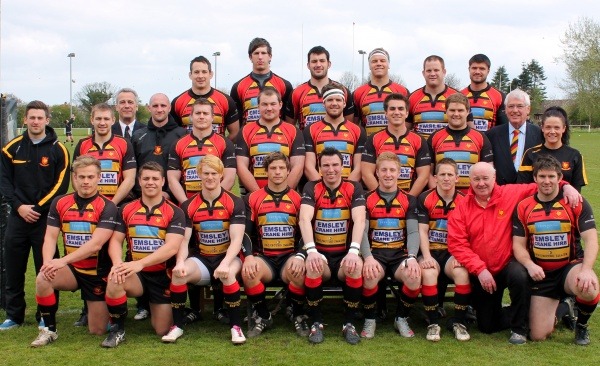 Harrogate continued to mount pressure but Penrith set up a succession of driving mauls and Ian McDowell crashed through to score. Wood was faced with another touchline conversion which unluckily bounced away off the upright. The rest of the half was all Harrogate and, just before the break, Aspinall scored a converted try to give Harrogate a narrow 14-12 lead.
The same pattern of play continued in the second half but Harrogate's superior fitness started to tell and gaps appeared in the home defence. Ferocious midfield tackling, particularly from Sam Bottomley, snuffed out any Penrith attacks and the forwards won several crucial turnovers through Browne, Aarin Yorke, Tom Harvey, Tim Heaton, Dan Metcalfe and Nathan Smith. Aspinall scored his second converted try after prolonged pressure and the fourth, bonus point try came from substitute forward, Sam Brady who made a most welcome return to Harrogate from university rugby.
The fifth try could have come from prop, Metcalfe. A slick pass put him clear but he knocked on with the try line beckoning (80 metres away). The try eventually came from a great Bottomley midfield turnover. Kyle Dench carved a hole in the home defence and Heaton supported strongly to race clear and score.
Penrith
Swale, Littleton, Hawley, Sanderson, Bratton, Wood, Newton, Ryan Johnson, Stephens, Hodgson, Gardham, Hogg, McDowell, Thornton, Rumney, Price, Carr, Cartmell
Harrogate
Denton, Minikin, Dench, Bottomley, Ellison, Aspinall, Wickham, Metcalfe, Yorke, Browne, Harvey, Rob Johnson, J Brady, Smith, Heaton, Irvine, Maycock, S Brady
Referee
Mick Harris (Northern Division)