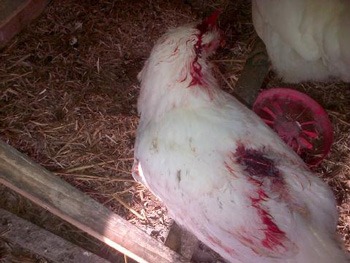 Yesterday morning (11 February 2013) several chickens were savaged by a dog on a property adjacent to Bilton lane.
The owner of the dog was confronted but refused to give either their name or address so the incident was reported to the police.
The dog owner ,who has short blonde hair and dog believed to be a shabby long hair Labrador type, was  last sighted entering The Avenue in Starbeck.
She is also believed to be aged around 40 years old and at the time was wearing a long black coat and silver trainers.
The incident occurred at around 9:30am near the allotments at the Knaresborough end of Bilton Lane, opposite the golf club on the main Harrogate to Knaresborough Road.
The woman is urged to contact the police without delay, or anyone who can help identify the woman, please contact the police as soon as possible on 101 quoting reference 12130023305