At this critical time CapeUK celebrate and highlight the value of arts to the lives of all children and young people
Hundreds of people gathered in the heart of Yorkshire for ArtsLIVE!, which was organised by CapeUK (one of Arts Council England's 10 regional Bridge organisations) others tuned in from across the world to collectively celebrate the value of arts to the lives of all children and young people.
Young people, schools, colleges, youth justice settings and representatives from arts and cultural organisations gathered together for ArtsLIVE!, they saw outstanding performances of dance, music, poetry, and animation from right across the region.Throughout the event, teachers, artists and young people shared their experiences to highlight the positive impact of the arts and culture on young lives.
For those who are unable to attend the event, ArtsLIVE! was live streamed for an hour via Pilot-Theatre.TV and watched by hundreds of people from across the world.Films from this event will be available on CapeUK's website very soon www.capeuk.org.
The morning was compared by award-winning poet Andrew McMillan alongside Leeds-based performer and choreographer, Lucy Hind. Actor, Jack McMullen also took to the stage to talk about his career journey as a young person in the world of television and stage.Jack is best known for his role as Finn Sharkey in Waterloo Road, as well as appearances in Brooksideand Grange Hill.
CapeUK organised this event as an opportunity to celebrate the achievements of the schools and other organisations that are enjoying Artmark success.149 schools, colleges and youth justice settings in Yorkshire and the Humber were awarded Artsmark in 2012.Artsmark is Arts Council England's flagship programme which enables schools and other organisations to evaluate, strengthen and celebrate their arts and cultural provision.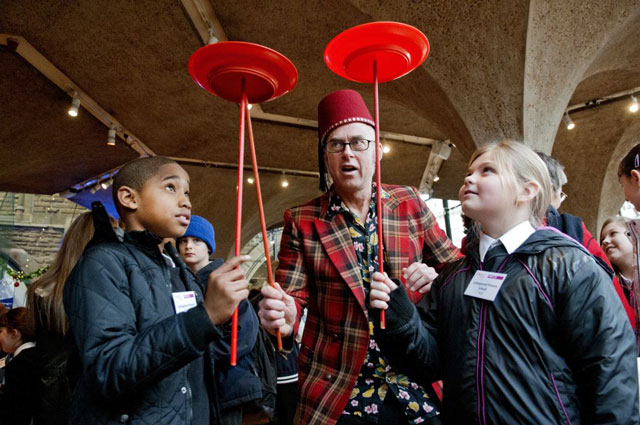 But this event became an even bigger statement about the value of arts and culture for all the children and young people of Yorkshire and the Humber at this critical time.
The performance took place at St. John Fisher Catholic School with St. Peter's C of E Primary School joining the SJF per- formance, showcasing their dance and Taiko style drumming on dustbins.
As well as a live audience of 250 parents, guard- ians and pupils, the performance was streamed live to the delegates at the ARTSlive! Event in York. The performance was not confined to the North Yorkshire region however.
The show was available to all who tuned in to the Pilot. TV broadcast across the globe.
Mrs. Claire Noonan, Head of Dance at St. John Fisher said:

This is an incredible opportunity to showcase our work to north Yorkshire and the wider community. It is an absolute privilege to be invited to participate in such a prestigious event.
The English Baccalaureate (E-Bacc) is reducing opportunities for young people to experience the arts.A recent IPSOS Mori survey (2012) shows that drama and performing arts courses for 14-16 year olds have been dropped in nearly a quarter of schools and art courses withdrawn by 17 per cent.
Pat Cochrane, Chief Executive of CapeUK said:

There is worrying evidence that the introduction of the E-Bacc is leading to a significant reduction of arts and cultural opportunities for children and young people. More and more leaders from the cultural and creative industries as well as scientists and inventors are expressing their deep concerns about the impact on children's creative development which is so important for our future.

It's really timely that ARTSlive! showcased inspiring examples of schools in our region that are offering rich arts learning for children as well as the wonderful achievements of the children and young people in Yorkshire and the Humber.
At ArtsLIVE! Cluny Macpherson, Regional Director of theArts Council in Yorkshire said:

Arts is vital in schools because we don't have lessons in, for instance- love or sadness or joy.
Attendees said:

The arts are really important for building the self-esteem of the children at our school. They've made such a difference to the confidence of the two children we've brought along today.

There's such talent in our young people. It's lovely to get a chance to see that.