Harrogate cruised into an early 3-17 lead but Waterloo brought themselves back into the game with a late 1st half try.
The conversion made it 10-17 and an early 2nd half penalty goal brought Waterloo's score to within 4 points of Harrogate. This sparked concerted Waterloo attacks for most of the half but Harrogate's excellent defence held firm. The ever dangerous Harrogate backs then scored twice in the final 10 minutes to win by 5 tries to 1 and deny Waterloo what would have been a well deserved bonus point.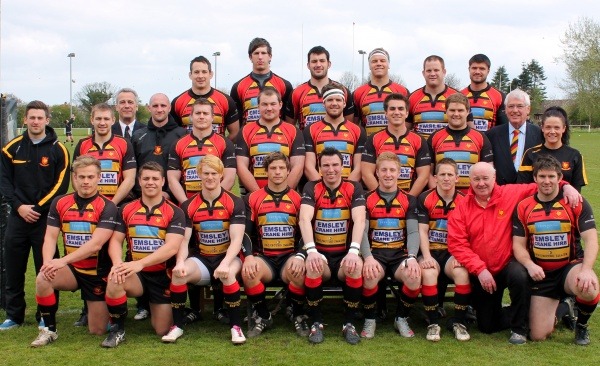 The first score came from clean line-out ball which was quickly spun across the line. Oli Denton joined from deep to create an overlap and deliver a perfectly timed scoring pass to Noel Minikin. A Harrogate offside offence led to a penalty goal for Waterloo's Liam Reeve and, almost immediately, Harrogate's prop, Dan Metcalfe was sin binned for coming in from the side. The attempted penalty bounced off the upright and Harrogate counter attacked. Just before Metcalfe came back on, quick interpassing led to an opportunistic Aarin Yorke try.
Waterloo's inspirational captain, Alick Croft, was the next player to be yellow carded for a dangerous tackle. Harrogate took full advantage of his 10 minutes absence to mount more attacks. An incisive Callum Irvine break was well supported by Kyle Dench for a fine try, converted by Irvine. Croft's return to the field inspired the Waterloo pack to batter away at the Harrogate defence and, just before the break, a 5 metre attacking scrum led to a converted try from Alex Reed.
The home pack started the second half in the same vein but failed to breach the Harrogate defence. Harrogate's captain, Jimmy Browne, had sustained a knee injury in the warm up but was still inspirational at the heart of the defence. Second row, Tom Harvey, put in a phenomenal amount of work in defence and attack. An attempted long Harrogate penalty kick missed touch and more home attacks followed. Harrogate went offside in defence and Reeve's penalty goal made it 13-17
Harrogate's defence seemed to be holding out desperately for a close win when they were awarded a penalty for a Waterloo crossing offence. The pack set up a brilliantly controlled 40 metres driving maul and quickly released ball led to a powerful Dench midfield break. Sam Bottomley was in support to score in the corner and earn Harrogate's bonus point.
As time was running out, it was that man Bottomley who again turned defence into attack with a dazzling, long break. Minikin was in support to score his second and Harrogate's fifth try, converted by Irvine.
Waterloo
Reeve, Cunningham, Colbourne, Lunt, O'Brien, Payne, Holloway, Gibney, Croft, A Harvey, Frost, McKie, Nevin, Nolan, Weare, Reed, Bell, Lowes
Harrogate
Denton, Minikin, Dench, Bottomley, Ellison, Irvine, Wickham, Metcalfe, Yorke, Browne, Harvey, Brady, Wilson, Smith, Heaton, Aspinall, Maycock, Spencer.
Referee
Phil Rainey (Northern Division)