Art makers at Henshaws Arts & Crafts Centre have been hard at work creating trophies for the Social Enterprise Yorkshire and the Humber Awards 2012.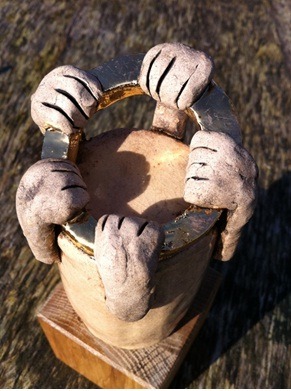 The trophies have been carefully crafted by Art Maker Grahame Cook using stoneware clay highlighted with manganese oxide. They depict six hands holding a beautiful gold lustre ring and are mounted on an oak plinth.
Over 100 people attended the awards ceremony at the end of November, where social enterprises were recognised for their commitment to a social mission to aid local communities.
Alex Sobel, General Manager of Social Enterprise Yorkshire and the Humber, said:

We were really happy with the trophies which reflect the ethos of Social Enterprises as organisations working together for social benefit.

The fact that Henshaws themselves are a social enterprise working with people with disabilities is an added bonus showing how diverse a sector social enterprise is.