The headteacher of Rossett High School in Harrogate has explained further on the roll out of iPads amongst pupils.
Headteacher, Pat Hunter said:

We have consulted with pupils, parents, the board of  governors and student council, gaining a positive response – we also looked at the research and the benefits to the children.

We haven't demanded that parents buy iPads, but given an option to buy through the school at a preferential rate. This was done purely to give an option to buy at a good price and not to pressurise to buy.

There will also be an option, with full details to be announced in January, where an amount can be paid per month to allow a child to have an iPad. Again, there will be no pressure placed on parents to join.

If a child does not have their own dedicated iPad they won't be excluded as iPads will also be available during lessons when needed.
An iPad is not a laptop but instead facilitates student-centred learning – iPads compliment computers but do not replace them.
An iPad can engender active learning, enabling students to kinaesthetically connect with their work. They can engage using tactile element, using fingers to zoom, rotate in, pinch close, or swipe across. There are increasingly interactive and immersive apps to  facilitate this hands-on style of learning.
In addition, iPad mobility means that students can take pictures, record audio, and shoot video, in any number of places. They can create multimedia stories, screencasts how to solve maths problems and much more. Active consumption, curation, and creativity suit the device. Stand-up-and-deliver teaching does not, meaning it compliments current teaching.
Putting iPads into schools places them into an environment with teachers who understand that active learners, learn best.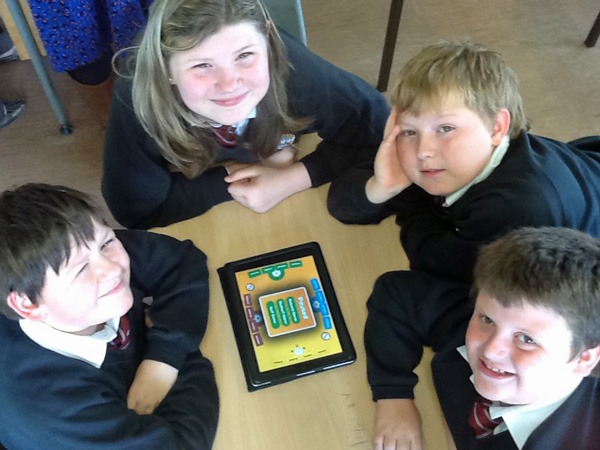 Headteacher, Pat Hunter answering specific questions:
1. What will the iPads be used for and what has driven the need for them?

Technology is changing rapidly – not just in education, but in the wider world. When our students finish school and go on to further education or employment, they will be using different technology and we feel strongly that it is part of our role as a school to prepare them for that.

Equally, our current pupils are the first generation of "digital natives" – they have grown up with technology and it comes naturally to them to use it in almost everything they do. As teachers, we need to communicate with pupils in the way which suits them best, and these days that often means using technology in new and different ways to help them engage.

From the work we have done so far, teachers have found iPads an effective tool for getting instant feedback on how well pupils have understood what has been taught so far, enabling them to adjust the rest of the lesson to make sure everyone gets as much out of it as possible.

Practically speaking, iPads will be used in all sorts of different ways, including distributing information to pupils, helping them to access new resources and giving them more opportunities to work together. The exact uses will vary between subjects, but the experiences of other schools, combined with the research we have done, have convinced us that the benefits will be enormous.

It's only when you see them in action that you get a true understanding of how well they can work and how much pupils will get out of using them. Of course, they will not replace traditional methods such as essay writing, sitting exams and engaging with other pupils and teachers – they are just one of the many options available which contribute to pupils' experiences.

For more on the effectiveness of using iPads and other technology in the classroom, look at this piece by the Guardian: www.guardian.co.uk/teacher-network/2012/aug/13/schools-secondary-schools
2. If a child doesn't have a personal iPad will they need to use school iPads in break time?

No – pupils will always be entitled to their breaks. They will be given iPads to use during lessons so that they can all participate, but any homework or work set for outside lesson time will be available to all pupils, whether or not they have iPads, just as it is now. We currently use systems like Edmodo, which can be accessed online from any tablet, laptop or PC, for anything to be done outside the classroom, and that will continue to be the case.

If students wish to do so, they can use iPads after school in the resource centre to do their homework. The resource centre has always been open for pupils who prefer to do their homework there during breaks or after school and it will continue to be open to them, whether they choose to use it or not.
3. Can children use their own devices/ existing laptops maybe ?

If children already have an iPad or iPad mini, they can bring that into school and use it during their lessons. However, because of compatibility issues, it's not possible for other devices to be used in the same way – it would be like having a different text book which covers the same topic, but in a completely different way. Anyone who has a different tablet or laptop at home can borrow a school iPad for the times when they're being used in lessons.
4. Are there any subsidies or options where the iPad is bought for the child (a grant rather than a hire purchase type arrangement)?

We have set up a partnership with the eLearning Foundation, which aims to help bridge the gap between the wealthy and the less well-off through the use of technology. It helps to provide access to computers, tablets and the internet for children from poorer backgrounds to ensure they are not left behind, and works with schools across the country – including Harrogate Grammar School. It offers a donation option, not a lease or buy scheme. All of these details will be fully explained to parents in January when the scheme is available.

However, for anyone who does not have an iPad, for whatever reason, they will be available at school so that pupils can use them along with their peers.
5. Parents don't have a clear picture of the reasons for the change, how have they been involved?

We first wrote to parents earlier this term telling them that we were planning to introduce new technology in classrooms, following a very successful trial and a lot of research by the school's leadership team. We have already been using the school's iPads in lessons for several months and we will continue working in this way for the rest of term and after Christmas.

However, we were aware that a number of parents were already planning to buy iPads for their children for Christmas, and we wanted to offer them the chance to do so at a much reduced price. If parents buy an iPad through the school for their child to use during lessons, they don't have to pay the VAT, which means a very significant saving – we wanted to pass that on this term, rather than waiting until after Christmas when many parents would have already paid the full price for them.

As well as sending out the initial information and the details of the offer we could give to parents, we held a meeting in school last week to give parents the chance to hear the full details and to ask any questions they had.

There will also be further information available in January about the scheme and the various options available to parents. Pupils will continue to use the iPads provided by the school until then, and those school iPads will still be available even after parents have had the chance to buy their own or join the eLearning Foundation scheme.

We are always more than happy to speak directly to parents who have any concerns or questions and they are very welcome to contact the school if they wish to discuss anything.