An outstanding year for the region's young people was marked at the 20th Yorkshire Young Achievers Awards, sponsored by McCormicks Solicitors of Harrogate, last night (Thursday 29 November).
The Personality of the Year Award at the gala dinner at Leeds United's Centenary Pavilion, presented by the Chairman of the Awards, Peter McCormick OBE, was dedicated to all of Yorkshire's Olympic and Paralympic medallists and received by double gold medallist Paralympic cyclist David Stone.
There were three winners from the Harrogate district: Elliott Marks took the Achievement in Education Award; Ashleigh Young won the Achievement in Management and Enterprise Award; and Rory Hoy was joint winner of the Achievement in the Arts Award. See below for more details.
The Awards mark the achievements of people aged 35 and under in seven categories, from the Arts to Management and Enterprise and are organised by the Yorkshire Young Achievers Foundation. The Foundation was established to support Yorkshire's deserving young people and the Awards, even before last night's event, have now raised a total of more than £900,000.
Peter McCormick said:

We have heard some hugely inspiring stories and some heart-rending accounts from our winners once again. What they have in common is that they are all young people of whom Yorkshire should be very proud.

We have also had tremendous support from businesses and guests at the Awards and we thank them wholeheartedly for helping us to support young people in Yorkshire.
The full line up of winners was:
Personality of the Year, sponsored by McCormicks Solicitors
Yorkshire's Olympians and Paralympians
The Awards honoured all of the region's young Olympic and Paralympic medallists with the Personality of the Year title. Previous Yorkshire Young Achievers Awards winners Alistair Brownlee and David Stone were among those recognised for their contributions to Yorkshire's medal tally of seven gold medals, two silver and three bronze for the Olympics and four gold medals, five silver and five bronze for the Paralympics.
Olympians Luke Campbell, Nicola Adams, Jessica Ennis, Alistair Brownlee, Ed Clancy, Andy Triggs-Hodge, Kat Copeland, Lizzie Armitstead, Nicola Wilson, Tom Ransley and Jonathan Brownlee and Paralympians David Stone, Hannah Cockroft, Danielle Brown, Claire Cashmore, Will Bayley, James Crisp, Karen Darke, Rob Womack and Aaron McKibbin were all lauded at the Awards ceremony, with David Stone collecting the award on behalf of the athletes and both Alistair Brownlee and Lord Coe sending messages on film.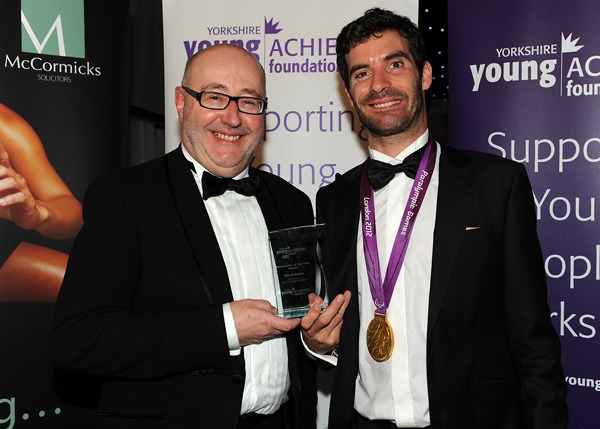 Youngster of the Year, sponsored by DFS Furniture Company
Evan Whitton, eight, of Silsden
Evan Whitton was born with Cerebral Palsy and was destined for life in a wheelchair until he had pioneering surgery in the USA last year. Evan underwent a Selective Dorsal Rhizotomy and can now walk for the first time.
2012 has proved an exciting year for the Hothfield Junior School pupil. In May he walked to school, half-a-mile from his home, accompanied not only by mum and dad Lynda and Andrew, sister Maya and brother Sam but also by Paralympian Hannah Cockcroft, who went on to win two gold medals at the 2012 Games.
Life became even more exciting for Evan when he was chosen as the Yorkshire and Humber Flame Ambassador for the Paralympic Games, collecting the flame at a special ceremony in Trafalgar Square where he met both the Prime Minister and the Mayor of London.
However, according to his Dad: "It is on the rainy days and the tough days that he constantly amazes us with his internal strength and determination. Each small step is shared with the local community of Silsden who have invested so much in us as a family. We are so proud of him."
Evan has now taken up the challenge of wheelchair racing, with spectators to his progress including none other than Hannah Cockcroft.
Achievement in the Arts, sponsored by the Yorkshire Evening Post
Joint winners: Mikey North, 26, of Scarborough, and Rory Hoy, 25, of Knaresborough
Coronation Street actor Mikey North was born and brought up in Scarborough, where his parents still live.
He loved acting from an early age and played in local theatre productions and at the National Youth Theatre before his major breakthrough playing Cock Dave in Bottle Universe at the Bush Theatre in London, for which he won Best Newcomer 2005 in the British Theatre Guide Awards. More theatre productions saw him working across the UK, with plays including Monster at the Royal Exchange in Manchester; Glen at York Theatre Royal and a national tour of Sing Yer Heart Out for the Lads.
He began working in television, including Waterloo Road, The Bill and Doctors, and has recorded a number of dramas for BBC Radio 4.
He joined Coronation Street as "bad boy" Gary Windass in 2008 and has shone in a number of strong story lines, one of them leading to a nomination for Villain of the Year in the British Soap Awards.
Rory Hoy is an independent DJ, producer and film editor and hosts radio shows on various European stations. His latest album, Hands in the Sky, was released on November 17 and he has made 30 short films, three of which have been shown on BBC television, and won a number of Awards.
He is also autistic and is Youth Patron of the London-based charity, Resources for Autism. He has made a film, Autism and Me, which, accompanied by a booklet, is used widely in schools and by professionals worldwide to promote understanding of autism. In it, he explains what having autism means for everyday functioning. He also goes into places where they show the film to talk about his autism and answer questions.
Rory gets letters and emails from all over the world and one mother from America said after she watched his film, she felt she knew her son for the first time, something Rory describes as "pretty awesome".
Achievement in Management and Enterprise, sponsored by The Wetherby Whaler Group
Ashleigh Young, 18, of Harrogate
Ashleigh Young knew what she wanted to do from a very young age, focusing on her plan to open her own beauty salon when she left school.
Even while still at Harrogate High School, she was taking courses to learn the skills and techniques she knew she would need in the beauty business, as well as practising on willing family and friends.
She launched Belles and Beau in a room above a hairdresser's in Harrogate at the age of 16, building up her business by word of mouth and through social media, including Facebook, until a year ago she achieved a move into her own premises off Ripon Road.
Her willingness to offer clients the ultimate beauty experience and to try new techniques and products has brought her a significant customer base and her aim is to open her own chain of beauty salons, initially in Yorkshire and then across the country.
Achievement in Sport, sponsored by Leeds United Football Club
Jonny Marray, 31, of Sheffield
Jonny Marray became the first Britain to lift the Wimbledon men's doubles trophy since 1936 when he triumphed with Dane Freddie Nielsen.
Jonny grew up in Sheffield, attending All Saints Catholic High School. He still lives in Sheffield and trains at Hallamshire Tennis Club in Ecclesall Road where his brother, Dave, is head coach. His triumph was greeted with a homecoming reception which packed the club.
He began his career playing singles but had to quit after surgery on his shoulder in 2007.
He and Nielsen were wild cards at Wimbledon and defeated Robert Lindstedt and Horia Tecau, seeded fifth in the championship, 4-6, 6-4, 7-6, 6-7, 6-3 in three hours and 20 minutes to win the title.
They went out of the the semi-finals of the Barclays ATP World Tour Finals earlier this month and Nielsen has now stated that he will concentrate on his singles career in the immediate future.
Achievement in Education, sponsored by Martin Penny and OHS
Elliott Marks, 16, of Harrogate
Elliott, a pupil at St John Fisher School in Harrogate, has Cerebral Palsy and has had surgery three times to try to correct his right hand and arm but remains unable to use them. Despite this, he is a keen sportsman, captaining the Under 16s Cerebral Palsy North Yorkshire football team, playing table tennis for his school in a local league and being a keen cricket spectator.
His dream is to play at the Paralympics and he would like to become a sports coach for disabled people when he leaves school if his other passion, Information and Communications Technology (ICT), doesn't lead him down a different career path.
Elliott helps other vulnerable students at his school, giving assistance to other ICT students but mainly mentoring other students with physical disabilities. He is also working as a sports ambassador with children in local primary schools, helping them to make the transition to secondary school.
Unsung Hero, sponsored by Lunchbox Theatrical Productions
Dr Kate Granger, 31, of Wakefield
Dr Granger is an Elderly Medicine Registrar working at Pinderfields Hospital in Wakefield and has been diagnosed with terminal cancer. Kate, who is Huddersfield-born and bred and now lives with husband Chris in Wakefield, is the author of two books describing her experiences with cancer.
Kate, who had wanted to be a doctor since she was eight, was diagnosed with a rare and aggressive terminal form of sarcoma in August last year.
The books are The Other Side which details what life is like for a cancer patient and is aimed at healthcare professionals to help them understand what the patient is going through; and The Bright Side which examines Kate's own thoughts and feelings.
Kate, who has given up on chemotherapy, has devised a "bucket list" of things she wants to do while there is still time and the proceeds of the sales of the books will go to the Yorkshire Cancer Centre for which she wants to raise £50,000.
Other things on Kate's list which she has already achieved include visits to New York, Paris and Barcelona, tea at The Savoy and completing the Jane Tomlinson Walk for All 13-mile Windermere event.
Kate, whose Twitter profile describes her as "always trying to look on the bright side of life" has, with the help of husband Chris, already raised tens of thousands of pounds for the Yorkshire Cancer Centre. Anyone who wants to help her can find out more at www.theothersidestory.co.uk