Harrogate have got out of jail with late winning scores on a number of occasions this season. However, an injury time penalty opportunity was narrowly missed and Percy Park deservedly won.
Harrogate started like a house on fire with driving attacks but threw squint at an early attacking line-out. A quickly taken Park penalty was thwarted by an early Steve Maycock tackle and, although this was a first offence, he was yellow carded. Throughout the game, the referee took centre stage with a flow of penaltys and Park's Ashley Smith put them ahead from a Harrogate offside offence. Callum Irvine equalised the score when Park offended at a scrum but, just before the break, Harrogate went offside and Smith restored the visitors' lead.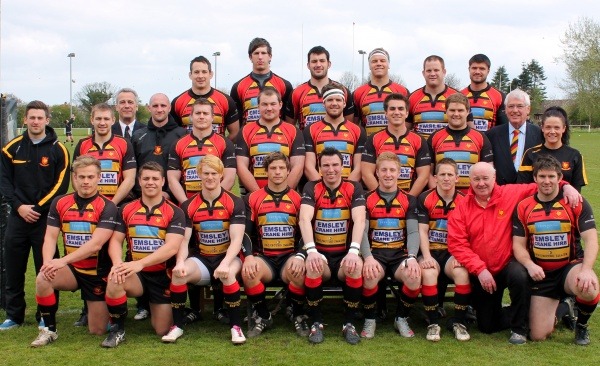 Harrogate had 3 ex Leeds players with Premiership experience as did Percy Park's Michael Stephenson . On the day, it was Stephenson whose class stood out and the first try came from his incisive break. He followed this with a clever chip kick which was gathered by Liam Blackburn to score in the corner. An excellent Smith conversion put the visitors 3-13 ahead.
Harrogate counter attacks were foiled by a combination of their own mistakes and good Park defence. However, Park were frequently penalised for going offside and Stu Wilson was eventually dispatched to the sin bin. Irvine kicked the penalty and Harrogate started to show their attacking form. Peter Wackett took full advantage of a half chance and split Park's defence with a brilliant individual converted try.
Percy Park responded immediately with Smith and Stephenson combining well to create a converted try for George Lewis. Harrogate moved up several gears and another classy backs move resulted in an Oli Denton try. Irvine's conversion made it 20-21 and Harrogate continued to mount the pressure but Park held out for the narrowest of wins.
Harrogate
Almond, Minikin, Dench, Wackett, Denton, Irvine, Wickham, Metcalfe, Maycock, Innes, Harvey, Brady, C Wilson, Heaton, M Lewis, Aspinall, N Smith, Musetti
Percy Park
Stephenson, Bird, Blair, Morton, Blackburn, A Smith, Scott, Blakey, Dubois, Wafer, Langlands, Ponton, Lockwood, Davidson, Sylph, Birkett, G Lewis, S Wilson
Referee
Hatim Tall (Northern Division)