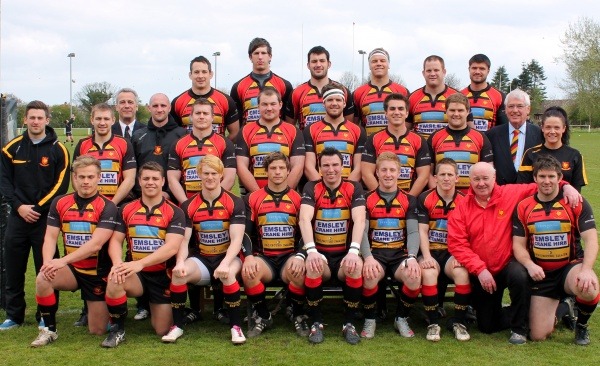 In a fast entertaining game, Chester's backs had the edge over Harrogate and raced into a 15-0 half time lead. Harrogate's pack gradually gained ascendency in all areas apart from the lines-out and a dramatic turn round seemed possible when the score difference was reduced to 20-12. However, Harrogate continued to kick valuable possession away and the speedy Chester backs took full advantage.
An early Harrogate attack was thwarted by a Chester turnover and the home side spread the ball wide. Harrogate came in from the side at a ruck and a Lloyd Hayes penalty put Chester ahead. Some squint throws and handling mistakes in lines-out limited Harrogate's possession but they continued to run the ball at every opportunity. A promising attack ended with a handling error in the Chester 22 and a succession of mistakes led to Chester kicking through and winger, Tom Evans won the chase to score a converted try.
Harrogate came more into the game with some impressive driving mauls but missing touch from penalty kicks didn't help their cause. A 25 metres driving maul took Harrogate to the Chester goal line, the ball was released to the backs but they were penalised for crossing. Pete Wackett & Sam Bottomley troubled the home defence with strong, direct running but a midfield interception sparked off another Chester attack. The ball was spun wide for Sean Green to score in the left corner.
Just before the break, Harrogate's woes increased when the impressive Bottomley had to leave the field with a head injury.
Harrogate's pack upped their game from the restart and No8, Max Lewis powered over in support of a move from an attacking line-out. Another Harrogate attack ended when the referee blew up because of an "off the ball" dust up. Harrogate were awarded the subsequent scrum but the momentum had been lost. Chester then restored their 15 point lead with a second Evans try.
Increasingly dominant Harrogate forward play set up more attacks and a big Jake Brady drive created quick ball for stand-off, Callum Irvine. His half break created space for Jimmy Browne to burst through for a try, converted by Irvine.
An excellent Irvine line kick was unfortunately soon followed by a poor kick out of defence. Chester's full back, Pat Coy gathered the ball at pace and set up an attack from which the outstanding Lloyd Hayes scored a converted try.
Sparkling Harrogate attacks were the feature of the rest of the match. Battering Lewis runs committed home defenders and Wackett twice came close to scoring. However, Harrogate conceded an extra 10 metres by kicking the ball away when a penalty was awarded against them and Hayes extended the home lead.
Still more Harrogate attacks followed and Irvine had the line at his mercy with an overlap outside him when he was chopped down by a brutal high tackle. The inevitable penalty try was duly awarded. One more try would have given Harrogate 2 richly deserved bonus points and they continued to attack until a knock-on ended the game.
Chester
Coy, Evans, Foden, L Hayes, Green, R Hayes, Goodwin, Shirley, Gill, Walton, Jones, Gregory, Moore, Craven, Bown, G Smith, Sherlock, Grundy
Harrogate
Almond, Minikin, Wackett, Aspinall, Bottomley, Irvine, Wickham, Metcalfe, Maycock, Browne, Harvey, Brady, Wilson, Heaton, Lewis, Ellison, N Smith, Musetti.
Referee
Brendan McGaffney (Northern Division)