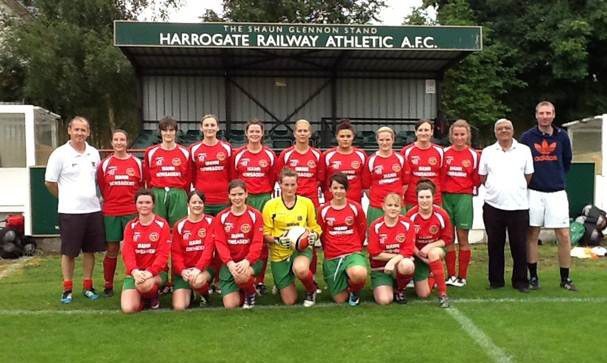 Harrogate Railway Ladies were in the County cup today (18 Nov 2012) against Bradford City, who are 3 divisions above railway and unbeaten so far this season.
It proved to be a game played mostly in one half of the pitch! As Railway had to defend for the best part of it. After only 5 minutes Bradford scored the first of their 9, this said the first 3 goals should have not stood due to a poor performance from the referee. Railway knew this was going to be a hard game but in respect to Bradford they showed how to pass well, move off the ball well and how to shut down any chances that Railway got, so at half time the score stood at 5-0.
Railway did not give up and at the restart went at Bradford with porpoise but they were just too good and forced railway back, to great credit Railway defended well and Emma Prest had a great game in goal stopping many a shot. After a long 20 minutes of defending Railway managed to break out, left back Emma Lansdall finding Dee Swales who passed to Hannah Campbell who in turn beat the full back and went on to slot past the Bradford keeper, a great finish the score then was 7-1.
Bradford went on to finish the game 9-1 and deservedly so but the Railway ladies gave a great account of them selves, not giving up and supporting each other throughout the whole match.
Next week they return to the league playing at home against Helmsley Ladies KO 1pm at station view.