Nathan Bates from Lady Lumley's School in North Yorkshire has beaten off competition from other local students to be named the Red Tractor beef and lamb Make it with Mince Challenge Regional Winner 2012 for Harrogate.
Hundreds of entries were received for this year's competition and 50 youngsters were selected to represent their regions at six cook-off events judged by TV chef, James Martin.
Today, Nathan was awarded the Regional Winner title by James Martin after wowing the judges with his innovative Mince Pie with Roasted Potatoes, Parsnips and Carrots. Points were scored for originality, nutritional value and presentation. He won a touch screen media player, chef's whites as well as £200 school kitchen equipment vouchers for his school.
Nathan is now up against five other Regional Winners in the race to be crowned the overall National Champion. James Martin will now handpick the overall National Champion who will enjoy a money-can't buy trip to London. During this exclusive visit the champion will go behind the scenes at 'Saturday Kitchen' to watch an episode filmed live. They will also find out what it's like to be a chef in the kitchen as James takes them on a tour of two of the capital's most prestigious restaurants during a lunch and dinner service.
Speaking about Nathan's achievement James Martin said:

Our finalists have been outstanding this year and Nathan has done exceptionally well to be named Regional Winner. His recipe was creative, nutritious and brilliantly presented. Most importantly it tasted fantastic! It is so inspiring to meet so many talented young cooks and each and every one of them really impressed me.

It is now more important than ever before to inspire young people to cook properly and the Make it with Mince Challenge is a perfect platform for them to learn about food, cooking and nutrition. I hope that Nathan's success will encourage more young people from the local area to get cooking and try out new and different recipes.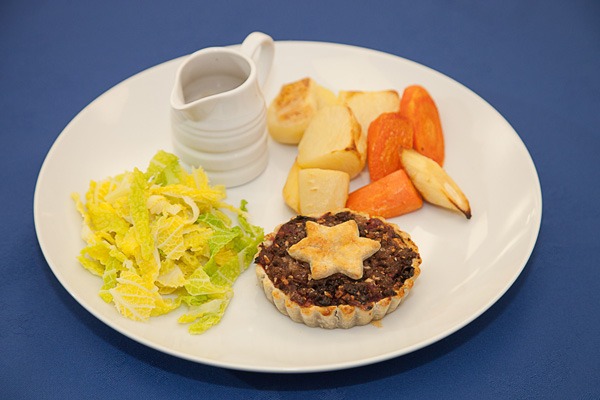 Runners up in the Harrogate heat won school kitchen equipment vouchers. They are:
Second Place: Amy Dobson, 15 years, Guiseley School, Mozzarella Meatballs, who has won £100 of cooking vouchers and chef's whites
Third Place: Sophie Baxter, King James School, Pastitsio a la greque served with baby chantenay carrots, who has won £50 of cooking vouchers and chef's whites
Denise Spencer-Walker, Food Advisor for Red Tractor beef and lamb, said:

We received so many inventive and unusual recipe ideas this year, so singling out just 50 regional finalists was a tough job. Nathan's enthusiasm for great cooking really shone through and I'm sure he will go on to achieve great culinary success in the future. I hope that all those who entered will be inspired to make cooking a bigger part of their day-to-day lives and inspire others to do the same.
Amy Garbett, Food technology teacher at King James's said:

This has been a great opportunity to get involved with the competition and to meet James Martin with him there helping them.

Over 35 students put their dishes forward at the school and managed to chose the best 3 to come to the competition.
The Red Tractor beef and lamb Make it with Mince Challenge is a cookery competition for 11-16 year-olds who are passionate about food or would like to pursue a career in the food/catering industry. The Challenge was developed by Red Tractor beef and lamb to engage, educate and inspire young people to get hands-on cooking experience. Entrants were asked to submit their own original, nutritious and creative recipes using beef or lamb mince, together with a photograph of the finished dish. They also supplied a cooking method, time plan and cost breakdown within a strict budget of under £10.