North Yorkshire County Council has over 50,000 tonnes of salt stockpiled throughout the county and its salt barns are full in readiness for winter. Salt heaps and salt bins have been replenished.
North Yorkshire's main priority during extreme weather is to keep major routes treated and passable, followed by other important routes.
With a £7.1 million budget the county council treats well over half of the county's 5,600 miles (9,000km) of road – the largest treated network of any county in England – on a routine basis. This far exceeds national guidelines as the county council places a very high priority on the winter maintenance service.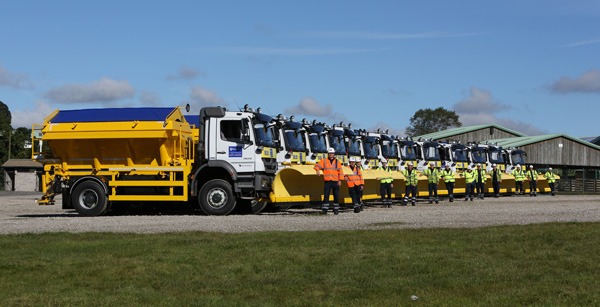 In recent years the county council has invested in renewing seven trailer gritters and 28 new snowploughs to ensure snowplough contractors have the right equipment when they need it. The county has a fleet of 93 gritters, five snowblowers and can call on the services of more than 120 snowplough contractors when conditions become severe. Moreover the county council's new highways contractor, Ringway, has begun the process of renewing and improving the fleet further.
The county council is also working with local communities to expand its winter maintenance volunteer scheme across North Yorkshire. This successful scheme offers parish councils, town councils and other community groups the opportunity, with county council support, to deliver an enhanced level of winter maintenance service in their local area during severe weather when the fleet has to focus on the higher priority routes of the network.
County Councillor Gareth Dadd, North Yorkshire's Executive Member for Highways said:

North Yorkshire's highways network is vast and keeping the network open and on the move throughout the worst of the winter weather is a complex and expensive operation. Nevertheless, winter maintenance is a top priority for the county council and once again we are well prepared for snow and icy conditions.
The Council's website now provides more detailed information about gritting operations, why the highways service does what it does, how salt works, gritting route maps and new leaflets plus images and real-time weather information from its weather stations: www.northyorks.gov.uk/index.aspx?articleid=3270