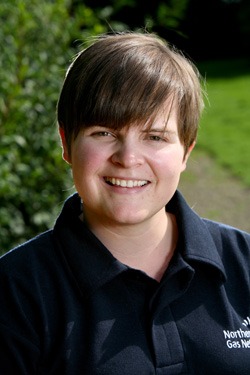 Twenty-five year old Kelly Mander from Harrogate is piping up for women in engineering, after being chosen out of more than 700 hopefuls for an apprenticeship with Northern Gas Networks.
The budding engineer from Kings Road will get to learn the ropes with the North of England's gas distributor.
There are very few female gas apprentices in the whole of the region. Kelly will be undergoing a combination of on the job training and college based work in order to graduate as a first call operative – a front-line responder to gas leaks reported by the public to the national gas emergency number – 0800 111 999.
Kelly, who formerly worked as a PCSO with North Yokrshire Police, is among 16 new starters who have been handed precious places by Northern Gas Networks this year, after a region wide search for the cream of new engineering talent.
Kelly said:

I was thrilled to be chosen out of so many applicants. At 25, I thoughy my 'apprentice ship' might have sailed! Northern Gas Networks is a great company, offering me a long-term career. I know I'm going to learn so many new, practical skills. It's really exciting and I can't wait to get started.
The gas distributor employs more than 1,000 people across the north and is responsible for ensuring a safe and reliable supply of gas to 2.7 million customers throughout the North East, northern Cumbria and most of Yorkshire.
Gareth Bullen, head of Northern Gas Network's Academy programme said:

Apprentices are essential to our business. We always need a new generation ready to pick up the baton when older colleagues retire. That way, knowledge and experience gets passed on, instead of being lost.

We are delighted to continue to provide opportunities for engineering talent – especially at a time of high youth unemployment. The modern gas industry is a fantastic sector in which to build a career, and all our apprentices have exciting times ahead.