Harrogate Town AFC is absolutely delighted to announce a new shirt sponsorship with critically acclaimed company Annapurna Recruitment.
Founded in 2008, Annapurna Recruitment specialises in HR, IT & Change recruitment across the U.K. Fundamental to their business are the principles of ethical, sustainable business and recruitment practices and to that end they are the only Recruitment Company in Europe who are members of the 1% for the planet foundation, donating a percentage of our turnover to environmental charities every year.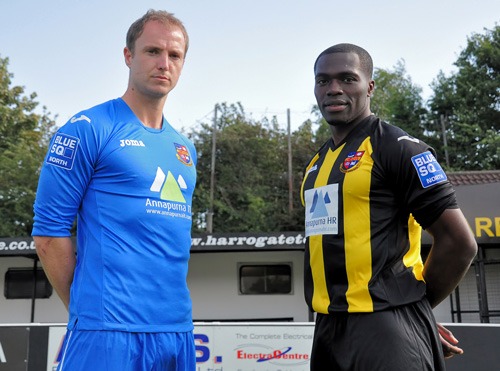 Their mission is to continually be the leading edge ethical recruitment company, whose people are passionate about being the best in their field for the benefit of themselves, their clients, candidates and the environment.
Commenting on the partnership, Director of Annapurna, James Ballard said:

Being a lifelong, ardent, Harrogate Town supporter, I am delighted, and very proud, to enter into a formal association with the club which is on a progressive and upward curve.

Annapurna, is on a similar progressive upward trajectory, and is becoming a leading national recruitment brand having won at the recent national '2012 Recruiter Awards for Excellence.
Harrogate Town AFC's commercial manager Kay Barnes Forster added:

On behalf of Harrogate Town AFC, we're absolutely thrilled to secure shirt sponsorship with Annapurna for the 2012 / 2013 season.

It makes it all the poignant that James, having grown up in Harrogate, has supported the club from a very young age. We very much look forward to a successful partnership this season.