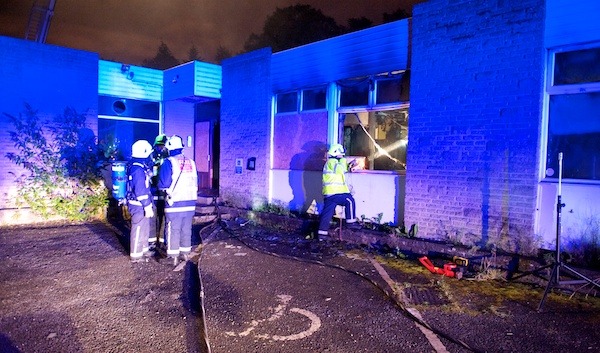 North Yorkshire Fire Service have again attended this evening to a building fire on Harlow Moor road in Harrogate  (31 August 2012)
The emergency services had been called by a local man who had been out walking his dog and had noticed two youths around the building. The man had chased the two youths but failed to apprehend them.
Crews from Harrogate attended just before 8pm and used two appliances with the aerial ladder platform to both illuminate the building and monitor for hotspots using thermal imaging.
A total of four fire appliances attended and 6 fire fighters using breathing apparatus entered the building and quickly extinguished the fire.
The fire was in a different section of the building to the previous nights. Once again considerable damage was caused, with the crews having to remove the majority of the suspended ceiling in that area of the building to control any further spread of the fire.
By 9pm the building was being vented of smoke and crews were starting to stand down.