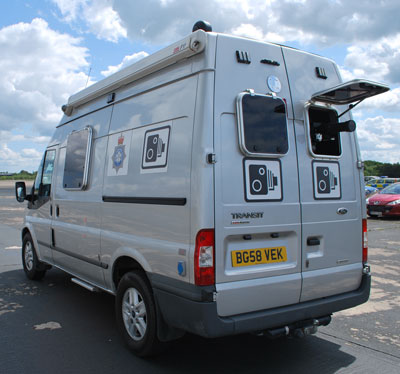 11 extreme speeders are facing up to the consequences of their foolhardy and dangerous actions after being handed a total of £3,745 in fines and costs and banned from driving for a combined total of 174 days.
13 drivers and riders were summonsed to appear at Selby Magistrates' Court on Thursday 16 August 2012 after being caught by North Yorkshire Police's mobile safety camera at speeds ranging from 72mph in a 40mph zone to 132mph in a 70mph zone.
The remaining two, a car driver and a motorcyclist were found guilty in their absence when they did not appear at court. Their cases have been adjourned for sentencing.
Speaking after the court hearings, Inspector Dave Brown of North Yorkshire Police's Road Policing Group, said:

Speeding puts lives at risk and there is no excuse whatsoever for the speeds we have just witnessed.

As we have heard in court, the consequences of speeding do not stop with the criminal justice system. We have heard how a number of these motorists now face real difficulties in their lives as a result of their recklessness. One man will almost certainly lose his job and is on the verge of losing his home, which has had a devastating effect on his family.

Another will face gross misconduct proceedings at work and could lose his job. At best, many others face an unwelcome hole in their bank balance after paying a hefty fine and the inconvenience of being banned from driving. Not to mention a significant rise in their insurance premiums.

It is staggering that despite all the warnings of the potential consequences, drivers still continue to drive at such unacceptable speeds. We would prefer it if drivers did not speed in first place, but if they do, they can be assured that they will face the full force of the law.

All of these offences have been captured by our mobile safety camera which has proved to be a key tool in our drive to make the county's roads safer. It is clear evidence of the camera's capability to capture all offences, be it high or low level, and all types of vehicles.

The guilty pleas and verdicts demonstrate the high quality of the evidence produced by the camera. Saving officer's time at court and resulting in quick and efficient justice being served.
In first 12 months of safety camera operation (July 11 to June 12 inc) the following offences have been detected:
Total Violations 16,055
Report for Summons 250 – sent direct to Court due to high speed
Conditional Offer of Fixed penalty 2,126
Speed Awareness course 13,054
Not Proceeded With 625
Vehicle

Speed

Location and date of offence

Age

Name

Verdict

Sentence

Honda CBR600

101mph in 70zone

A63 Newthorpe 

2 June 2012

52

Timothy David Lee

Sherburn in Elmet

Pleaded guilty

Disq 7 days. Fine £360, costs £45 and £15 victim surcharge

Kawasaki ZX900

101 mph in 70 zone

A63 Newthorpe

10 June 2012

40

Richard Andrew Clee

Pleaded guilty

Disq 7 days. Fine £260, costs £45 and £15 victim surcharge

Suzuki GSF

101mph in 70 zone

A63 Newthorpe

10 June 2012

21

Dale Harrower

Pleaded guilty

Disq 7 days. Fine £140, costs £45 and £15 victim surcharge

Suzuki GSF

105mph

In 70 zone

A63 Newthorpe

10 June 2012

43

Paul Wilson

Mirfield

Did not appear. Found guilty in his absence

Adjourned until 30 August.

Yamaha

106mph in 70 zone

A63 Newthorpe

10 June

36

Eric Joyce

Pleaded guilty

Disq 14 days. Fine £225, costs £45, victim surcharge £15

Honda CBR

87mph in 60 zone

A1237 Huntington, York

11 June 2012

 

49

Simon Etches

Wheldrake, York

Pleaded guilty

5 points on licence.  Fine £360, costs £45 and £15 victim surcharge

Yamaha R6

132mph in 70 zone

A63 Newthorpe

2 June 2012

45

Kevin Charles Dixon

Knottingley

Pleaded guilty

Disq 90 days. Fine £340, costs £45, victim surcharge £15

VW Golf

108mph in 70 zone

A63 Newthorpe

10 June 2012

29

Luke Tibble

Wellingborough

Pleaded guilty

Disq 28 days. Fine £230, costs £45, victim surcharge £15

Vauxhall Astra

72mph in 40 zone

A63 Hemingbrough

10 May 2012 

22

Jason Dunn

Broomfleet, Goole

Pleaded guilty

Disq 21 days. Fine £185, costs £45, victim surcharge £15

Mercedes CLK

96mph in 70 zone

A64 Tadcaster

10 June 2012

27

Shayla Christine Arnold

York

Pleaded guilty

5 points on licence. Fine £170,  costs £45, victim surcharge £15

Porsche Cayenne

97mph in 70 zone

A64 Tadcaster

18 June 2012

43

Dean Robert Sherriff

York

Pleaded guilty

5 points on licence. Fine £200,  costs £45, victim surcharge £15

Toyota Avensis

97 mph in 70 zone

A64 Tacaster

18 June 2012

65

Michael Carrick

Sherburn in Elmet

Did not appear at court. Found guilty in his absence

Adjourned until 30 August

Mercedes SLK

97 mph in 70 zone

A64 Tadcaster

8 May 2012

44

Wendy Hughes

Burton Salmon

Pleaded guilty

5 points on licence. Fine £615,  costs £45, victim surcharge £15