Local residents to Harrogate are being invited once more to view and comment on plans to transform the derelict former bowling alley on Tower Street in the Town Centre to a five storey, 77 bedroom hotel with related uses on the ground floor and basement.
An application submitted in January this year was refused by the Council due to concerns regarding the impact on the character of the conservation area and inadequate servicing.
Local developer, Gregory Projects Ltd, is consulting on an alternative scheme which, it feels, will make a positive contribution to the conservation area and address the matters of overbearing and servicing arrangements.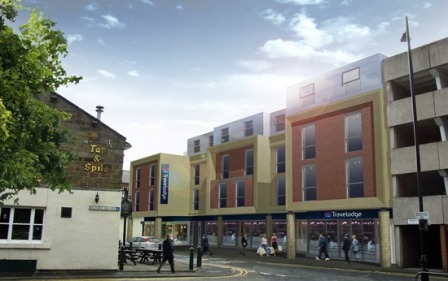 Richard Tovey of Gregory Projects, said, since the refusal of the previous scheme the project team has been working hard on the design to address comments raised by the residents and Council. Whilst the proposed building remains at five storeys, we believe that the new design addresses the sensitive issues that were raised.
Richard Tovey of Gregory Projects:

Travelodge, keen to expand in Harrogate where there is a shortage of budget bed space, is now committed to lease the hotel over a 25 year term. The principle of simple 'hassle free' accommodation continues to prove extremely popular around the UK and Travelodge's commitment to this site is a coup for Tower Street. The number of bedrooms we are proposing is crucial to their businesses.

The Harrogate community will see the benefit of these additional facilities through extra leisure and business trade generated from the strength of Travelodge's brand and, in doing so, will reduce the danger of revenue leaking to other towns and cities in the region, notably Leeds.
A formal public consultation is to take place on Tuesday 17th July between 1pm and 7pm at the Tap & Spile public house on Tower Street.
For those unable to attend the public consultation comments can be emailed to planning.towerstreet@colliers.com or posted to: –
FIRST CLASS
FREEPOST RSST-ZTSA-ABCS
Colliers International Property Consultants Limited
15-16 Park Row
LS1 5HD