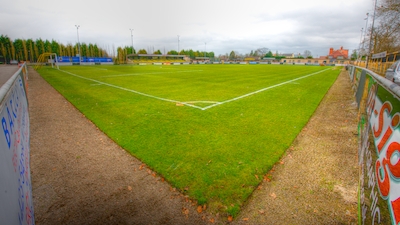 A spirited performance by Town saw them come within seven minutes of collecting a point at high flying Guiseley.
Harrogate were dealt a blow earlier in the day when the impressive Tom Platt was recalled by York City to play in the North Riding Senior Cup Final.However Luke Dean, starting his second spell at Wetherby Road, was included in the starting line up.
Guiseley started the game by forcing a series of corners taken by ex Town favourite Dave Merris, and from one Matt Wilson headed wide.
Town began to counter and in the ninth minute should have taken the lead when Will Turl released skipper Paul Bolland down the right, but unfortunately Chib Chilaka failed to turn in his searching cross.
Undeterred, Town pressed forward with Craig Radcliffe breaking down the left and from his cross Richard Pell tested Steve Drench with a fine header.
Guiseley were finding space down their left flank and Town right back Andrew Burns was at times, left dangerously exposed.
Wilson found Jason Price who,in turn,passed to Joe O'Neill,only to see him shoot well over the bar.
Jake Picton, who was making a welcome return after injury, played Turl in down the left and from his centre Chilaka flicked over the top.
Unluckily for Town their injury jinx struck again when Bolland had to limp off after 27 minutes with a thigh strain.
With only a couple of minutes to go before the break,Town broke the deadlock, when Will Turl powerfully headed home Radcliffe's firmly struck corner.
Guiseley had an opportunity to strike back immediately but O'Neill shot well wide from Lee Ellington's pass.
Disappointingly Town could only hold the lead for five minutes. A Guiseley corner was headed out only to by swiftly returned for Jason Price to force over the line.
While the more accurate Guiseley began to dominate, with Town's Mark Cook,once again excelling in goal, it was Harrogate who were creating the better chances.
Turl blazed wide after being set through by Picton and Pell headed Burn's superbly struck free kick just wide.
Dean's fine ball inside the full back released Lee Elam but Chilaka headed his centre over and then a brilliant individual run by Chib was ended by Drench bravely diving at his feet.
With seven minutes left Town appeared to have cleared their lines as they surged upfield only for the play to be controversially brought back because of the Assistant Referee's raised flag.Town only half cleared the ensuing free kick as far as Simon Ainge who promptly rifled home from 25 yards to give Guiseley victory.
Town 1 Cook 2 Burns 3 Radcliffe 4 Palmer 5 Pell 6 Picton 7 Bloomer 8 Bolland (c) 9Turl 10 Chilaka 11 Dean
Subs 14 Brayson (repTurl 87) 15 Meechan 16 Elam (rep Bolland 27) 17 Youhill 18 Allan (rep Chilaka 87)
Scorer Turl 43 Bookings Burns, Radcliffe, Elam, Dean