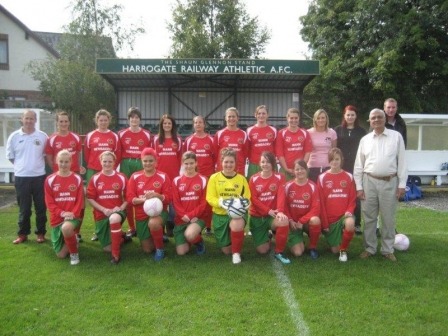 Harrogate Railway Ladies were beaten 4-1 away to Bradford City today in the county cup, Railway were the under dogs for this fixture and a tough one it proved to be. Railway started brightly and made their mark with some strong tackles from the off, but with a strong wind in their faces railway struggled to break into Bradford's half. Rails right back Ali Pervis had a great game constantly winning the ball and feeding it forward to Ellie Macleod (right wing).
On the 15th minute Bradford won a corner which was taken quickly and driven at goal, this was saved by Rails keeper but the shot was to hard to hold and it bounced off the back of another Bradford player into the goal 1-0.
Bradford maintained the pressure and only twice did railway mange to break out of their own half in the next 20 minutes and yet again another corner supplied Bradford their second goal 36 minutes in 2-0.
Railway were having a tuff time but apart from set plays they were giving Bradford a challenge, with 5 minutes to half time Bradford were awarded a penalty and once again Railways keeper Emma Prest pulled off a great save, this really lifted the railway girls and had 2 good shots at the Bradford goal, narrowly missing the target.
At the start off the second half only one team started!! And some poor defending allowed Bradford their 3rd after only 46 seconds 3-0. One thing about the railway ladies is their determination, and being 3 down to a well drilled team was not going to stop them fighting for a goal, as player of the match Emma Prest made save after save rail also pushed forward on the counter attacks, this eventually paid off as the Bradford full back panicked and tried to play back to her keeper who in turn missed the pass and allowed the ball to cross the line 3-1.
At the other end Rails full back Cat Purvis put in some brilliant last ditch tackles in the penalty box to stop Bradford's forwards. On the 72nd minute Bradford's forward took the ball on her own beating three tackles and scoring from a very acute angle ( goal off the match) this sealed the win for Bradford but the Railway ladies had not disgraced themselves at all, yes there is room for improvement but in general they put in a strong performance.
Next week they are away in the league against Hemsworth Miners, a game that commands all 3 points!