Crucial Crew celebrates its 20th year and is aimed at promoting good citizenship in young people looking at safety, prevention and behaviour.
It's a multi-agency event and brings together the North and West Yorkshire Police, Ministry of Defence Police, Health and Safety executive (HSE), Harrogate borough council, NEDL and Fire Service. Being hosted from the Ripon Army barracks.
Year 6 pupils from 95 schools in the Harrogate, Ripon, Boroughbridge, Knaresborough, Pateley Bridge, Wetherby and North Leeds participate accounting for 2100 children over the 10 days of the event.
The children receive an initial briefing and then spend 10 minutes in 10 different zones.
1- Electricity with NEDL
2- Anti-Social Behaviour with Integrated Youth Support
3 – Drug Awareness with Ministry of Defence Police
4- Internet Safety with West Yorkshire Police
5- Road Accident with North Yorkshire Police
6 – Farm Safety with Health and Safety Executive
7-  Fire Safety with North Yorkshire Fire & Rescue
8 – Shoptheft with ASDA
9 – Water Safety with School Nurses & Harrogate Borough Council
10 – Behaviour with St John Fisher School, Harrogate
Paul Stephenson with the North Yorkshire Police Community Safety Department:
"This is an excellent example of multi-agency co-operation promoting key safety prevention and behaviour messages will last in the minds of these young people for many years to come"
The event has evolved over the years with internet safety now being a key area, with use of websites like facebook and giving away personal information.
The event has at times come under difficulty to get the involvement that it needs from various agencies and this year some have had to withdraw from participating due to their own budget limitations.
Alan Drinkall, who received an MBE in 2009 for services to the community explained more about how he set-up and developed the Crucial Crew initiative:
"Way back in 1991 I was Police schools liaison officer for Harrogate district and we began looking at the 10 scenarios, 10 groups of children and 10 minutes"
"After a lot off meetings in 1992 we managed to get the first one together with 1265 children run on a minimal budget"
"The idea was then grew in 1993  to be rolled out in 4 areas in 1993 with 10,000 children"
"Last year we reached 160,000 in the whole of North Yorkshire"
"We are grateful to all the agencies over the years"
Wolseley co-ordinator, Sally Tweddle commented: "We are proud to be involved with the Crucial Crew initiative in North Yorkshire; we have supplied a team of volunteers from our workforce for several years now. Community involvement both with charities and young people in the area is very important to us and we understand the value of good teamwork – something in obvious evidence at Crucial Crew each year with the emergency services and local volunteers coming together to offer something of real value to our local primary school children. All our volunteers greatly enjoy taking part in the initiative and many return to offer their help year after year"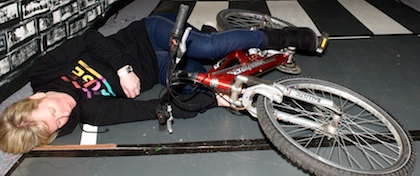 Wolseley (Ripon office) provides over 40 volunteers over a two week period to help play different characters in the safety scenarios, everything from drug dealers to accident victims.
A great example of the scheme's success is volunteer, Paul Heath-Smith who, whilst at primary school himself, went through the Crucial Crew experience and is now a Wolseley volunteer, Paul adds, "I feel privileged to put something back, having learnt a lot from the experience as a primary school child – the lessons learnt on Crucial Crew are something that stay with you for life and it feels good to be helping children absorb these vital life lessons almost 15 years later!".
The event continues until 11 March 2011.