Water themed garden wins designers exhibition spot at Harrogate Flower Show
A local garden designer and landscape garden constructor are celebrating after collaborating on a sustainable garden project, winning them a coveted exhibition space in the Garden Design Competition at the Harrogate Spring Flower Show in April, which could be attended by HRH The Prince Of Wales.
Maxine Nelson of Gardens by Max in Leeds and David Massey, owner of David Massey Garden Construction in Harrogate, joined forces at the end of 2010 to create the brief for "The Call of Nature" – a sustainable garden bathroom which promotes the world's most precious resource, water.
The quirky idea captured the imaginations of the Harrogate Flower Show committee, ensuring Max and David are able to make their vision into reality with sponsorship money to construct the garden. They will showcase the final project before thousands of visitors at the spring show between 14th and 17th April, and compete with other hopefuls to be crowned best Garden Design, winning further sponsorship and prize money.
The concept was developed with the aim of creating a garden out of a room, specifically the bathroom where most water is wasted, to raise awareness of the charity Water Aid, of which HRH the Prince of Wales is the President.
The Prince of Wales is Patron of the North of England Horticultural Society which will sponsor the garden design competition winner, and in celebration of the Prince's other charities and interests, the theme this year is sustainable gardening and gardens with ecological interest. It is hoped the Prince will visit this year's Spring Show.
It is the first year the College Garden Design competition has been opened up to professional garden designers and landscapers to mark the North of England Horticultural Society's Centenary year. The move has been encouraged by a number of local colleges, hopeful it will create a more diverse competition.
Maxine Nelson said: "As gardeners we are ever aware of the need for water to be freely available, however we often give little thought to its value throughout the world. Through our garden design we hope to reflect the issues of world water shortages and highlight how home owners can recycle the 'grey' water from their homes to maintain lush flower beds and vegetable plots."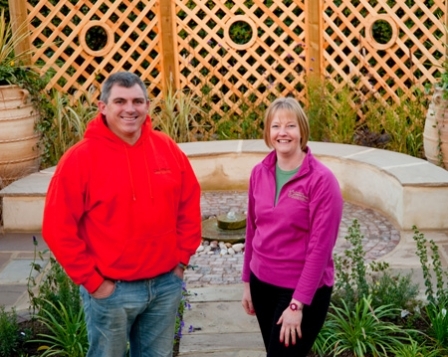 David Massey commented: "We aim to express innovative and creative ways of creating garden features through use of stunning planting, traditional building skills and materials juxtaposed with objects you wouldn't normally expect to find in a garden, i.e; a bathroom suite.
"We hope visitors to our stand will be able to take ideas home with them and have a long lasting memory of their visit to the Harrogate Spring Flower Show 2011."
For more information on David Massey Garden Construction visit www.davidmassey4gardens.co.uk and for information on Gardens by Max visit www.gardensbymax.co.uk
Max's top tips to sustainable gardening:
Collect rain water in a butt and recycle washing up water
Use food waste for compost rather than throwing it away
Avoid sprinklers and water by hand so you can monitor exactly how much you use
Weed regularly – weeds compete with other plants for water
Use native plants – they've evolved as they can survive in our climate and won't take much nurturing