Yorkshire Handmade Pies was conceived during lockdown as Chief Pie Maker, James Sturdy, who runs Sturdy Foods, found the market for the company's products (which supplies to pubs and restaurants) suddenly dried up.
The Ripon-based business was faced with laying off the entire workforce, James realised that there was a huge interest in delicious food made with high quality sourced ingredients delivered direct to people's homes.
James is a third-generation pie maker. His great grandfather first started making pies in his village shop nearly a century ago (1930).
James said:

One positive I have seen from the pandemic is people rediscovering food. Without a doubt people want to experience local produce and know the provenance of ingredients. I believe Yorkshire has a brand all its own and it is seen as one people can trust.

People are so receptive to receiving things bought online and people cannot believe the quality, texture, and taste of our pies, it is as if they have been bought from a local farm shop. We expected the pies to be popular locally, but we are delivering to every corner of the country daily and we are proud to do so.
Yorkshire Handmade Pies make classic pies that showcase the incredible ingredients produced in Yorkshire. Inventive limited-edition pies have included the Beef Wellington pie to celebrate British Pie Week.
The Yorkshire Handmade Pies limited edition Beef Wellington pie featured finest Yorkshire reared grass-fed fillet of beef, wrapped in Italian seasoned and aged Prosciutto Crudo with a mushroom and fresh thyme pâté. The pastry is a short crust with a textured rough puff (flaky) on top. The pastry flour is made from a blend of English, Continental European and Canadian wheats and is milled in the UK to precise specifications. It sold out within an hour!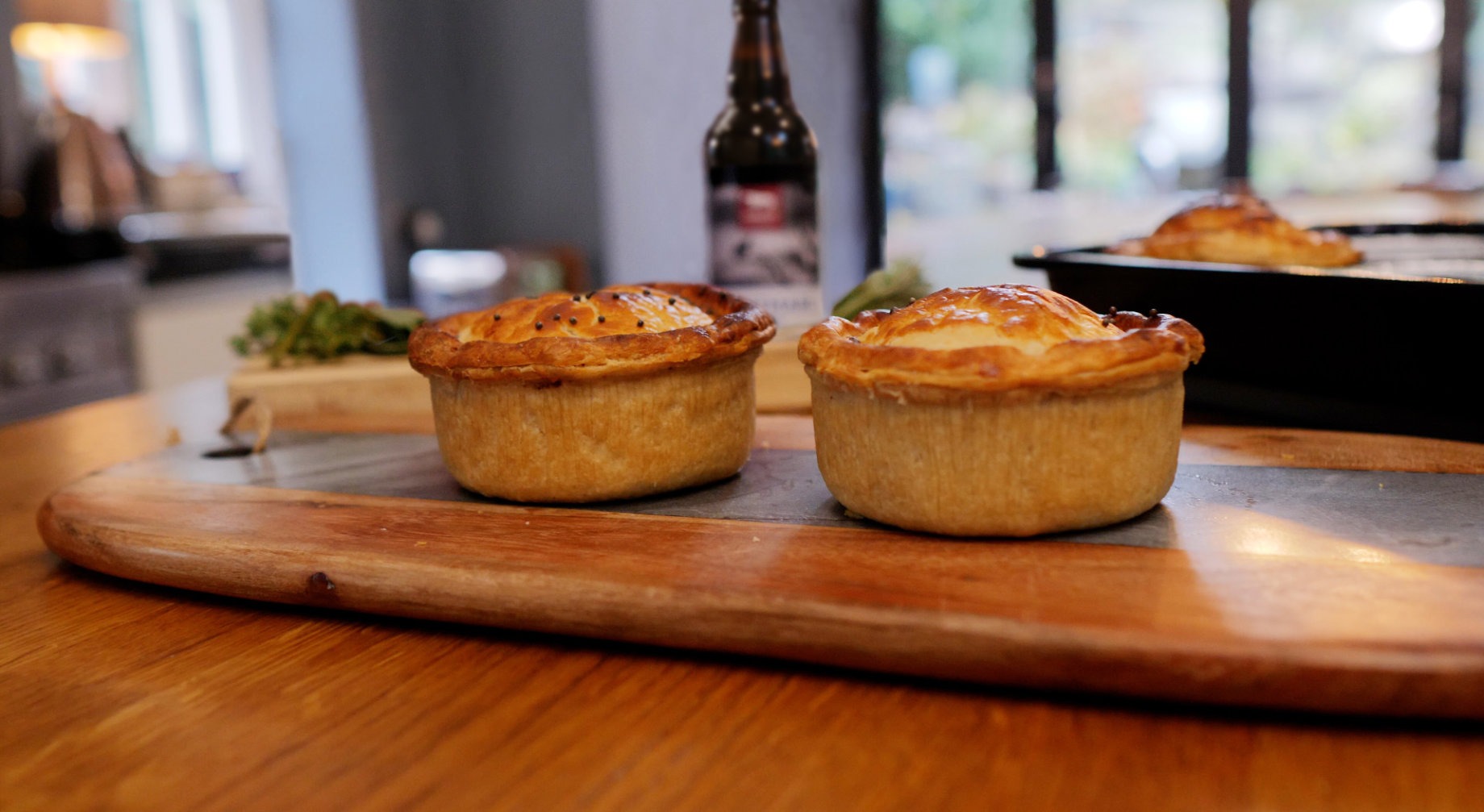 Favourite pies include:
Yorkshire steak and Hambleton ale
A consistent best seller and a signature pie. Great beef and great beer are a match made in heaven! Incredible Hambleton Ales Nightmare Porter goes with our beautiful locally reared grass-fed chuck steak. Add in some fresh vegetables and herbs and together they make a pie you'll not forget in a hurry. Best served with a glass of your favourite ale on the side!
Braised Chicken, Smoked Bacon, Leek & Tarragon
Braised Chicken, Smoked Bacon, Leek & Tarragon
An award winning pie made with hand diced Yorkshire chicken, chunky smoked bacon cooked in a creamy mustard, tarragon and leek sauce. All encased in light and crispy pastry. A comforting, traditional British classic! Try serving it with some new potatoes and grilled Asparagus
Yorkshire Handmade Pies won 3 awards at the prestigious 2020 British Pie Awards.
The business has joined up with FoodCycle, a charity which runs projects across the country serving meals made from surplus food which would otherwise have gone to waste.
Every box of pies bought from the company will see a financial donation is being made to FoodCycle to help them continue their work in local communities and help fund more projects. Sturdy Foods is a member of the Living Wage Foundation and the voluntary Good Business Charter.
For more information about Yorkshire Handmade Pies please visit https://www.yorkshirehandmadepies.co.uk/