The pods have landed at the Fat badger in Harrogate.
Inline with legislation the Fat Badger closed as a pub and moved things to being a takeaway service – that's the government lockdown restrictions that will run from the 5 November 2020 to 2 December.
Far from sitting back during the lockdown they have grasped the nettle and been promoting their delivery service from the Fat Badger.
The Yorkshire Hotel, also part of the HRH Group, is undergoing a refurbishment with thousands being spent on it, Outside they have spent money to make the outside a stunning light display.
Simon Cotton, MD of HRH Group, talking about the move to a takeaway service, said:

This stems back from Lockdown 1 and the very quick and for us, easy decision, to try and keep open doing something rather than nothing.

As a business, we wanted to stay in touch with our customer base and this was one of the few ways of doing that.

We also thought it offered a service to Harrogate that was needed first time around and whilst Lockdown 2 isn't quite the same in that there's far more people working and the kids are at school, it is still busy enough to show there is demand for such a service.
The pods or a private igloo is a new development that will be available for groups of up to 6 when the current lockdown eases.
Simon Cotton on where the idea for the Pods come from:

I'm always looking for new ideas and ways to improve our businesses regardless of what's happening in the world but I saw some London venues had installed these previous to COVID and thought they were a great idea.

With reduced capacities in our venues with the current regulations, it made sense to look at our outside space and think of ways to utilise that, but at the same time wanting to bring a bit of fun to it all.

After the success of the beach through the summer, people have been asking me what's next? So we had to do something!

The Yorkshire Hotel is part of the HRH Group and currently closed with investment being made to redevelop the ground floor and the function suite – more on that in a further news item.
We asked Simon in why they still decided to put such great looking lights on the Yorkshire Hotel when it isn't even open?
Simon Cotton on the Yorkshire Hotel Christmas lights:

Again, this comes down to connecting with our customers regardless of whether we are open right now or not.

The important thing to focus on is that we will be opening again soon so we want to remain front of mind. The lights however were something we had planned last year and actually got too busy to organise as it was a way of showing that this great building is now once again back on the map in Harrogate after major investment.

As a local company we are always wanting to put something back into the community we live and work in and not see profits sent abroad etc.

The lights are an easy way to show our love for Harrogate and support the Christmas lights and retailers.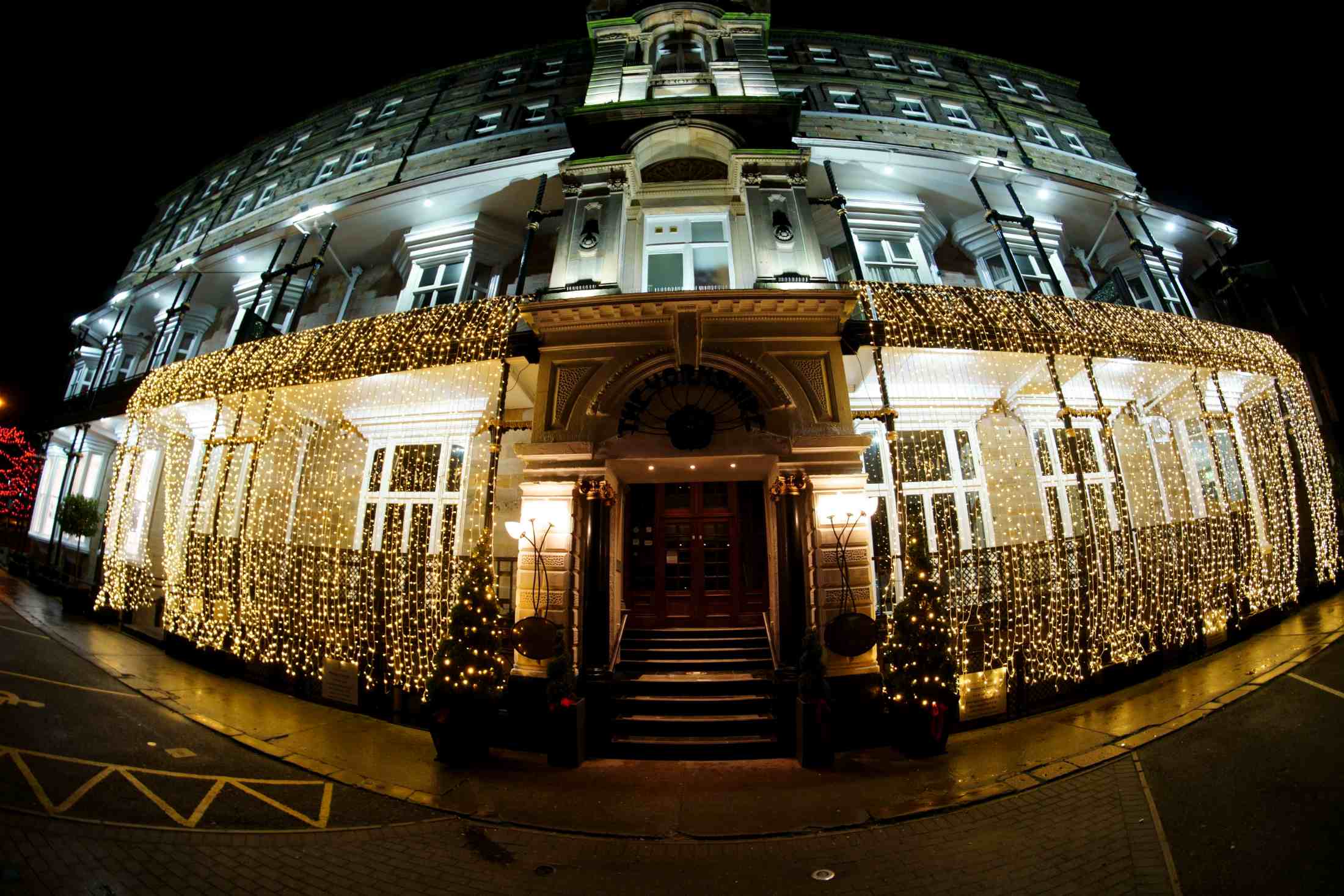 The Fat Badger pods and takeaway can be found at www.thefatbadgerharrogate.com