The Archbishop of Canterbury's office wrote a letter of congratulations to volunteer knitters after they helped to raise £3,360 for unpaid carers by selling hand-made Easter chicks.
More than 35 people made 1,680 of the chicks, which were made in the likeness of Prince Harry, Meghan Markle, the archbishop and wedding guests to mark the upcoming royal nuptials. The novelties, which were stuffed with Crème Eggs donated by Cadbury, were sold to benefit Carers' Resource.
Its communications officer Caroline Firth sent a pair of royal chicks to Prince Harry and his bride-to-be as a wedding gift, and an archbishop chick to Justin Welby.
The archbishop's correspondence manager Owen Morgan wrote back and said: "Archbishop Justin wanted to offer his encouragement and congratulations for your fundraising efforts. The dedication of the many committed unpaid carers in the UK is an example to us all of the compassion and humanity that is the backbone of a good society.
"The archbishop believes that those who treat the vulnerable with dignity and respect should be treated in the same way themselves."
The chicks sold for £2 each across 38 outlets.
Mr Morgan added:

The work you do in supporting carers is vital and important and is at the heart of the kind of caring and compassionate society we are striving toward. The work of Carers' Resource is undoubtedly vital to those whom you support and indeed those who your users support.
Carers' Resource chief executive Chris Whiley said:

It's great that so many local people support us by making, selling and buying our chicks.

This is the eleventh year of Easter chicks and the total raised over the years is more than £26,000. To be recognised by the archbishop is wonderful, and we are glad he liked the chick we knitted in his honour.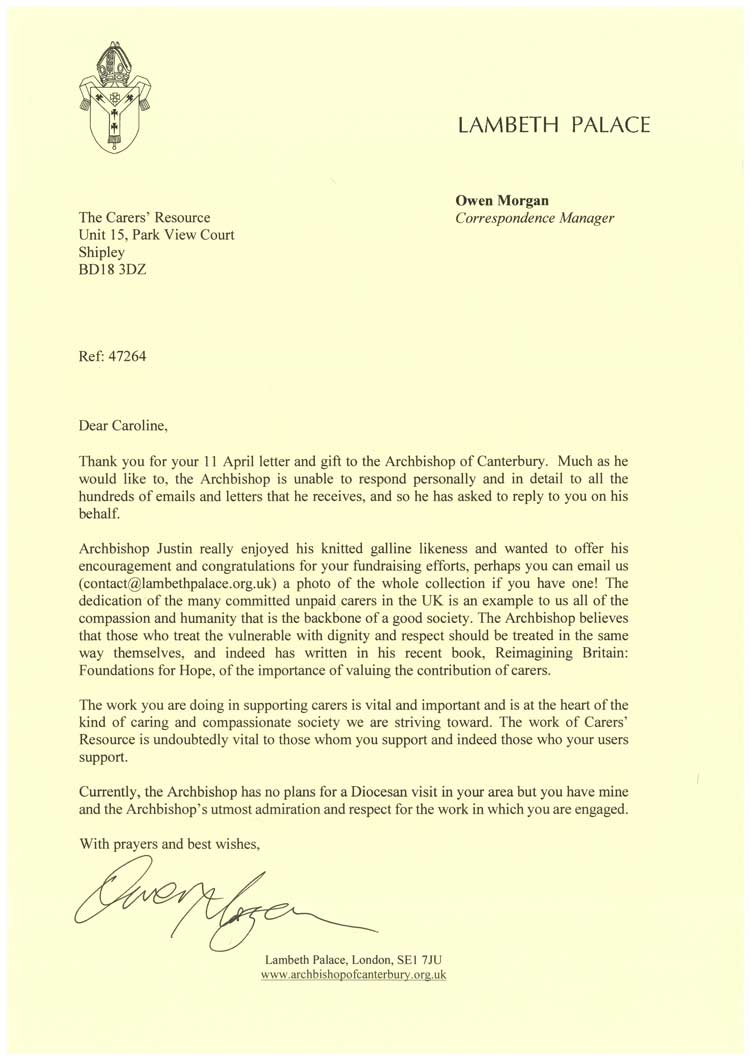 Volunteers have already started to work on knitted Christmas decorations for Carers' Resource. To help make them or to become an outlet for sales call Anne Wells on 01423 500555 or email awells@carersresource.org