The Lord Lieutenant of North Yorkshire, Barry Dodd CBE, praised the work of Henshaws Specialist College in Harrogate and Henshaws Arts & Crafts Centre in Knaresborough when he visited this week.
Accompanied by the Mayor of the Borough of Harrogate, Coun Anne Jones, a long-term supporter of Henshaws, Mr Dodd met Henshaws Chief Executive Nick Marr, College Principal Angela North and Director of Fundraising Fiona Ashcroft, as well as staff, students and Art Makers, to find out more about how the charity works with people with disabilities and special needs.
He was given a tour of the Specialist College which caters for students aged from 16 to 25 and with a range of disabilities and special needs, including visual impairment and autism, meeting students and staff and watching classroom sessions for cooking, drama and art.
He heard about a current project by members of the College's Young Enterprise group who are in the process of creating a cook book with recipes from celebrities and inspirational people, many of whom have a disability.
Mr Dodd said:

The College is operating in one of the most difficult areas yet what it does is so special.  I have seen the enthusiasm of the staff – what they do is more than a teaching job – their passion just shines through.  This culture of passion supports some of the most difficultly challenged people in the country –and that's brilliant!
His tour of the College was followed by a visit to Henshaws Arts & Crafts Centre where disabled people of all ages are helped to discover their talents, put them into practice and realise their full potential.
With Centre Manager Maria Dawbarn and Art Maker Hannah Reda, the group toured the workshops meeting Art Makers and staff and seeing some of their work, including music, jewellery and paper crafts.
Mr Dodd said that he had been aware of Henshaws and its work but had previously believed the charity worked solely with people with visual impairments, rather than the range of disabilities and special needs that students and Art Makers have.
Mr Dodd said:

Just visiting Henshaws is a learning experience. What you are doing here is immensely significant and you are all doing it brilliantly. The world needs to know about this work.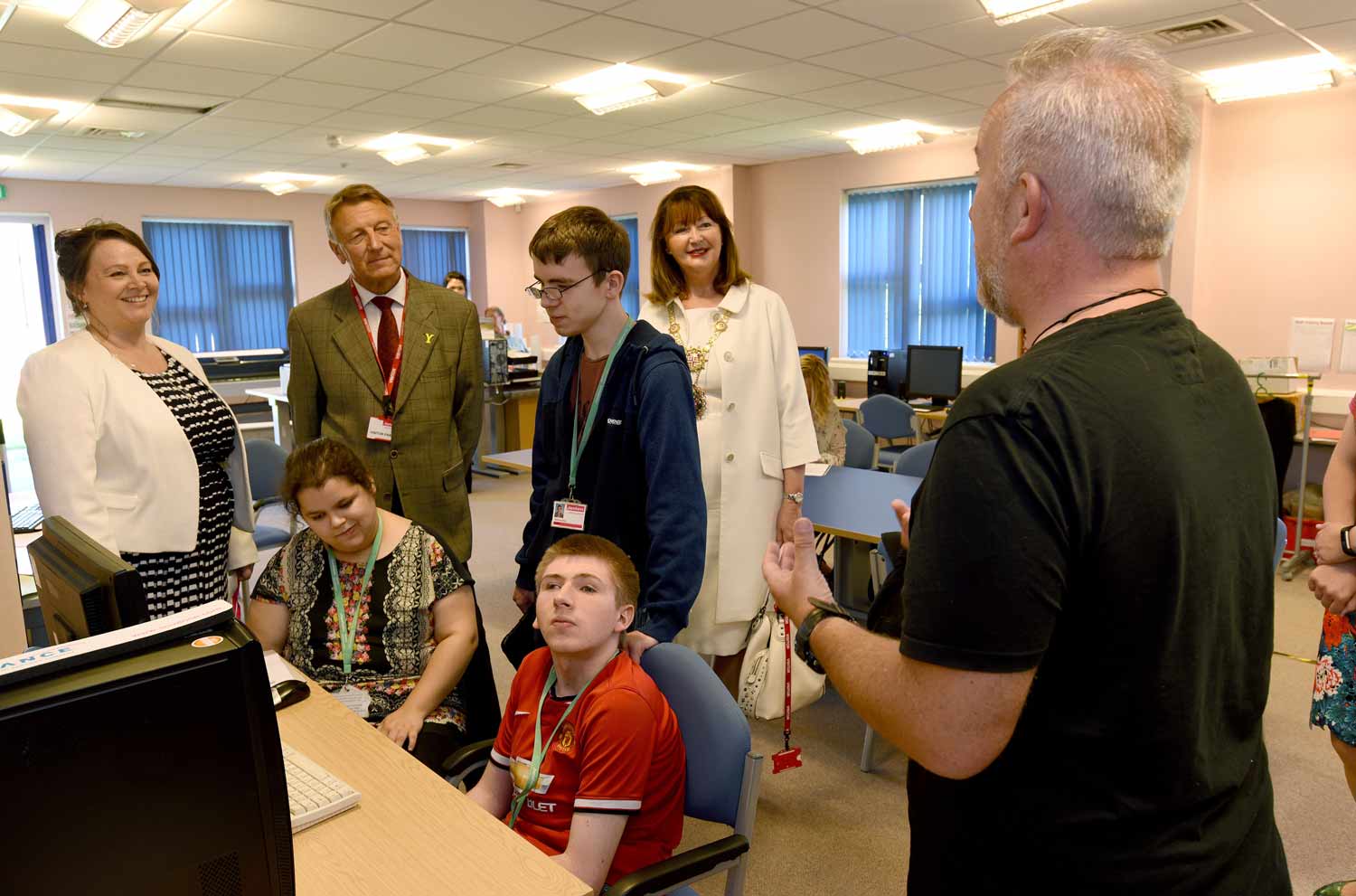 Mr Dodd's visit was planned after he attended the Henshaws Christmas Concert at the Royal Hall last year and wanted to learn more about Henshaws' work and was arranged by the Mayor.