Alfie Richards, a year 13 student from Harrogate Grammar School, was successful in securing a place at the prestigious National Youth Music Theatre (NYMT) over the summer, this is his account of the experience;
Alfie Richards said:

Earlier this year I took a six hour audition in Leeds to join the National Youth Music Theatre whose past alumni have included; Idris Elba, Jude Law, Matt Lucas and Eddie Redmayne. The audition was in three parts; acting, singing and movement. After a tense wait, I was invited for a recall audition in London – this was a little shorter (only two and a half hours). Understandably the level of talent was very high and I had another tense wait before learning that I had been successful in my efforts and was offered a part in the NYMT production of Sunday in the Park with George, to be performed at the Other Palace Theatre in London this August.

When I joined the cast this summer, I had expected to be working in an intense environment reflective of a professional standard, and I was met with these things – but also so much more. I hadn't expected my experience with NYMT to become one full of such incredible people in both the cast and creative team – I feel I've made contacts and friends which I'd like to keep for a very long time. Working at The Other Palace theatre was an equally rewarding experience, and the self-sufficiency needed to get everywhere on time each day and the responsibility required was something I really enjoyed during tech/show week. The theatre felt like a home for the time we were there. We received letters of support and encouragement from Stephen Sondheim himself, as well as Andrew Lloyd Webber (who kindly said he had heard 'sensational' things about our show).
Alfie:

Being in such a professional environment surrounded by people who have succeeded, or are on their way to definite success within the industry, was very exciting for me. I found myself acting very inquisitively, and being surrounded by so much knowledge and expertise was such a refreshing thing. Most of all, I loved the people I met – like-minded people with similar passions. It's been great to have made such a family out of all those I've worked with. The creative team were particularly friendly, motivating and personable. And I felt that, even within the supposed hierarchy of theatre, I was treated on such a level by the team and cast – that I felt equal to them all.

I'll never forget the standing ovation we received on our final night. After singing in the transcendental chorus of 'Sunday' for a last time we all understood that we had achieved something very special amidst all of our efforts. It was a moment for me which epitomised the entire experience. What an honour it was to be part of such a great project.

The long days, late nights, early mornings, hours of hard work, scrutinising micro-tonal perfection with MD Alex Aitkin and being stuck with the same people for so long – was entirely worth it. I'd encourage anyone with a passion for musical theatre to try and audition.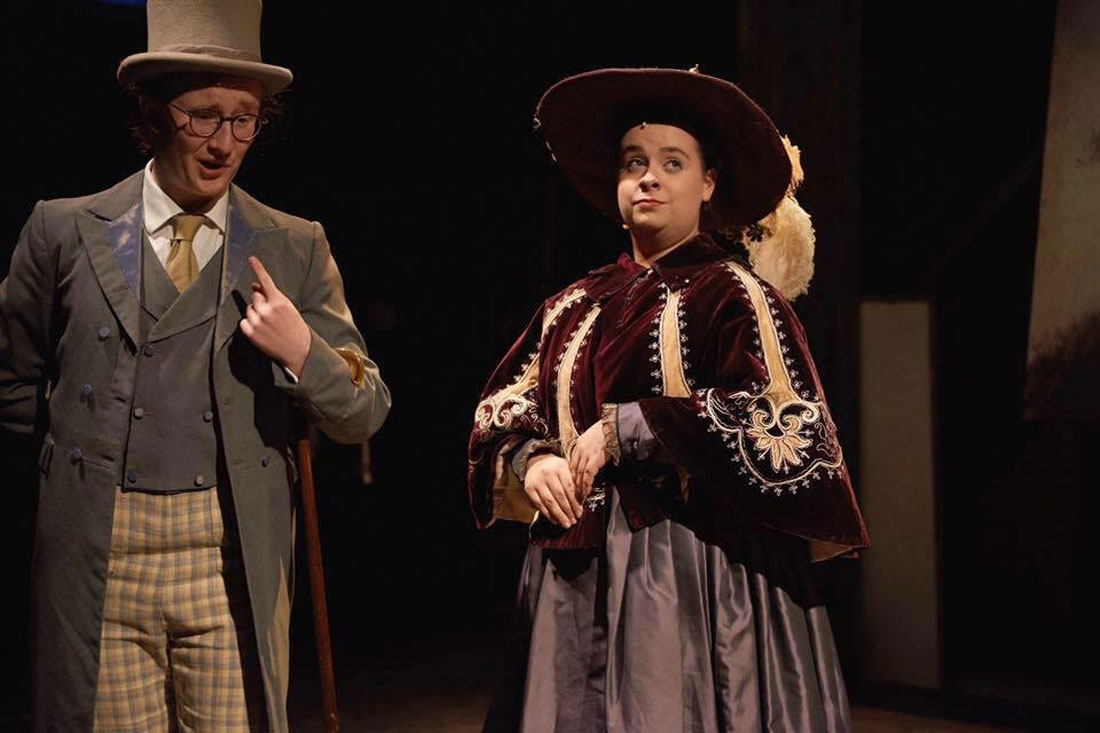 Alfie added:

Finally, I'd like to thank Harrogate Grammar school, and all those many individuals within its community who sponsored me. Without the incredible amount of support that I received, I wouldn't have been able to enjoy what has amounted to be a perfect window into a profession that I hope to pursue. Thank you.
Alfie Richards, year 13 student at Harrogate Grammar School