This June, Suitcase & Spectacles Theatre Company presents the world premiere of Knaresborough-based author and playwright Daniel Ingram-Brown's book Rise of the Shadow Stealers, the first of his Firebird Chronicles series.
A theatre production for family audiences (ages 7-11), the show charts the story of two intrepid adventurers, Fletcher and Scoop who can't remember their own beginnings. They go to a school for Story Characters, and as they search for their missing memories, they become entangled in the tale of the mysterious Storyteller, embarking on a quest that leads them the shadow to the heart of creation itself. Hailed by readers and critics as reminiscent of the worlds of Terry Pratchett, the Harry Potter and Artemis Fowl series, the action in Rise of the Shadow Stealers takes place around Blotting's Academy on the magical Fullstop Island, which boasts a whole host of weird and wonderful characters and a battle between a firebird princess and her shadowy nemesis.
Director and co-artistic director of Suitcase & Spectacles company Daniel Ingram-Brown, is looking forward to the world of his Firebird Chronicles unfold on stage: 'Live theatre is the perfect medium to bring Blotting's Academy to life; it allows us to all travel together through the worlds created in the book. We are very much looking forward to welcoming families from across the region as we join Fletcher and Scoop on their first adventure.'  (Daniel Ingram-Brown)
Thursday 1 June 2pm Carriageworks Leeds £8/£6 (£24 family tickets) – more details here.
Friday 2 June 7pm Starbeck Community Library – pay what you decide – more details here.
Sunday 4 June 2.30pm Frazer Theatre Knaresborough £8/£6 (£24 family tickets) 0 more details here.
Family Theatre Workshop* Saturday 3 June 2.30pm – 4pm – Knaresborough Library Tickets: £3 (children & adults)
Adapted for the stage by Paul Birch, this remarkable new family show will also feature puppet baddies Grizelda and Knot, made by Lynn Illingworth and Lucy Phillips from Guiseley-based creative arts company Codswallop CIC, music and mime to enthral audiences of all ages. The puppets will be brought to life onstage by the cast, featuring company co-artistic director Lynsey Jones, who plays the part of Scoop, alongside John Holden-White as Fletcher, and Tom Jackson as a host of other characters, including the mysterious Storyteller.
Suitcase & Spectacles Theatre Company are building a reputation for producing high-quality and entertaining and imaginative live theatre experiences for young children across the region. Their first show, a one-woman show starring Lynsey Jones called Miss Dotty's Specs, has toured to numerous schools in the region, transforming school classrooms into a wondrous magical land boasting bandits, pirates and a whole host of magical and mysterious characters. Their second show, Rise of the Shadow Stealers, is set in the same world, and so audiences should expect some mention of one or two familiar faces…
Rise of the Shadow Stealers will premiere at the Carriageworks Theatre in Leeds (Thur 1 June) in partnership with Leeds Big Bookend Festival, before a performance at volunteer-run Starbeck Community Library (Fri 2 June) and the Frazer Theatre, Knaresborough (Sun 4 June). The company will also be running an interactive creative workshop with puppetry, mime and storytelling at Knaresborough Library (Sat 3 June) which will also feature readings from the book by author Daniel Ingram-Brown. The show will then go on to tour to a couple of local schools, including Beckfoot Upper Heaton School in Bingley and Burley St Matthias Primary School.
"Highly inventive…impossible not to like" The Yorkshire Post, on Miss Dotty's Specs
"Rollicking adventure" Juno Magazine, on the Rise of the Shadow Stealers novel
"Delightful…beautifully built world…thrilling quest" Miss Literati on the Rise of the Shadow Stealers novel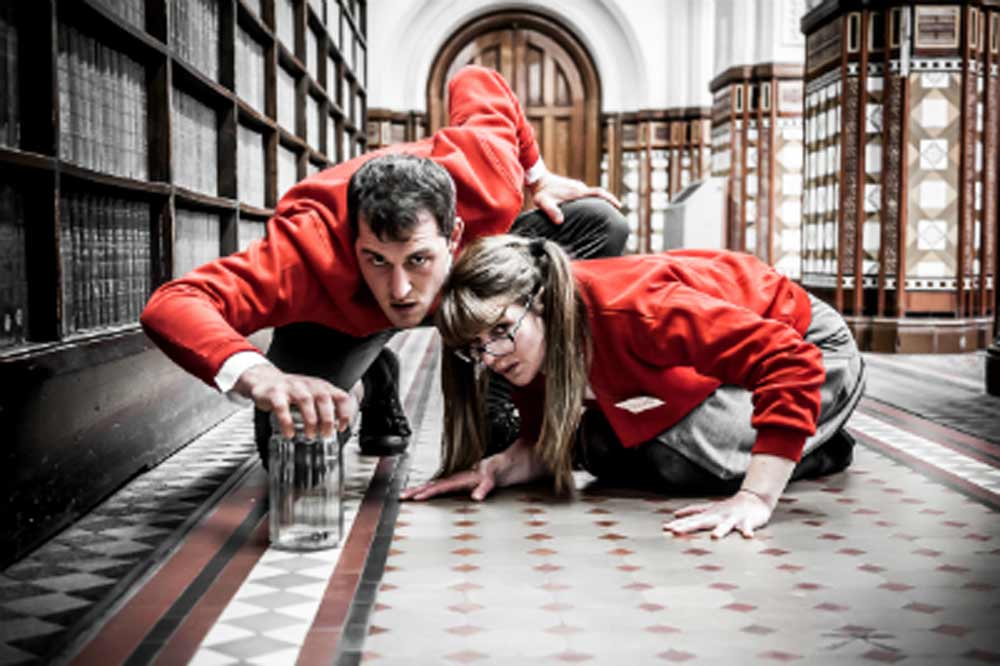 About The Rise of the Shadow Stealers
Cast: John Holden-White, Lynsey Jones, Tom Jackson
Director: Daniel Ingram-Brown
Adapted for the stage by: Paul Birch
Set & Costume Designer: Lauren Connolly
Associate Designer: Hannah Sibai
Sound Design: Daniel Ingram-Brown
Lighting Design: Matt Blackmore
Puppet Makers: Lynn Illingworth & Lucy Phillips from Codswallop CIC
Set build: Rob Fry
Movement Director: Natasha Harrison
Associate Movement Director: Steph Bradbury
Production Manager & Technician: Matt Blackmore
Producer: Emma McDowell
The production as had the support of Arts Council England, Greenbelt Trust, Leeds Big Bookend, North Yorkshire County Council Libraries, Frazer Theatre, Carriageworks Theatre, Starbeck Community Library, Knaresborough Library, Harrogate Theatre, CAST Doncaster and The Civic Barnsley.
Daniel Ingram-Brown
Born in East London, Daniel now lives in Yorkshire, in a house built from the stones of a ruined castle.
Daniel is the author of The Firebird Chronicles series for children aged 9-12: Rise of the Shadow Stealers (2013) and The Nemesis Charm (2016), both published by Our Street Books. He is the recipient of the Taner Baybars award (2016) for original fiction in the field of Science Fiction, Fantasy and Magical Realism, awarded by the Society of Authors Authors' Foundation.
Find out more about The Firebird Chronicles books by visiting the website here: www.firebirdchronicles.com
Daniel is currently Author in Residence at Beckfoot Upper Heaton School in Bradford, as part of First Story. He is also part of the Leeds Big Bookend Festival team, which he chaired from 2013-16.
Also a theatre director and playwright, Daniel is Artistic Director of Suitcase and Spectacles Children's Theatre. Their current production, an adaptation of his first book, is supported by Leeds' Carriageworks Theatre, Harrogate Theatre and The Leeds Big Bookend Festival.
Daniel has written over twenty plays, has overseen a number of community writing projects and enjoys giving workshops and author talks at schools, libraries and festivals. Daniel is interested in exploring philosophical and spiritual questions in fun and engaging ways that inspire children and adults to think and to wonder.
About Suitcase and Spectacles
Suitcase and Spectacles make fun, contemporary theatre for children and family audiences. Led by Co-Artistic Directors Daniel Ingram-Brown and Lynsey Jones, they create fast-moving storytelling productions that explore issues of identity, culture and community.
Find out more about Suitcase & Spectacles Theatre Company and Rise of the Shadow Stealers by visiting the website here: www.suitcaseandspectacles.co.uk