Work has commenced on a new Multi-Use Sports Court thanks to a £25,000 grant from funding body WREN.
The money, awarded by WREN's FCC Community Action Fund, is being used to provide a safe and secure space that is specially designed to be used for a variety of different sports including tennis, football, hockey, netball or basketball to the rear of Markington War Memorial Institute just of the High Street in Markington, Near Harrogate.
Matt Sharpe, retiring Co-Chairman of Markington War Memorial Institute believes the facility will make a huge difference to the lives of the people living in the area.
Matt said: This project will provide a real boost to the people of Markington. It's fantastic that WREN has awarded us this money and we are really looking forward to our multi use games area taking shape over the next few months.
WREN is a not-for-profit business that awards grants for community, biodiversity and heritage projects from funds donated by FCC Environment through the Landfill Communities Fund.
Penny Beaumont, WREN's grant manager for Yorkshire, said: We're delighted to be supporting the Markington MUGA project and pleased our funding will provide such a fantastic facility for a wide range of people in Markington and the surrounding villages. WREN is always happy to consider grant applications for projects that make a difference to local communities and we're really looking forward to seeing this one take shape soon.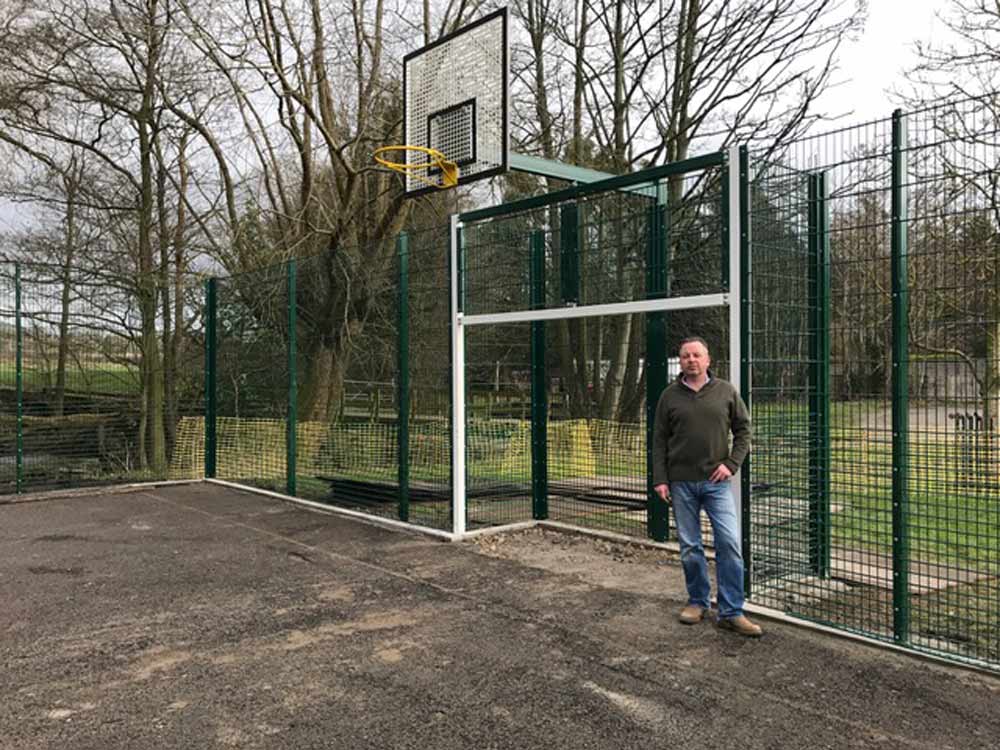 Project spokesperson Matt is delighted that work is underway and hopes the facility will be ready to use by May 2017.
The Multi Use Sports Court will be available for use by Markington Pre-School and Markington C of E Primary School children for PE lessons and after school sports clubs. Markington War Memorial Institute are keen to hear from other sports teams who may be interested in hiring the venue or holding sports coaching sessions to widen the range of sports on offer.
A family indoor games evening to include air hockey, pool, table tennis, board games etc is being held at 5pm on Saturday 4th March in Markington War Memorial Institute where people will be able to view the court progress and come together to celebrate the work so far. For further information about the sports evening or for court hire bookings please email suehouseman@hotmail.com
Markington War Memorial Institute is a registered Charity that manages the not-for-profit War Memorial Institute and will manage the Multi-Use Sports Court. The Institute is host to a range of organisations such as Markington Pre-School, Markington CE Primary School, Markington and District Billiards and Snooker Club. There is a range of activities and events on offer including yoga, bingo, dominoes, movie nights, travelling theatre groups and many social fundraising balls and parties.
WREN is a not-for-profit business that awards grants for community, conservation and heritage projects from funs donated by FCC Environment through the Landfill Communities Fud. Since 1998, WREN has granted over £200m to more than 7,000 projects which benefit people living within 10 miles of a FCC Environment landfill site. For more information visit www.wren.org.uk
FCC Environment is the leading UK waste and resource management company and is part of a global group with a strong heritage in providing services for communities and business. Its vision is to be the environmental company of choice, delivering change for a sustainable future. It employs 2.400 people and operates more than 200 facilities across England, Scotland and Wales. FCC Environment donates the LCF tax credits that are generated by its operations to WREN, in order to add value to the environmental and social infrastructure of the communities around landfill sites. www.fccenvironment.co.uk
The Landfill Communities Fund – any waste that is discarded which cannot be reused, reprocessed or recycled may ultimately be disposed of in a landfill site. To encourage the re-use , recycle and recovery of more value from waste and use more environmentally friendly methods of waste disposal, Landfill Tax is charged on each tonne of waste sent to landfill. Landfill Operators (Los) are able to redirect a small proportion of landfill tax liability (currently 6.8%) to support a wide range of community and environmental projects in the vicinity of their landfill sites through the Landfill Communities Fund (LCF). The LCF is regulated by ENTRUST on behalf of HM Revenue & Customs, and the projects are delivered by enrolled Environmental bodies (EBs). Since its inception in 1996, over £1bn has been spent on more than 32,000 projects across the UK. For further information, please visit www.entrust.org.uk or see HMRC's general guide to Landfil Tax.