The Design Museum in London has announced that Harrogate Grammar School is the overall winner of this year's Design Ventura, the annual, national design and enterprise challenge. Their winning product concept is Aqua Hook, a beautifully simple device that can be attached to a bag to carry a bottle of water. The winning team joined designer and broadcaster, Naomi Cleaver and the judging panel, led by Sebastian Conran, at an exhibition and VIP reception at the Design Museum in Kensington on Wednesday 15 February. At this event, they celebrated the achievements of all ten shortlisted teams, who were selected from over 240 schools participating nationwide and involving more than 10,000 students.
Design Ventura challenges students aged 13 to 16 to meet a real-life design brief.  The theme this year was 'Change', set by Asif Khan, who with Stanton Williams was recently chosen to design the new Museum of London at West Smithfield. Over 47,000 young people have participated in Design Ventura since 2010, run by the Design Museum in partnership with Deutsche Bank's Youth Engagement Programme, 'Born to Be', to develop students' design and enterprise skills.
The Harrogate Grammar School team; Oliver Bean, Harris Calvert, Seb Cassidy, Ben Jackson, and Jonty Trott are year 10 students who were shortlisted and invited back to London to attend two, excellent workshops organised by the Design Museum. Working alongside professional designers the students had the opportunity to experiment with some cutting edge electronic systems and develop their presentation skills in conjunction with the product they had designed.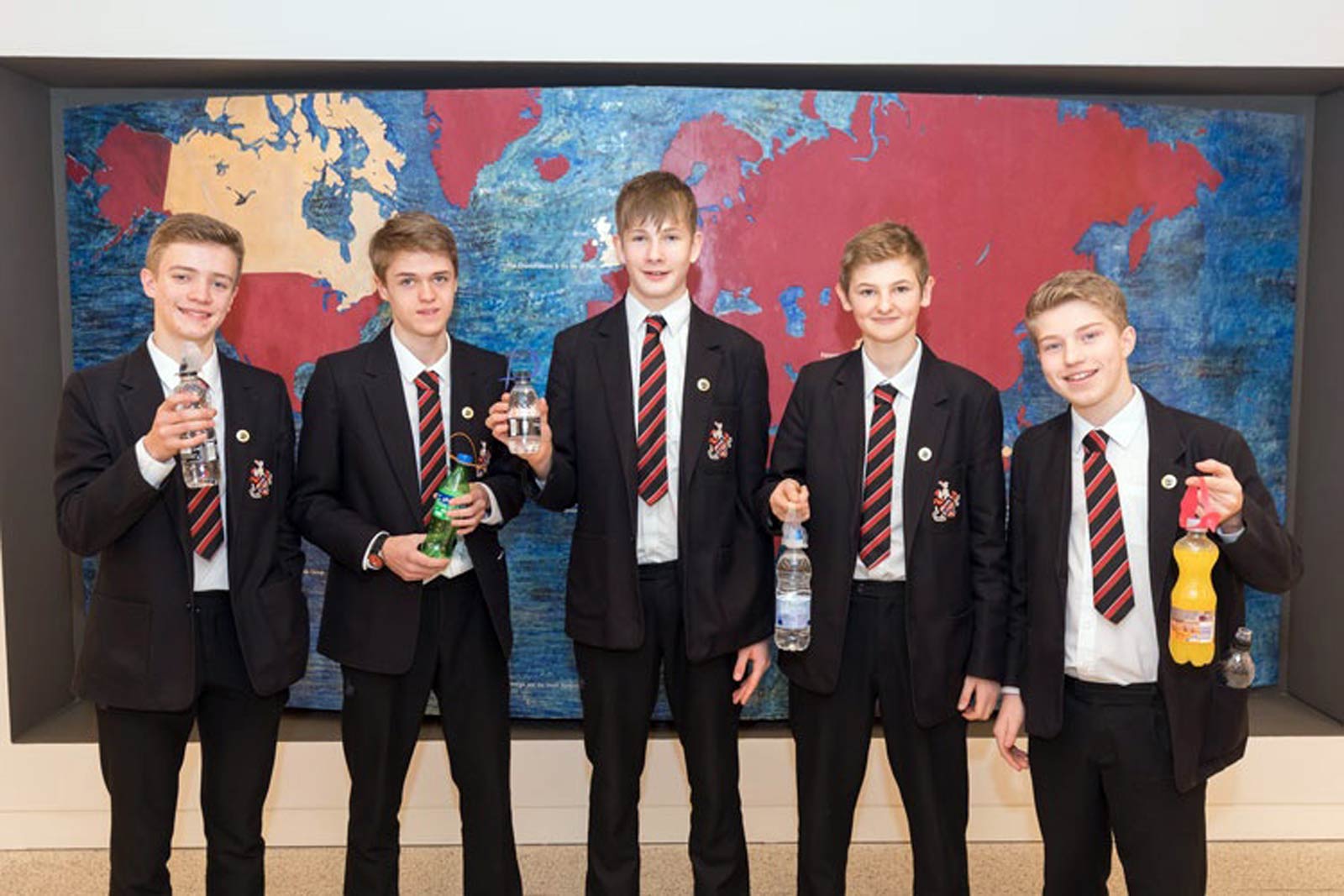 The evening VIP celebration event was attended by over two hundred guests in the main area of the new Design Museum. The designed products of all the ten shortlisted schools were displayed with the teams on hand to explain their concepts to the guests.
As the prizes were awarded, excitement started to build when the team from Harrogate Grammar School realised they were getting closer to the top three final awards.
Judge Sebastian Conran presented the winners award and said; "It was the most commercial product he had seen in the several years of the competition".
When asked how the team came up with the Aqua Hook concept in the first place, Oli answered: We began by thinking about how to improve the design of water bottles and drinks cans available in school, which eventually led to the idea of attaching a hook to a school bag. Also, we noticed how many people had water bottles leaking in their schools bags over their books and iPads, so we also thought about how to solve that problem.
Upon being announced as winners of Design Ventura the team from Harrogate Grammar School were asked how they felt, "It's absolutely incredible, we just can't believe it especially when 10,000 students entered from 400 schools, and we were chosen by a panel of internationally famous judges. Having the aqua hook manufactured and sold in the Design Museum shop is just a brilliant prize!!"
Oli, Harris, Seb, Ben and Jonty will now go on to work with professional designers where they will oversee and direct all aspects of the production of their winning concept including packaging, pricing and promotion for it to be launched in June and go on sale exclusively in the renowned Design Museum shop, alongside the latest design conscious products. All proceeds from sales will go to the charity MacMillan Cancer Support. They will also attend next year's awards evening which they are very much looking forward to.
Mr Dave Allen, Product Design teacher at Harrogate Grammar School praised the team: Throughout the process, Ben, Harris, Jonty, Seb and Oli have shown great professionalism. They took the brief and studied it, they thought of a problem they wanted to solve and there evolved the concept so the Aqua Hook is entirely their own work. This work ethic carried through in producing the product and to the presentation required for the judges which was just superb.
In line with Government's recent initiatives which encourage enterprise skills, Design Ventura helps to develop young people's confidence and employability skills in a practical context, preparing them for life outside the classroom.  The project also supports innovative design education and nurtures future generations of creative professionals, one of the UK's fastest growing sectors.
The judging panel were:
Alice Black, Co-Director of the Design Museum
Sebastian Conran, founder Sebastian Conran Associates, lecturer and judge of numerous international design awards
Asif Khan, founder Asif Khan, London-based architecture practice
Chris Ruse, former Director in Capital Markets & Treasury Solutions at Deutsche Bank
Michael Skapinker, Associate Editor at the Financial Times and author of weekly column Business and Society
Also see:
http://ventura.designmuseum.org/design-ventura-awards-list-2016-1
https://www.designweek.co.uk/issues/20-26-february-2017/design-museum-reveals-winner-design-ventura-competition/