This week two retail giants, Honda and Marks & Spencer, teamed up with Dementia Forward to host a fashion show and created a winning partnership.
On Tuesday night (18 October 2016) the Marshall Honda showroom was transformed for a fabulous evening of fun and fashion all in a good cause. The evening was hosted by Dementia Forward volunteers Nina and Penny, who had played a big part in coordinating the event, and attended by over 120 guests who entered into the spirit of the evening and helped raise lots of money.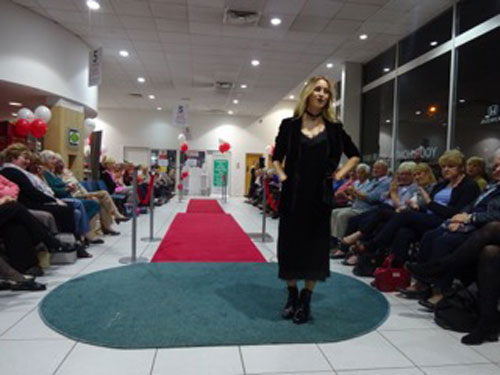 Models dressed in the latest collections from Marks & Spencer took to the red carpet, showcasing everything from cosy onesies to smart jackets, embroidered jeans to sequinned dresses. After the show, there was a chance to browse and buy and also an opportunity to get top tips and goodie bags from the M&S beauty expert.
While the models took a break, there was still plenty to keep guests busy, including a fabulous raffle with prizes including dinner for two at Rudding Park and entry for Yorkshire Warrior. Since proceedings were taking place in a car showroom, it was the perfect opportunity for some fun activities to reflect this, including a chance to win a car (generously sponsored by Honda) and a team tyre-changing challenge. Four ladies, going by the name of the WI Rascals, were the winning team.
As Netty Newell, Operations Manager for Dementia Forward, said:

We were delighted with the fantastic team effort that went into the night, and how smoothly it ran thanks to the amazing work of M&S and Honda and our wonderful volunteers. As Dementia Forward supports over 1,000 families, it really makes a big difference when the community rallies round and supports our fundraising events.
Dementia Forward is Marks & Spencer Harrogate's Charity of the Year 2016, and the money raised will go towards their total for the year. For more information on Dementia Forward, call 01765 645904 or visit www.dementiaforward.org.uk