Students at Rossett School in Harrogate are celebrating a second consecutive year of improved A level results.
The pass rate for the school was 99.7 per cent, with 23 per cent of the students awarded grades A* or A, and just shy of 80 per cent of all grades awarded being A*-C.
Headteacher Helen Woodcock said:

I am so proud of the results our students have achieved this year.

As well as being another strong year of improved results for the school, it is a great moment for the students as individuals. These grades are the culmination of two years' hard work and commitment, and will enable almost all of our students to go on to their chosen jobs or university courses.

Today's results also show the level of help and support the students have received from teachers and other staff at Rossett, as well as their families and friends. We are delighted for all of them and can't wait to hear about what they achieve in the next chapter of their adventures.
Many of Rossett's students are going to university to study Sciences, Law and Languages, and a number will be receiving prestigious scholarship awards related to their chosen subjects.
Pursuing the sciences was something that Rossett's head girl and boy spoke passionately about when working with younger students within the school. True to form, Ellen Dunn achieved A* in Mathematics and As in Physics and Chemistry, earning her a place studying Chemistry at Durham. Meanwhile, head boy Ryan Higlett, will study Biochemistry at Leeds after achieving AAB .
Among the other outstanding results were:
Lauren Dolman – A*AA – has secured a place to study Classics at Oxford. Lauren will be the first of Rossett's Oxbridge students to choose Classics as an area of study.
Alex Dallas – A*A*AA – will be heading to University College London to commence a Physics degree. Alex is also an accomplished musician achieving Grade 8 in his piano this year.
Flo Milner – A*A*A – will be studying Law at Kings College London, having achieved excellent LMAT results.
Jacob Woodhouse – AAA – will also pursue Law and has chosen University College London.
Elizabeth Myles – ABB – is the first student from Rossett School to be offered the opportunity to study Korean Studies post-Sixth Form; the course is being offered at Sheffield University.
Phil Kilford, Chair of Governors, added his congratulations to the students and the school:

Rossett's sixth form is a great example of a truly comprehensive education. No matter where their skills lie, students are encouraged to have high aspirations and to work hard to achieve what they want in life.

These results are a direct result of that philosophy and I'm delighted for all the students and staff involved.
As well as maintaining the levels of improved results for the school, some individual students achieved particularly impressive grades.
Some students achieved A*/A grades in all of their qualifications: Alexander Dallas (A* A* A A); Florence Milner (A* A* A); Lauren Dolman, Ellen Dunn and Robert Noble (each with A* A A); and a run of three or more straight A grades for Jack Lowerson-Squires, Chloe Thackray, Lydia Valentine and Jacob Woodhouse.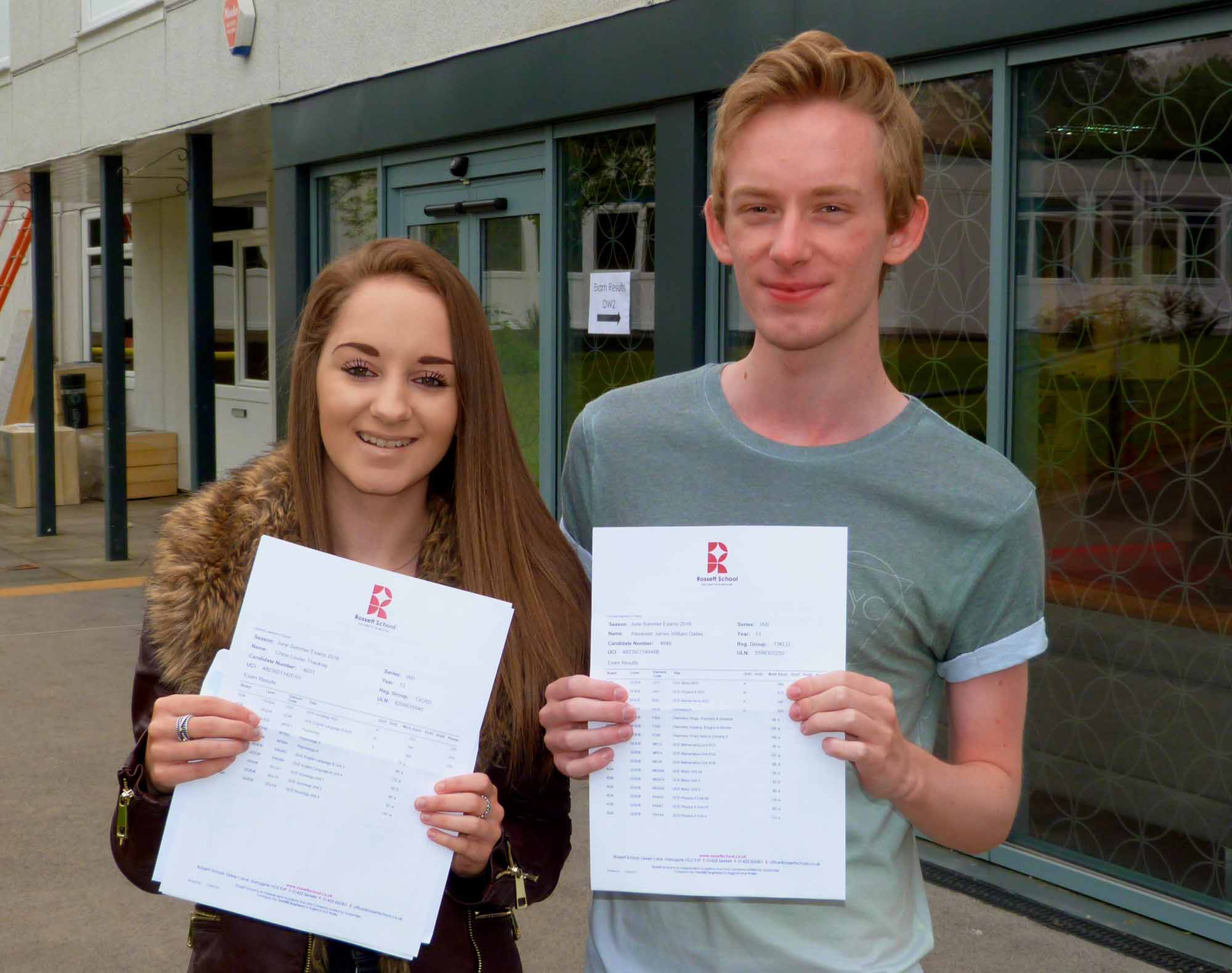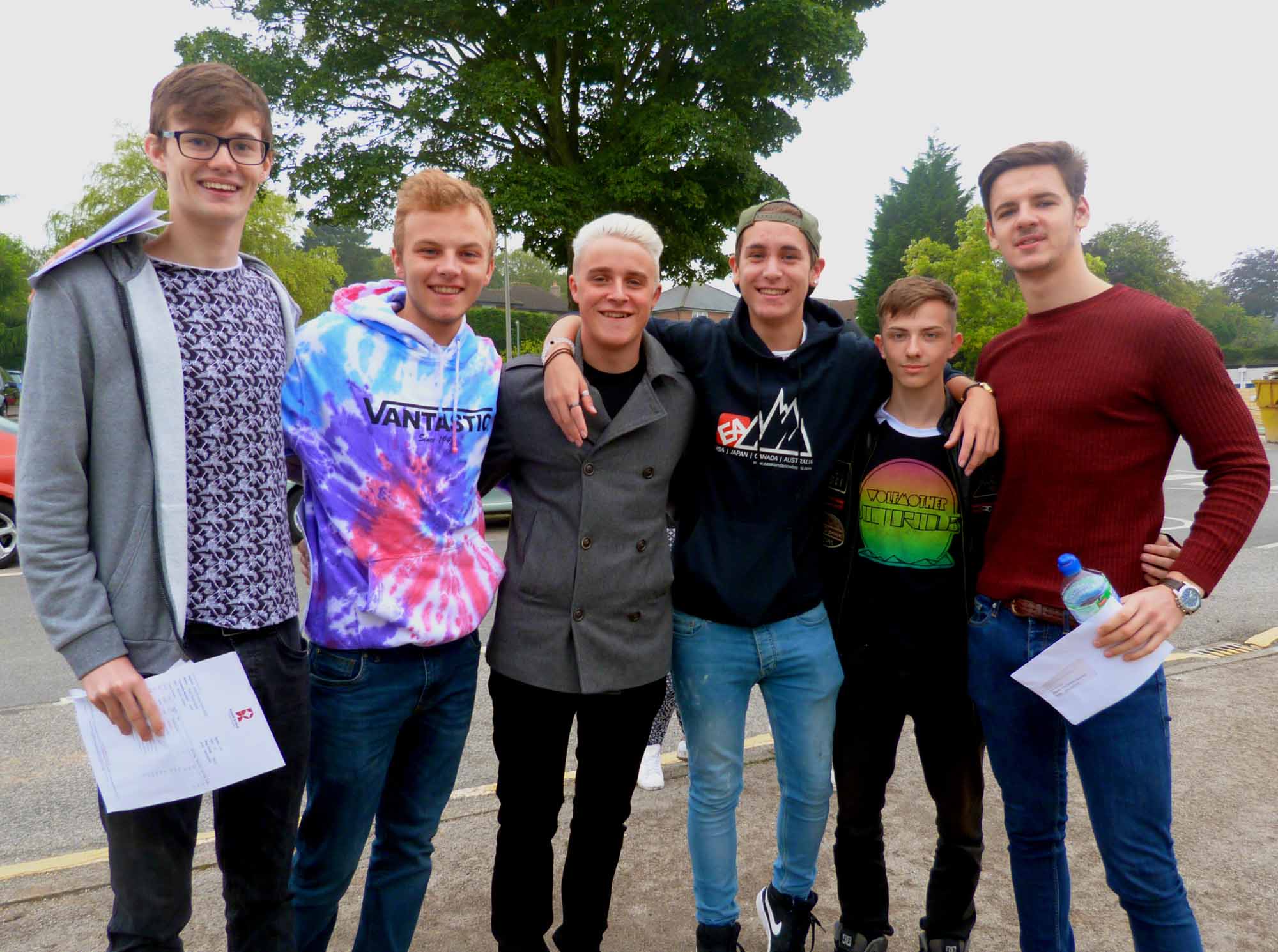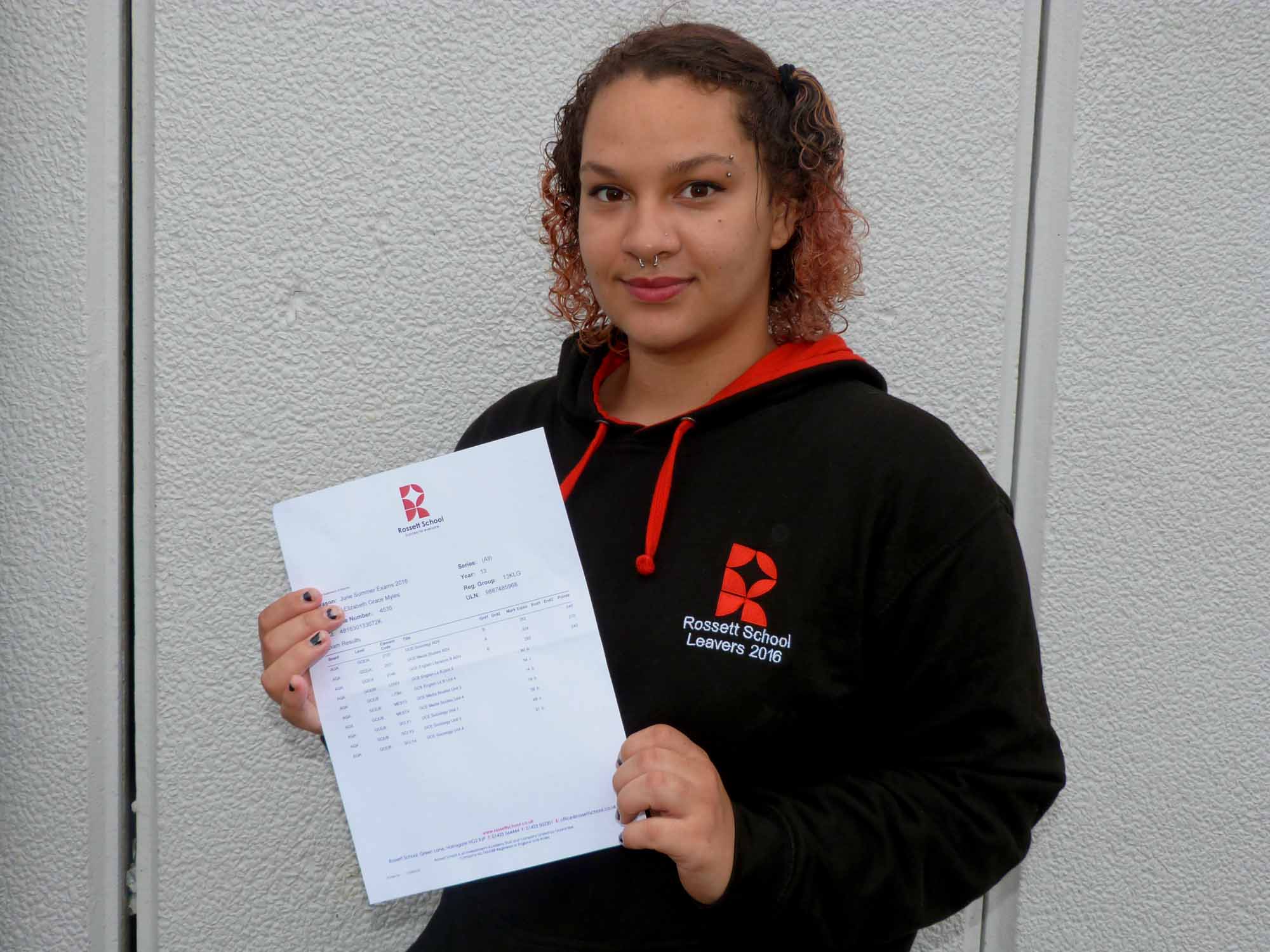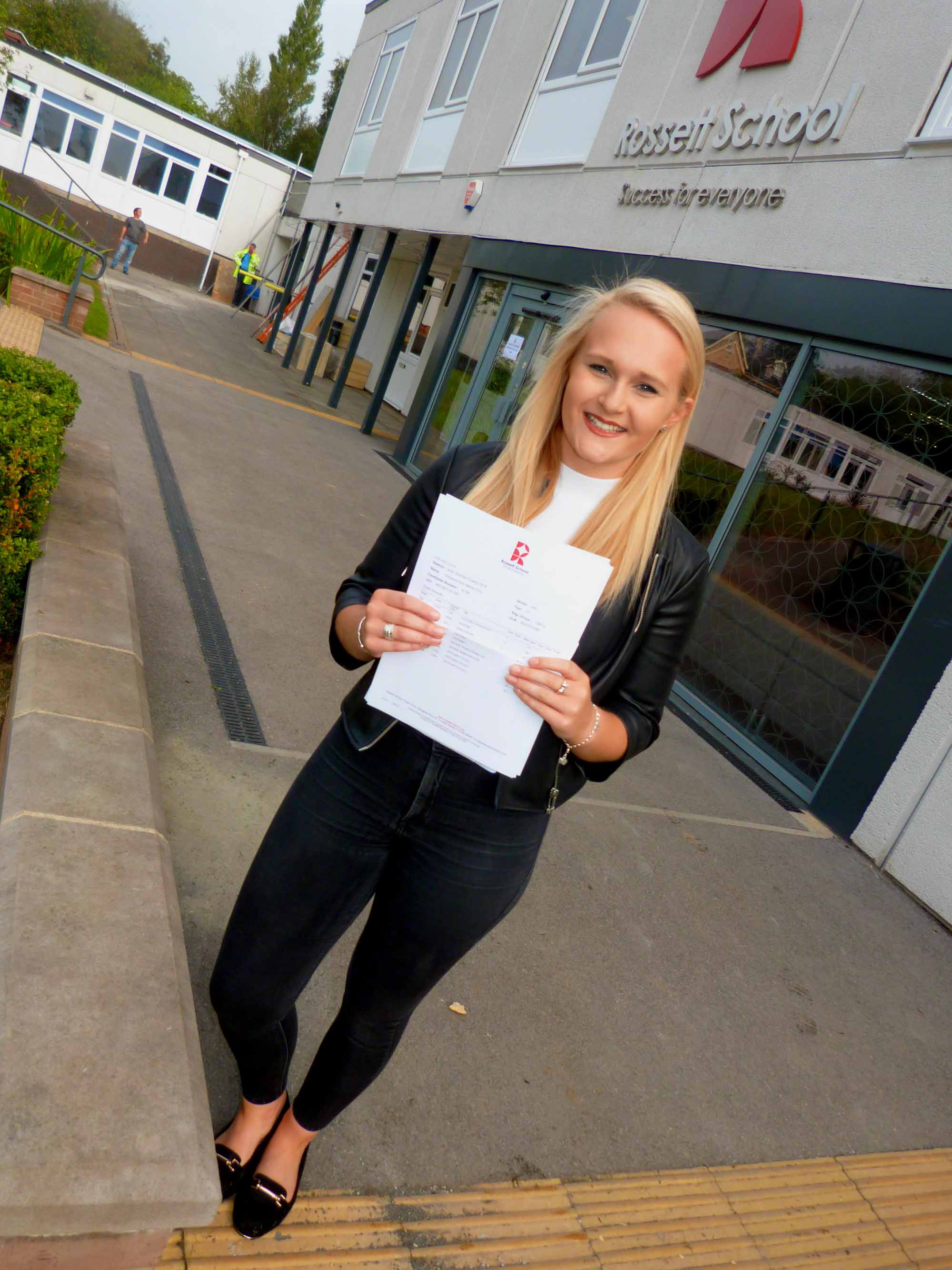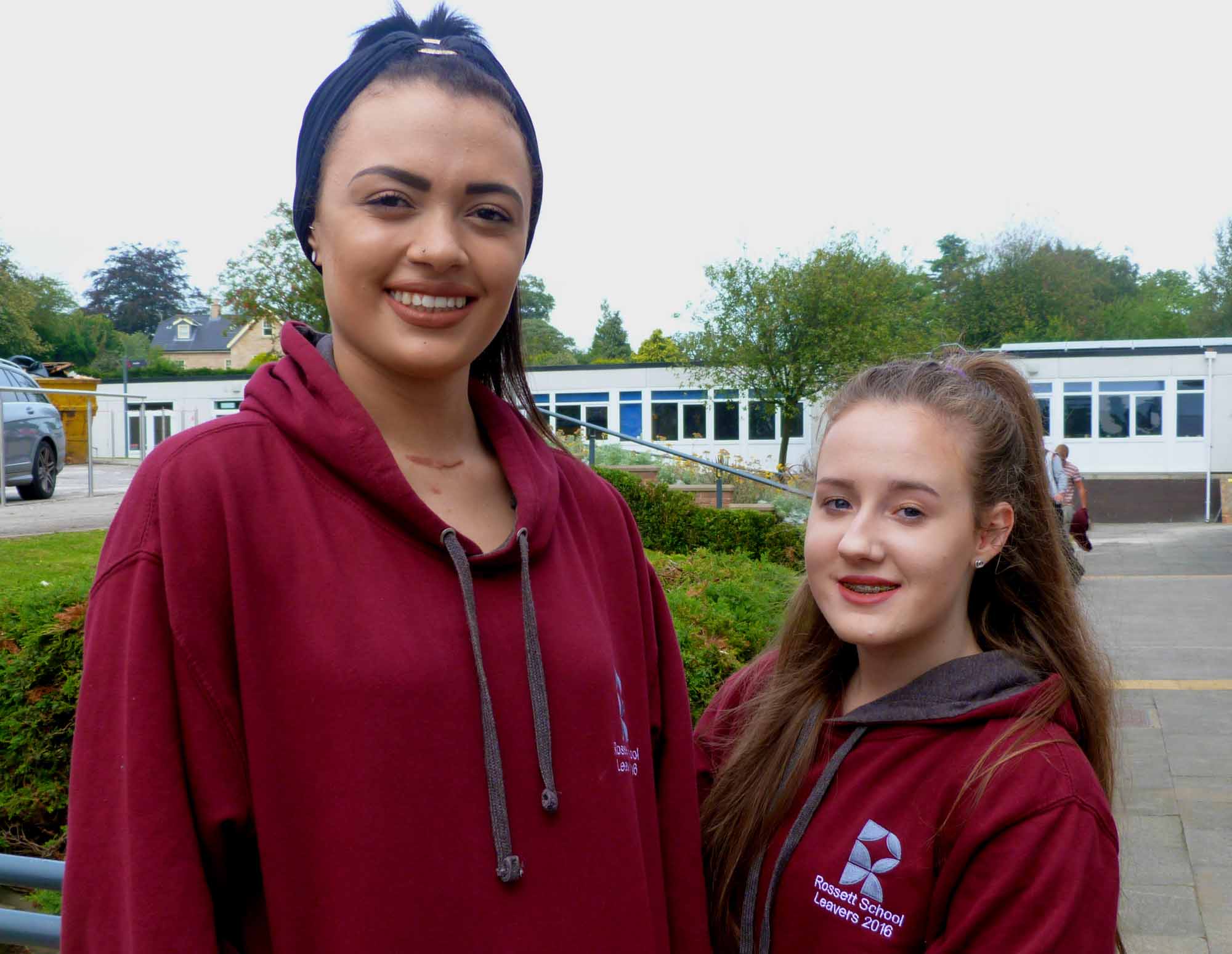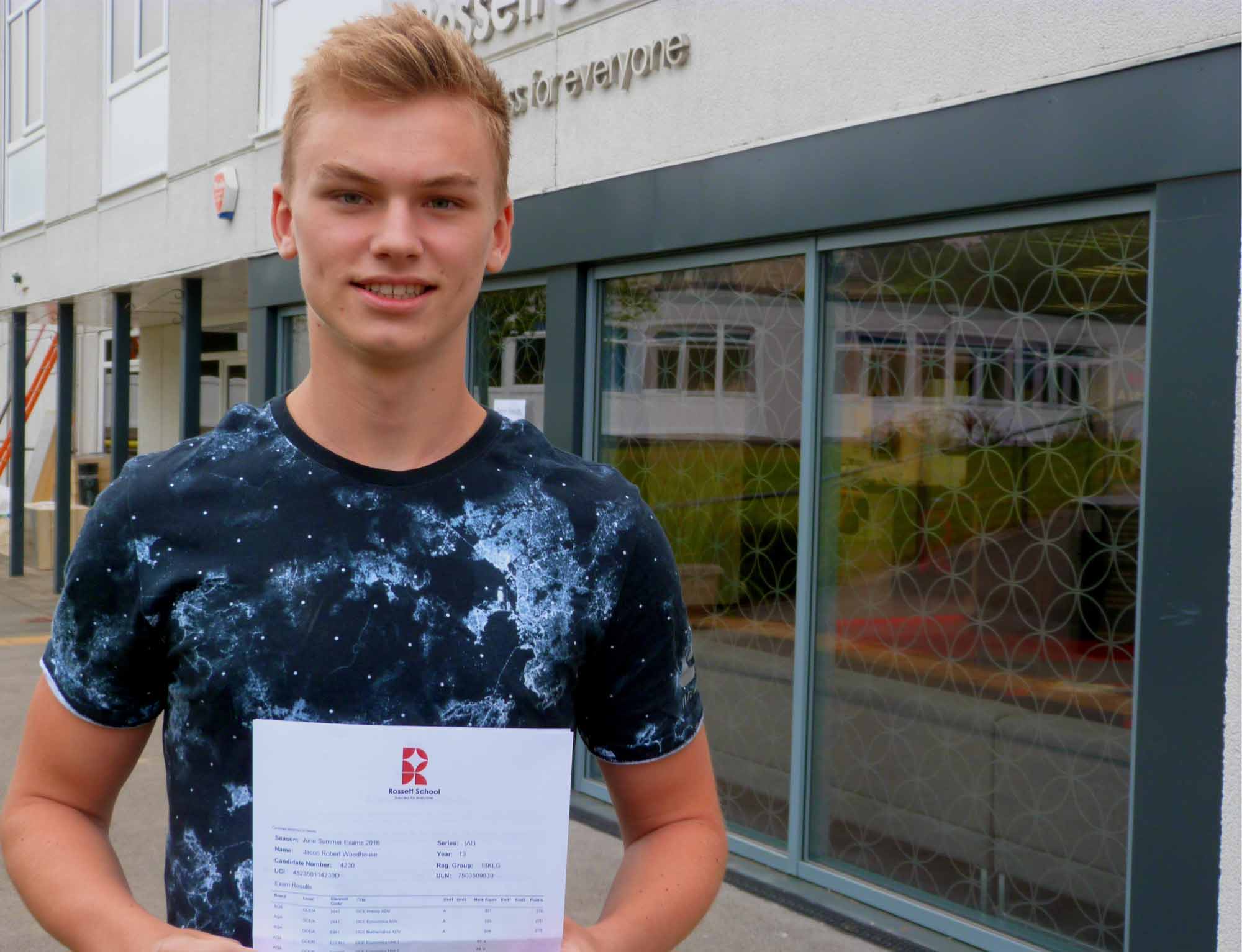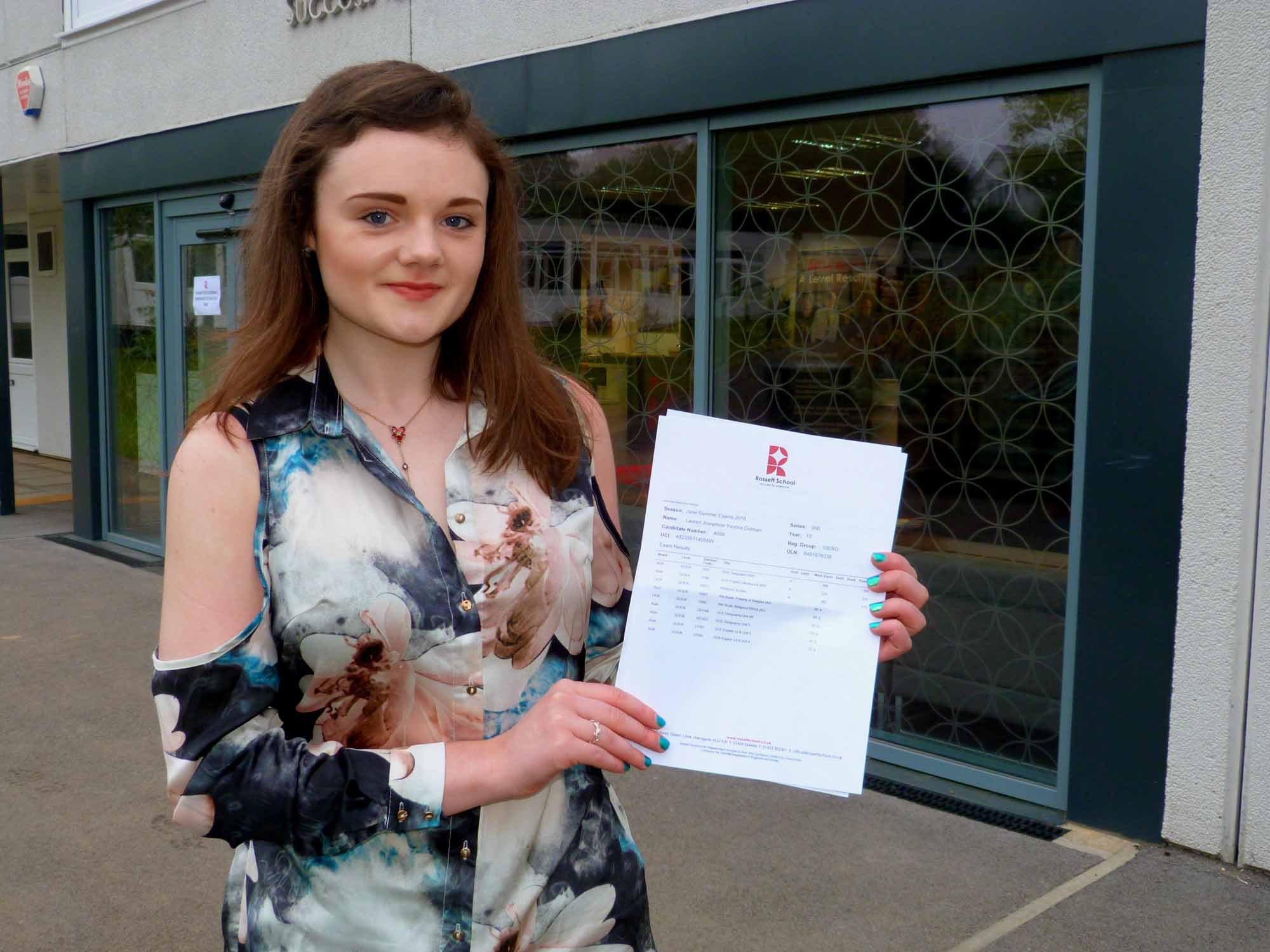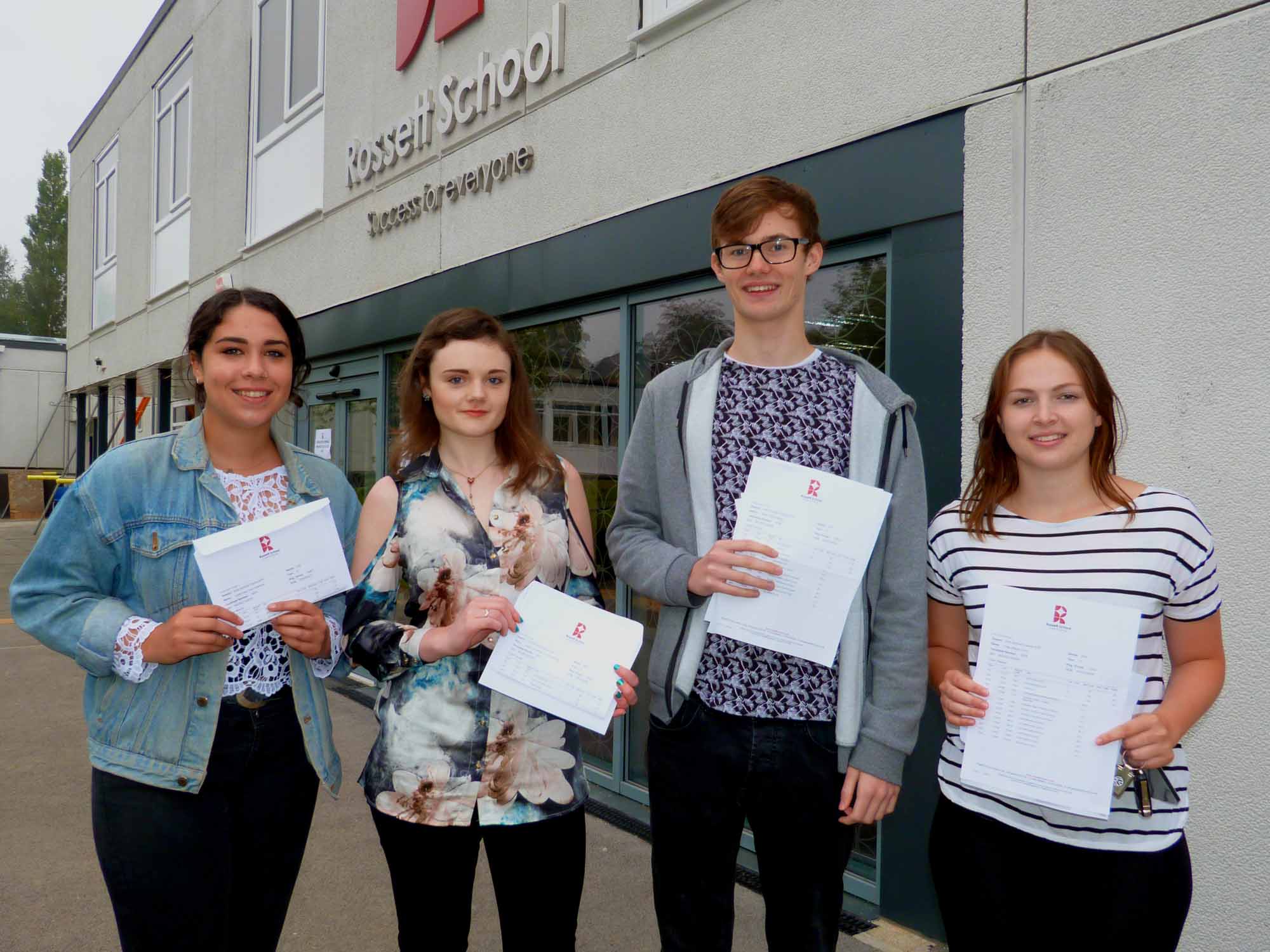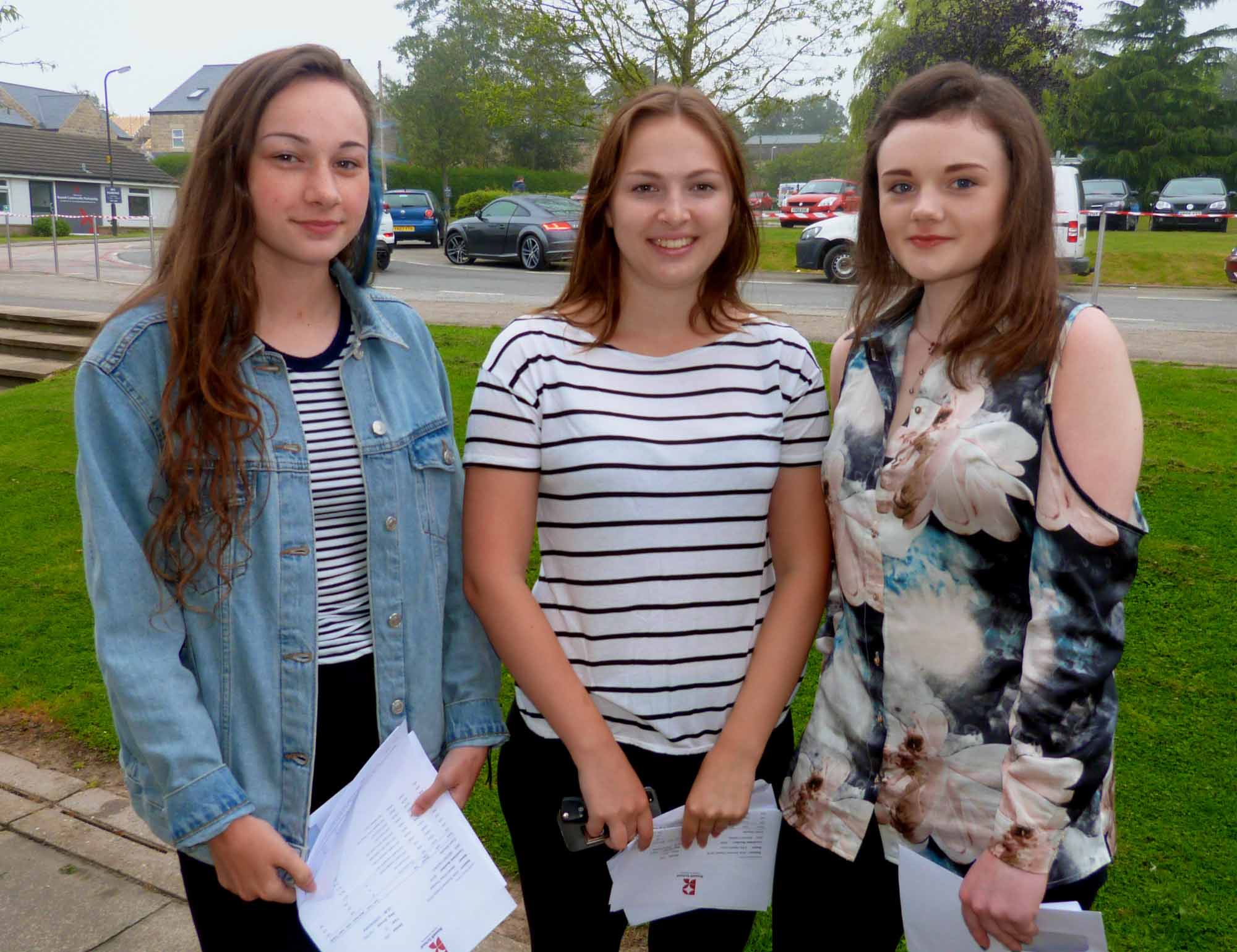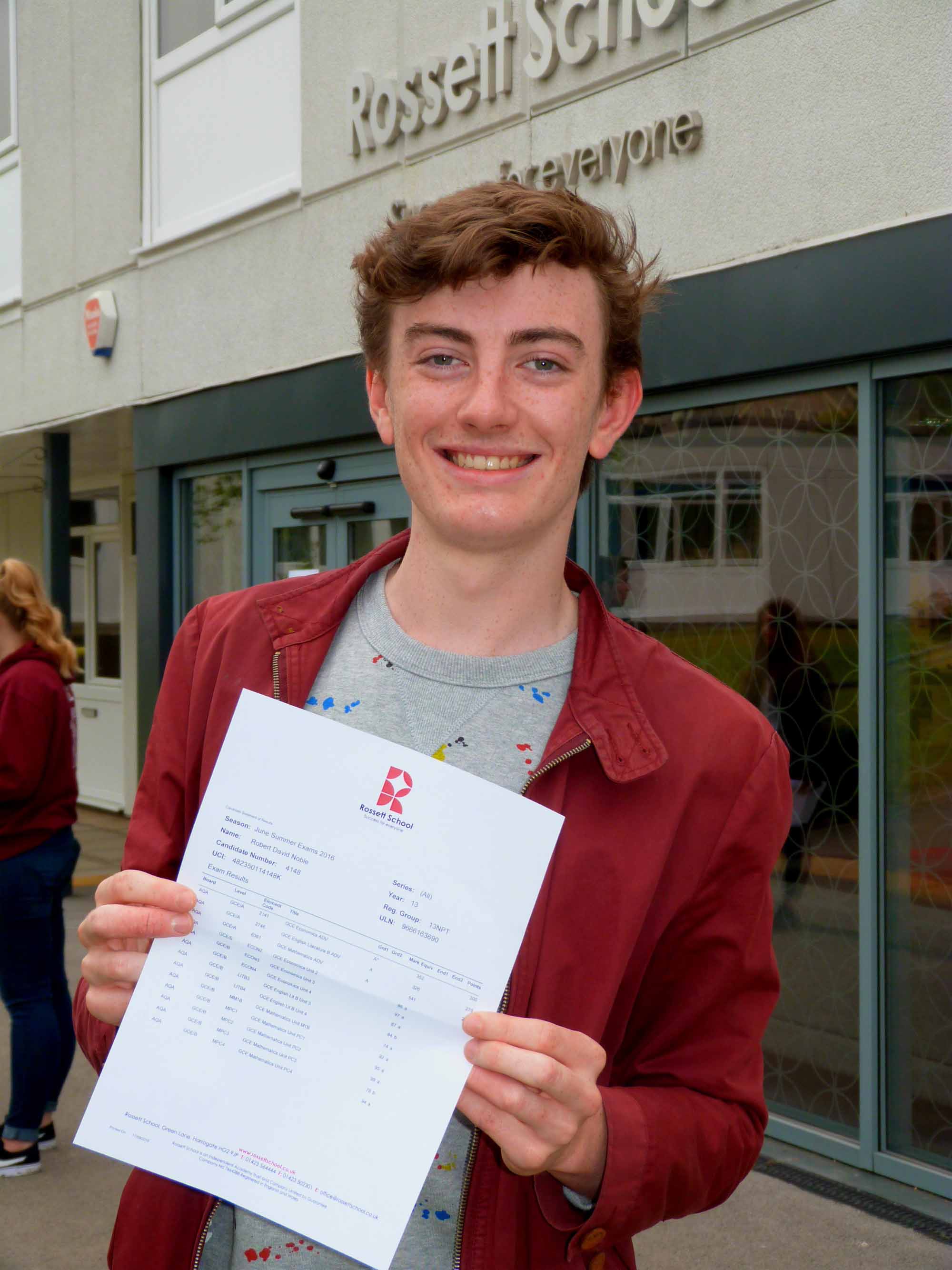 .
Boys – A successful day for Rossett's sixth form students as they collected their A level results.
Elizabeth Myles scored ABB and will be the first Rossett student to take a degree in Korean Studies when she starts at Sheffield in September.
Emily Howells, Meg Terzza, Will Nimick, Katy Scott and Alex Dallas celebrate their A level results at Rossett School.
Flo Milner will head to Kings College London to study Law after achieving A*A*A at Rossett School.
Grace Lansbury will study journalism at York St John, and Amie Jennings has already taken her first steps to a career as a gymnastics coach, after collecting their exam results at Rossett School.
Jack Lowerson got three As and will take an art foundation course before going on to university.
Jake Woodhouse and Olivia Kingston have gained their chosen places at university: Jake at UCL to study Law, and Olivia studying Law and Criminology at Birmingham City University.
Jake Woodhouse gained three As and will study Law at UCL.
Lauren Dolman will read Classics at Oxford after getting A* AA in her A levels at Rossett School.
Lydia Valentine, Lauren Dolman, Ryan Higlett and Ellen Dunn achieved two A*s, nine As and a B between them at Rossett School.
Lydia Valentine got three As and will study English Literature at Leeds.
Molly Casper will study Psychology at Newcastle after achieving A*AC in her A levels at Rossett School.
Naomi Younger, Ellen Dunn and Lauren Dolman achieved two A*s, five As and two Bs between them at Rossett School.
Robert Noble scored an A* and two As to earn him a place at Manchester studying economics.
Head boy Ryan Higlett earned his place at Leeds studying Biochemistry with his AAB grades at Rossett School.