South Yorkshire Police and Crime Commissioner, Dr Alan Billings, has appointed a new interim Chief Constable of South Yorkshire Police, until a permanent Chief Constable is recruited and appointed to the post in due course.
Dave Jones, the Chief Constable of North Yorkshire Police, has assumed command of South Yorkshire Police following a joint agreement between Dr Billings and the Police and Crime Commissioner for North Yorkshire, Julia Mulligan.
Chief Constable Jones will take up the interim post from noon on Tuesday 3 May, and he will be based at South Yorkshire Police's HQ in Sheffield from that time.
He will work as part of a leadership team comprising Deputy Chief Constable Dawn Copley, Director of Finance for South Yorkshire and Humberside Police, Nigel Hillier, Assistant Chief Constable Rachel Barber and Acting Assistant Chief Constable Jason Harwin and members of the Strategic Partnership within Humberside Police.
An additional Assistant Chief Constable, Ken McIntosh, will also be seconded from North Yorkshire Police to provide interim support to Chief Constable Jones and South Yorkshire Police Chief Officer team, in particular to help coordinate the provision of support from national police agencies.
The permanent role of Chief Constable for South Yorkshire Police will be advertised in the coming weeks, with a view to making an appointment over the summer.  Once a permanent Chief Constable is in post, CC Jones will return to his substantive position at North Yorkshire Police.
Dave Jones started his policing career in 1986 with Greater Manchester Police. In 2008 he was appointed to the role of Assistant Chief Constable for Police Service Northern Ireland.  He took up the position of Chief Constable at North Yorkshire Police in 2013, where he has worked with Julia Mulligan, Police and Crime Commissioner, on a programme of service improvement and modernisation.  Chief Constable Jones is also the National Police Chiefs' Council lead on citizens in policing, and sits on the national Special Capabilities Board.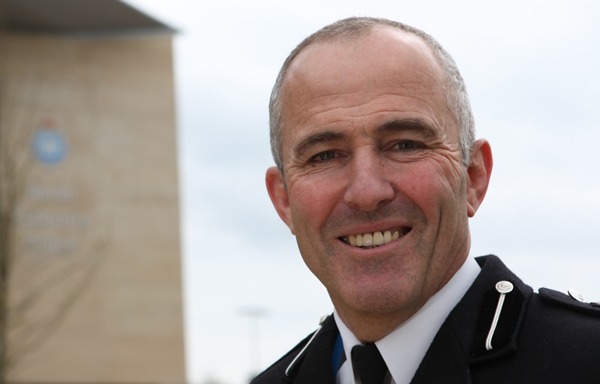 During the interim appointment, North Yorkshire's Deputy Chief Constable, Tim Madgwick, will become Temporary Chief Constable for that force.  DCC Madgwick has served 28 years with North Yorkshire Police and was awarded the Queen's Policing Medal in this year's New Years' honours.
Commenting on the appointment, Dr Alan Billings, Police and Crime Commissioner for South Yorkshire said:

I welcome Chief Constable Dave Jones and I am confident that he will be able to move the force forward to a position where trust and confidence in the force can begin to be restored.

The last week has been very turbulent for South Yorkshire Police and I am well aware of the anguish felt by the communities of South Yorkshire and police officers and police staff at the present time. I will be working closely with the Force to establish stability as soon as possible.

I want to give reassurance to all and make it clear that I have been working very hard alongside members of my office and colleagues in the Home Office, the College of Policing and HMIC to resolve these issues as a matter of urgency.

I am also very grateful to the Police and Crime Commissioner for North Yorkshire, Julia Mulligan, who has been extremely supportive and has offered the services of Chief Constable Jones to us during this very difficult period.
Julia Mulligan, the Police and Crime Commissioner for North Yorkshire, said:

As Police and Crime Commissioner for North Yorkshire, my first responsibility is to ensure that we have strong leadership in place for North Yorkshire Police, and I have considered that duty, alongside my responsibilities to the public, very carefully.

However, it is also clear that the people of South Yorkshire, its police service and the wider public and families are in real need of support and leadership, whilst the recruitment process for a permanent Chief Constable takes place.

Here in North Yorkshire, I have an outstanding Chief Constable in Dave Jones, who has proven to be an extremely effective leader, and has inspired confidence amongst the force and the public. I am therefore pleased to be able to respond positively to PCC Dr Alan Billings' request for support by releasing Dave Jones to serve as Chief Constable in South Yorkshire as an interim measure.

In addition, over the past few days, I have also been reassured that Chief Constable Jones will have the necessary backing and resources from Her Majesty's Inspectorate of Constabulary, the Home Office, the National Police Chief's Council and the College of Policing to assist him with his role.

All of this is only possible due to the strength of North Yorkshire's Chief Officer team. In particular, I have full confidence in Deputy Chief Constable Tim Madgwick, with whom I have worked very closely over the past few years. Mr Madgwick is a highly respected, experienced senior officer, and I am certain that North Yorkshire Police will be in very safe hands over the next few months.
Chief Constable Dave Jones said:

I joined the police service to make a difference and to keep people safe, and that will be my focus at South Yorkshire Police.

There is no question that this is a very difficult period, both for South Yorkshire Police as an organisation, and for the communities it serves locally and further afield.

Nevertheless, I believe there is a strong desire – both inside and outside the police service – for the Force to move forward in a positive direction.

With that in mind, I will work with the new Chief Officer Team over the coming months, to make sure that South Yorkshire Police makes progress until a permanent Chief Constable is appointed.

First and foremost, I will engage with those communities both inside and outside of South Yorkshire who have been let down by the police service. I want to understand how their confidence in policing has been affected, and work with them to build it back up and restore pride back into the police service.

It is also important that officers and police staff are supported to get on with the day job, which is to serve the public of South Yorkshire and keep people safe.

In addition, and with the support of the Police and Crime Commissioner, I will be seeking the full support of the College of Policing NPCC and HMIC to provide a thorough review of South Yorkshire Police. The full details of this and the Terms of Reference will be worked out in due course in partnership with the South Yorkshire Police and the PCC. This will form the basis of a route-map for the incoming Chief Constable.

I will also work alongside the Police and Crime Commissioner to seek to ensure that the service has sufficient funding and resources to tackle the issues facing the Force.

I am not under-estimating the scale of the work ahead, but part of the reason why I have taken on this interim role is that I believe that the policing as a whole has a duty to help the service in South Yorkshire to move forward.

It is vitally important and it is the bedrock of British policing that we have the trust and confidence of the public and if anything puts that at risk the whole of the police service needs to respond accordingly.