Leeds playwright, Brian Daniels play on dementia tours Yorkshire.
The acclaimed play Don't Leave Me Now by Leeds playwright Brian Daniels is on a tour of Yorkshire.
Thursday 3 March 2016,  Frazer Theatre, Knaresborough
Free entry
To secure a seat please contact Brian Daniels 07740 372 333 or email brdan@icloud.com
The cast Brian Daniels, Marie Fortune, Julie Higginson, Martina McClements, Karen Spicer, will be performing dramatised 'script in hand' readings of DON'T LEAVE ME NOW.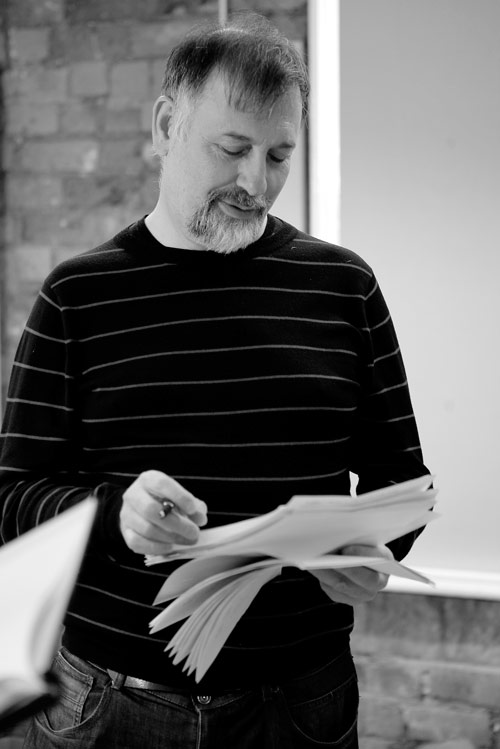 The play written by Brian Daniels and directed by Jeni Draper, explores with humour and insight the impact on two very different Yorkshire families, before and after, a dementia diagnosis. Where does love end and duty begin – or does it?
DON'T LEAVE ME NOW was inspired by the true stories of Professor Rachael Dixey who nursed her partner through early onset dementia for ten years – every day writing in her Journal about her experiences. In the same care home lived Chris Toulman whose wife Cindy visited him every day and all day for the last seven years of his life. Playwright Brian Daniels weaves the strands of these two stories to create a drama with authenticity and impact.
Endorsed by all major Dementia Charities, the National Council for Palliative Care, Cruse and Age UK, the play has had over 60 dramatized performed readings in UK and Ireland. It has been professionally filmed by the NHS for use in training Health Care professionals. A fully staged production is scheduled to be opened at Theatre Royal Portsmouth in 2017.
A discussion will follow each performance.
Born in Leeds, Brian Daniels was Artistic Director of the New End Theatre, Hampstead, London, between 1997 and 2011. During this time he produced over 200 new plays, musicals and event. He was Artistic Director of the Shaw Theatre, London, where he produced concerts by Eartha Kitt, Elaine Stritch, Gloria Gaynor, Boy George, Dionne Warwick and Michael Feinstein. His work as a writer includes: WHERE'S YOUR MAMA GONE? (Leeds, London and touring); A BIG DAY FOR THE GOLDBERGS (Leeds, London, Edinburgh and touring); THE GOOD AND THE TRUE (Leeds, London, Prague and an eight week run at teDR2 Theatre, New York – Off-Broadway) and DON'T LEAVE ME NOW (touring) Between 1983 and 2004 he was the CEO of Daniels Bates Partnership with a Head Office in Leeds and 14 UK offices.
'Script in hand' performance of Don't Leave Me Now
Written by Brian Daniels
Directed by Jeni Draper
Cast: Brian Daniels, Marie Fortune, Julie Higginson, Martina McClements, Karen Spicer,
Tuesday 1 March Bradford City Hall at 5.00pm
Thursday 3 March Frazer Hall, Knaresborough at 3.00pm and 6.00pm
Friday 4 March St. Peter's House, Forster Square, Bradford at 2.30pm
www.dontleavemenow.uk