Two acclaimed children's authors will make an appearance at St Aidan's Church of England High School, thanks to two award-winning pupils.
Phil Earle, the Carnegie longlisted author of Demolition Dad, which has been dubbed as 'Danny the Champion of the World in Spandex', will visit Year 8 on Friday (15 Jan 2016).
Author and illustrator, Kate Pankhurst, who was the recipient of the Macmillan Prize for Picture Book Illustration and who writes the Mariella Mystery series, will visit Year 7 on Thursday (21 Jan).
Both will deliver a one hour creative writing session, followed by a book signing.
The visits are part of a competition prize for the national Raworths Young Writers competition, which was launched last year by Harrogate International Festivals and Raworths Solicitors in partnership with Pobble – the global literacy initiative for sharing children's writing.
Jessica Barry, aged 12 (Year 7), won the Young Category open to Year 4-7, with her short story, The Person I Thought I Was.
Harry Fawcett, aged 14 (Year 9), won the Older Category open to Year 8-10 for The Cricket Ball.
The pair beat over 400 entries, with the winning entries judged by author Damian Kelleher, a previous editor of the Daily Telegraph's Young Telegraph supplement, who chose the final winners from the two shortlists of ten.
Raworths is the title sponsor of the Raworths Harrogate Literature Festival, which last year featured big authors including Richard and Judy, Louis de Bernières and Alan Johnson. The 2016 Raworths Harrogate Literature Festival will take place at the Crown Hotel from 7-10 July, and the line-up is to be announced this March.
Carmelita Ardren, Head of Family Law at Raworths solicitors, said:

Raworths are proud sponsors of the brilliant Raworths Harrogate Literature Festival, which brings some of the greatest writers every July to the Crown Hotel. We really wanted to support this initiative that looks to the younger generation to promote literacy and creativity. Seeing a great concert, being inspired by an artist or reading an involving book can be really life changing. Especially when we're young. We'd love it if our support of this educational outreach work could end up with the likes of Jessica or Harry starring in the Festival line-up in future years.

Last July, 300 pupils from schools from across the District attended creative workshops and author talks at the Royal Hall to launch the competition, which was also promoted across North Yorkshire libraries.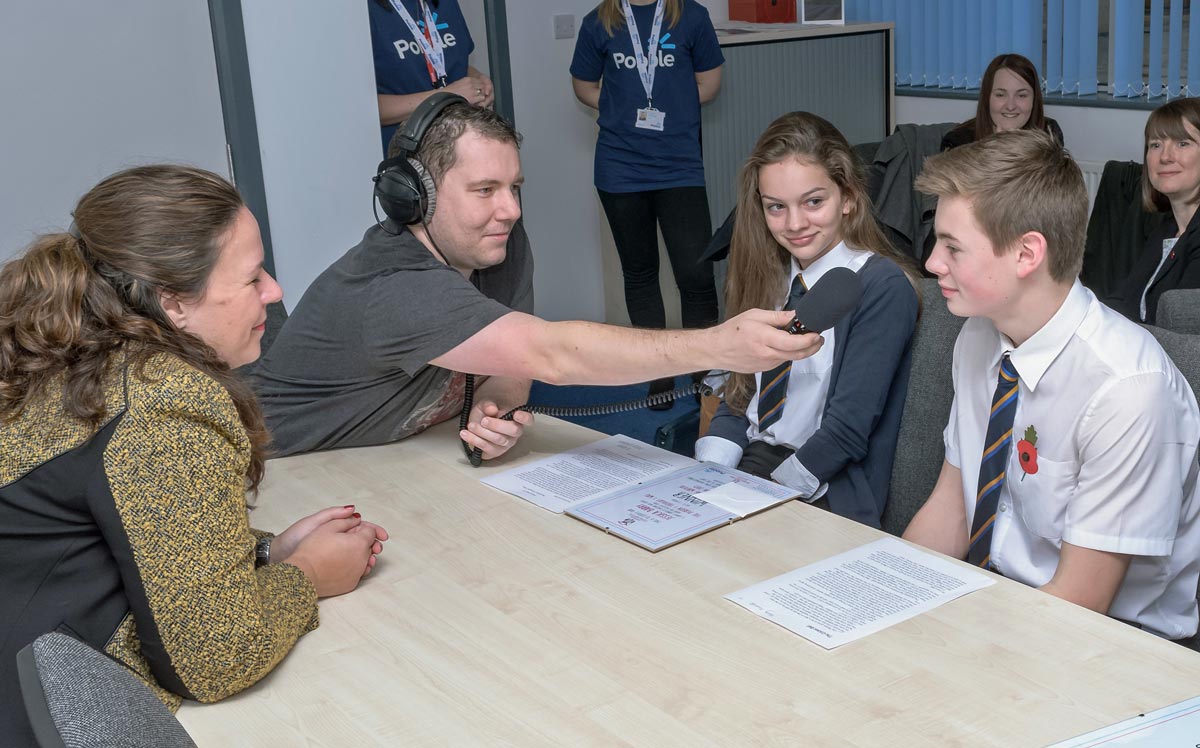 Sharon Canavar, CEO of Harrogate International Festivals, said:

The Festivals has an enviable reputation for its literary festivals bringing world-famous authors to the town, but equally important is our educational outreach work that we do year-round. We want to use our platform to engage and inspire children to access the arts, and to harness the that transformative, positive power the arts can have on young lives.
The two St Aidan's winners also had the chance to read their winning stories on Stray FM, received £50 book vouchers and a giant bundle of books for their school library donated by Orion Children's Books and Random House Children's Publishers.
Antonia Parris, English teacher at St Aidan's, said:

The Raworths Young Writers Competition is such a fantastic initiative which the whole school really got behind in our English lessons last year. We're really very proud, not just of the winners, but of all the pupils who had a go and took the brave step to enter.

We had around 60 high-quality entries from children of all ages to the competition, creating quite the buzz. We're incredibly excited to welcome two brilliant authors this week, and feel very lucky to welcome them and see how they will inspire more pupils to engage with their own creativity.
Simon Blower, co-founder of Pobble and a former Harrogate teacher, said:

Writing is crucial for all ages, not just in terms of developing literacy, but it helps young people express themselves, and boosts confidence.

This is what Pobble is all about – giving children a platform to share their fantastic writing. Nothing inspires more than experiencing writers in real life, firing young imaginations and hopefully, turning them into keen writers.