Ripley Castle Cyclocross is the first cycling event of 2016, and offers the opportunity for cyclists and non-cyclists alike to have an exciting day out to welcome in the New Year!
The event, now in its third year, is sponsored by Bradford and Wetherby-based bicycle retailer All Terrain Cycles and is organised by Harrogate Nova Cycling Club. Taking place on 1 January at Ripley Castle near Harrogate, the 2016 race features off road cycle racing for all ages and abilities and continues to build on the success of the 2015 event when over five hundred riders competed at what is turning out to be a New Year tradition. The race is now one of the biggest single day cyclocross events in the country and gives riders the change to race at the iconic Ripley Castle venue.
The event course is based around the castle that dates back nine hundred years (in parts), and includes a sector across a gravel courtyard, over a cobbled section and through the wood and grass lands. A popular feature is the specially constructed flyover which allows the course to weave its way around the deer park and incorporate the now notorious ha-ha ditch, which could be best described as cyclo-cross's equivalent to a snowboarder's half pipe.
The day's racing starts with the youth category (12 to 16 year olds) and Go:cross adults at 10:00, followed by a shorter course race for under 12s under 10s and under 8's at 11:00 am before getting into the serious racing at 12:00, when male and female elite riders from across the country, including our own Yorkshire stars Jack Clarkson and Amira Mellor, will be showing us how it's done!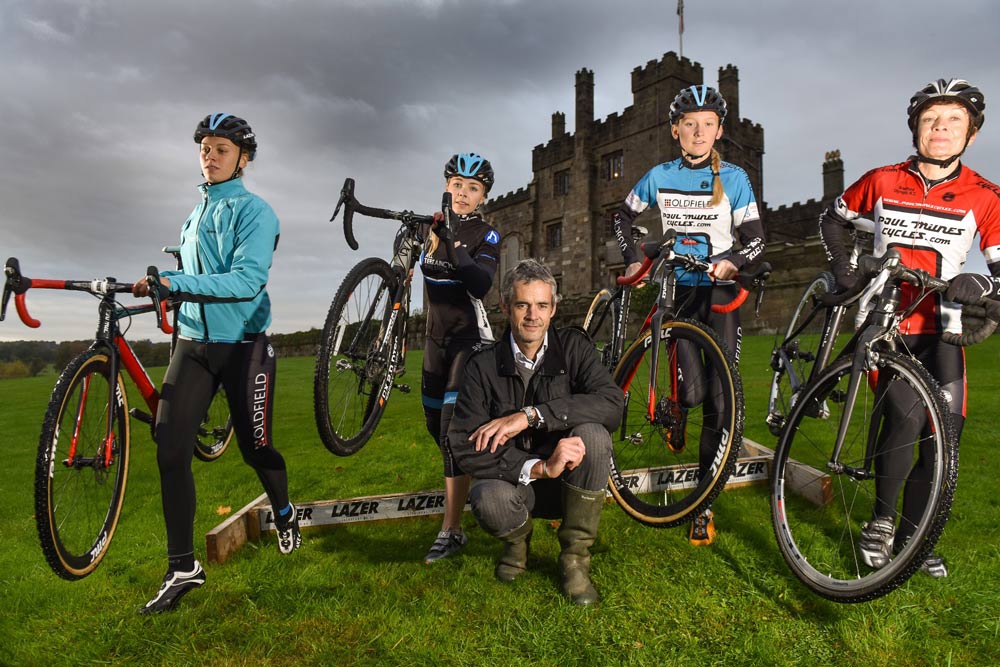 If you want to give it a go then just turn up with your helmet and bike, as long as it is suitable for off-roading, and entry fee and register at least 45 minutes before the Go:cross (adults) or children's races start. Details of races and fees are available on the British Cycling website and all races can be pre entered at a discounted price via the race page on the British Cycling website (except the children's race £2 per entry). This year's Go:cross adult race also features a new fancy dress prize, so why not pull on those Christmas fairy wings and elf costumes before they are put away for another year.
Race director Steve Smales said:

We are all thrilled to be promoting Ripley Castle CycloCross again with the support of the team at Ripley Castle and All Terrain Cycles of Wetherby.

Building on the success of last year's event, we have got another exciting course with some unique features in a great location and with some of Britain's top cyclocross riders taking part, it promises to be an exhilarating days racing.

We are also keen to offer races for children and novice adults to provide the chance for everyone to experience cyclocross, which is the fastest growing branch of cycle sport in the UK, either as a rider or a spectator.

What better way of blowing away the cobwebs on New Year's Day than to come to Ripley Castle Cyclocross, spectators can access the whole course, shout for their riders and enjoy the thrills, spills and mud that make for a great event.
The Castle grounds will be free to enter on the day for spectators and Ripley Castle Tearooms will be serving hot food and drinks. Dogs are welcome but must be kept on a lead.
If you would like to have a go at cyclocross please ensure that you register in the Castle Courtyard at least 45 minutes before the race you wish to enter.
For further details please see www.ripleycastlecx.org.uk Follow us on twitter @RipleyCastleCX and on Facebook
The village of Ripley is accessible by bike via the Harrogate Ripley Greenway route – see:
http://www.sustrans.org.uk/ncn/map/route/harrogate-to-ripley#./harrogate-to-ripley?&_suid=1386143044939043575140585083555 for route details
Harrogate Nova Cycling Club is the oldest cycling club in the town (established in 1971) and has over 200 members of all ages. The club organises a number of events and rides throughout the year including the increasingly popular evening time trial league during the summer. For more details – and how to join see www.harrogatenova.com
Ripley Castle offers a great day out for the whole family. The Ingilby family have lived here for seven hundred years and prospered despite Civil War, marauding Scots, Royal Visitors and ancestors who picked the wrong side! We'd love to share stories of kings and queens, civil war and plagues, secret chambers, the swashbuckling daughter who held a victorious enemy at gunpoint and clandestine love-affairs with you. Explore our Walled Gardens and Deer Park, with your own picnic, take lunch or afternoon tea in the Tearooms, or visit the Boar's Head Coaching Inn for accommodation or a delightful meal.
Timetable of races:
Youth race (12-16) (30 mins) @ 10:00am
Go:cross – Adult novice riders (30mins) @ 10:00am
Under 8's, under 10's and under 12's (15mins) @ 11:00am
Male Vets 40 – 49 and over 50's (45 mins) @ 12:00
Women's race – All categories (45 mins) @ 13:00
Male under 40's and Juniors (17-23) race (1 hour) @ 14:00