A girl from Harrogate was among the winners of the 2015 Yorkshire Young Achievers Awards were revealed to hundreds of guests at Leeds United's Centenary Pavilion last night (19 November 2015).
Eleven-year-old Alicia Donnelly took the Youngster of the Year Award. Alicia has been fighting aplastic anaemia, a rare form of cancer, since September 2014. Treatment meant she had to be isolated for months but this spring she had a successful bone marrow transplant and now hopes to start secondary school after Christmas.
While she was awaiting treatment for her own cancer, she had her head shaved to provide a wig for another child going through chemotherapy, donating her hair to the Little Princess Trust. Her efforts spurred on her classmates at her former school, Oatlands Juniors, to join in, holding a wacky hair day to raise money for the Little Princess Trust, while the salon which shaved her head has raised nearly £800 for the trust too.
The 23rd Awards, sponsored by McCormicks Solicitors, mark the achievements of people aged 35 and under in seven categories, from the Arts to Management and Enterprise, and are organised by the Yorkshire Young Achievers Foundation. The Foundation was established to support young people in Yorkshire and the Awards and other fundraising initiatives have now raised more than £1m.
The Chairman of the Awards, Peter McCormick OBE, said:

We had some prime examples of what it takes to be a Yorkshire Young Achiever, with some fantastic winners in every category, from a student who gave up her spare time to a little girl who gave up her hair, both to raise money for cancer charities.

None of this would be possible without the support of our sponsors, all of whom have been with us for a number of years, and our guests on the night.
The full line up of winners was:
Personality of the Year
Bailey Matthews, eight, of Doncaster.
Bailey Matthews captured hearts across Yorkshire when he completed his first triathlon, despite the challenges of having cerebral palsy.
Competitors at the Castle Howard event in July stayed behind to watch the brave youngster fight his way to the finish line, despite falling on the way, and the subsequent video went viral, having hundreds of thousands of views.
Bailey was inspired to take up sport by his family, including his brother Finlay who is a keen gymnast, dad and uncle who both run and mum Julie who is a sports therapist.
Julie said:

He doesn't really sit still long enough to watch sport, he would rather be doing it!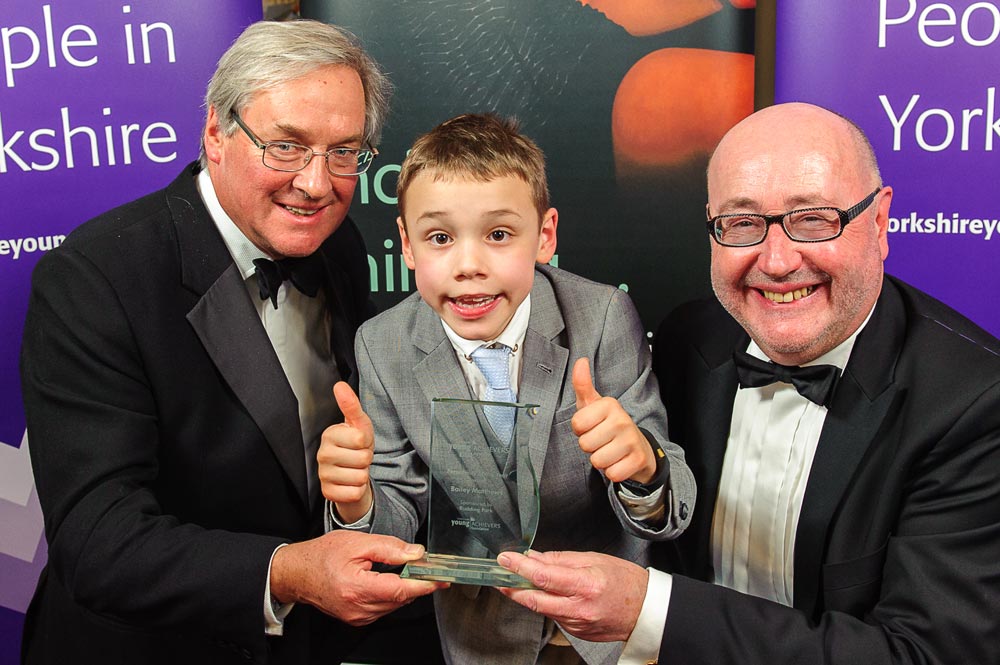 Youngster of the Year
Alicia Donnelly, 11, of Harrogate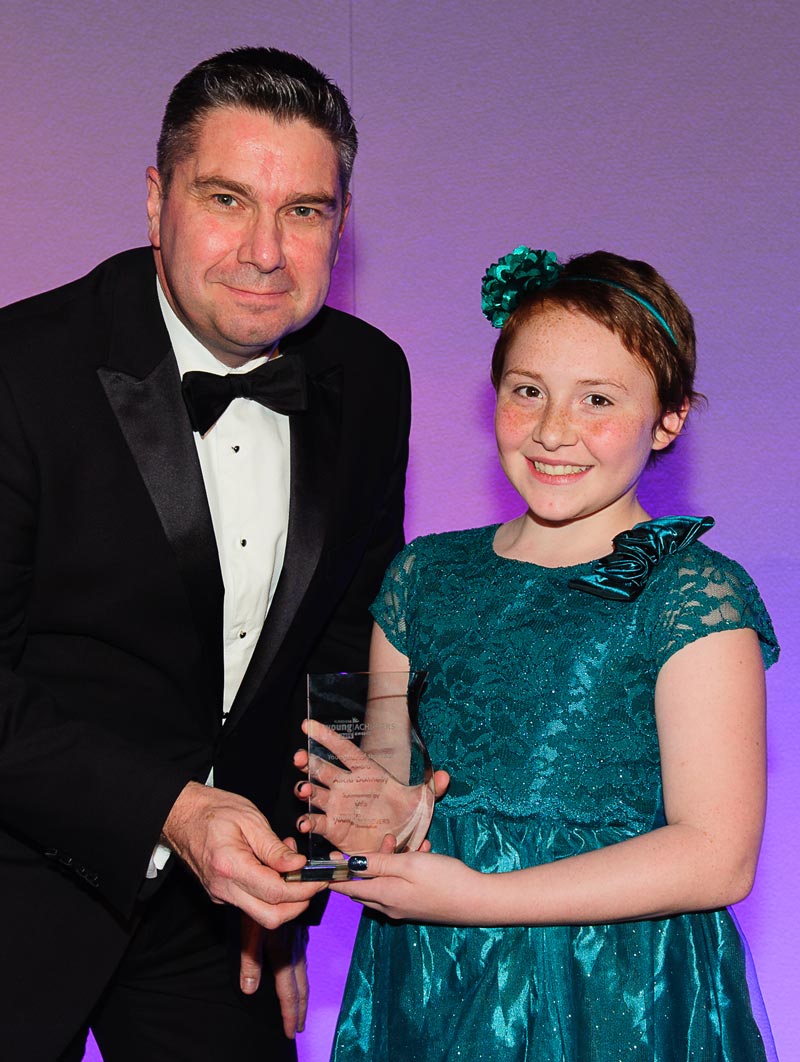 Achievement in the Arts
Daisy Campbell, 12, of Methley, Leeds
Daisy Campbell joined Emmerdale in 2007 and is in her fifth year as Amelia Spencer.
On top of her acting career, she is also a professional dancer, having started dancing at the age of three. She is a specialist in Freestyle, Street and Contemporary dance, holding three national titles in both Freestyle and Street. She trains three times a week, fitting it in with school, filming and attending the Rebel School of Theatre Arts once a week.
Achievement in Management and Enterprise
Mary Benson, 24, of Leeds
Mary Benson is a fashion designer who was brought up as the youngest of five children in Seacroft, Leeds. Her early career efforts included pestering Top Shop to take her on as a designer.
She began making clothes and bags for her friends and her hard work paid off when she had them accepted into shops in the city.
She went to Leeds College of Art before graduating from the University of Westminster last year. Her experience includes an internship with the late, great Alexander McQueen.
As her profile grew, she was a guest designer for the Great Yorkshire Show's ever-popular fashion shows. She made her well-received debut at London Fashion Week last year.
She started her eponymous label in 2013 and among the celebrities who have chosen her designs are singers Paloma Faith and Rita Ora.
Achievement in Sport
Lizzie Armitstead, 26, of Otley
Cyclist Lizzie Armitstead is currently the World, Commonwealth and National Champion.
She took up cycling in 2004 and has gone from strength to strength, culminating in the UCI Road World Championships in Virginia in September this year when she became only the fourth British woman to take the title, following in the footsteps of Yorkshire's legendary Beryl Burton.
After being talent spotted by British Cycling aged just 15, she was initially a track rider and at her first UCI Track Cycling World Cup took home a hat-trick of Gold medals. She has since gone on to claim nine additional Gold medals at the Track World Cup Series, also winning the World Champion Title in the Team Pursuit event.
Her focus switched to road racing and at the London 2012 Olympics she gained a silver medal, the first British medal of the Games. She now rides for the Boels Dolman team and, in addition to the world title, this year's triumphs have included the Tour of Qatar and three UCI World Cups.
Achievement in Education
Sarah Sobka, 18, Sheffield
Sarah Sobka attended Sheffield Girls' High School and, while still at school, completed a four-week research placement at the University of Sheffield where she looked at a drug currently used to treat irritable bowel syndrome to see if it could be applied to treatments for people with cystic fibrosis.
She entered her research into the National Science & Engineering Competition at the Big Bang fair, where she won first prize and subsequently the title, 'UK Young Scientist of the Year 2015.
With an interest in the social issues surrounding gender in education, she worked with P&G this summer, promoting its Always Like A Girl YouTube video and then speaking at its "Confidence Summit" at Google HQ about empowering more girls to pursue science.
She is now in the first year of her medical degree at the University of Sheffield, having chosen that as her base so that she continue with her medical research on cystic fibrosis and other conditions. Her aim is to combine a degree as a clinician and medical researcher.
Unsung Hero
Hannah Wilks, 21, of Leeds
Hannah Wilks is in her fourth year of studying zoology at the University of Leeds, having made the move to Yorkshire from London.
Five years ago her mum was diagnosed with ovarian cancer and, while at home, Hannah helped raise funds for research into the condition. When she came to Leeds she wanted to continue this work so last year she took a 48-week voluntary placement with Marie Curie's West Yorkshire Community Fundraising Team.
Despite working full-time, five days a week, she regularly came in early and left late and gave up many weekends to support fundraising activities, including collecting during the Great Daffodil Appeal and helping out at events. She came up with the idea of asking hospitals to collect for the Great Daffodil appeal and after much hard work managed to get the two biggest hospitals in Leeds to adopt the idea.
Special Award
Jono Lancaster, 31, Normanton
Jono Lancaster won the Unsung Hero category at the Awards in 2011 and has supported the event ever since.
Jono was put up for adoption by his natural parents just 36 hours after he was born. He suffers from Treacher Collins Syndrome, a rare congenital disorder leading to skull and facial deformities and hearing problems. He was bullied at school and taunted in public and rejected for a second time by his biological parents when he managed to track them down.
Despite his problems, he has built a successful and fulfilling life and on the back of that, he is sharing his knowledge with young people who are facing a variety of difficulties. The Foundation has supported him with a grant towards his work with young people in Yorkshire.
He has just returned from a month-long trip across the United States of America where he has met dozens of families with children with Treacher Collins and shared his experiences.