A young horse rider from Harrogate has a Team GB place in her sights after being chosen for its official training programme.
Amelia Moncrieff, 11, is one of just 12 young riders chosen for the Pony Progress Squad, a junior training scheme run by Team GB.
Amelia, who specialises in dressage riding, will attend regular sessions with some of the country's top trainers – and hopes it will help to make her dream career a reality in a few years' time.
Amelia said: I was so excited when I found out I had been chosen.

I went to an event in early September when we had to be viewed by three selectors. I was a bit nervous, but I'm used to going to competitions so it wasn't any more than normal.

Now that I'm in, I can't wait to go to my first training weekend and get started.
The Team GB Pony Progress Squad of just 12 members feeds into the Pony Prime Squad of 11 riders – and four of them are chosen each year to compete for Team GB at the European Championships each year.
Amelia will be travelling to training weekends every month, and will have to fit in homework around her riding commitments. However, she has the full support of Rossett School, where she is in Year 7.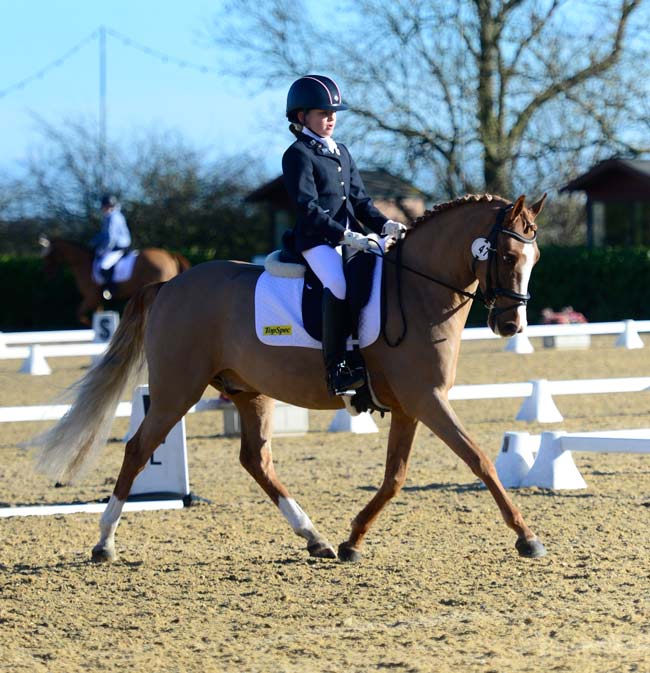 Headteacher Helen Woodcock said: It is fantastic to have such a promising young rider at Rossett and we wish Amelia every success as she embarks on this exciting training scheme.

As a school, we will do everything we can to support her in her academic subjects while she also works towards a career in sport. We have no doubt that we'll be hearing about her success for Team GB in years to come.
Surrounded by horses from an early age, Amelia began riding aged just three and took up dressage at eight, joining the British Young Riders Dressage Scheme (BYRDS). She has been working with her six-year-old pony DST Don't Panic – also known as Ollie – for nearly two years. She has been helped by her mum, Karen, who is an experienced rider and currently competes at Advanced Medium level.
With support from trainer Sonia Bates, Amelia has set her sights at the top level – and has a British gold medal winning Olympian to look up to.
Amelia added: I've had one lesson with Charlotte Dujardin – She's my heroine.

I've also got a mentor called Alex Hellings who went to the Europeans and won an individual bronze medal, so I'm really looking forward to working with her.