Harrogate Rugby Union Football Club (HRUFC) today launches a £200,000 appeal to help cover the remaining cost of its new £3 million home at Follifoot.
The club is urging the district's business community to get behind 'The Cockerel Appeal' as it prepares to move with its 800 plus members to the new ground and clubhouse in January 2015.
The majority of the funding required for the new facilities – which include four pitches – has been secured as a result of the club's deal with developers Crest who bought the current Claro Road ground.
The club and its members have already raised another £135,000 but need a further £200,000 to ensure Harrogate Rugby enters a new chapter in its 143-year history debt-free.
Club president John Finnegan said: This is a very exciting time for Harrogate Rugby Club and the whole of the Harrogate district. The new clubhouse and ground represent a new era for the club and one in which we want to retain rugby at junior and senior level within the Harrogate area for many more years to come.

Our junior section is particularly popular – with 400 members it's one of the largest in the region – and it is for these youngsters and future generations that we committed to moving to a new ground to provide the best playing conditions and facilities that we could.

The club and its members are doing all we can to raise the final amount of money needed and I'd urge the business community to support The Cockerel Appeal and keep rugby very much alive in the Harrogate district.
Harrogate Rugby Union Football Club (HRUFC) was founded in 1871 with a cockerel the long adopted symbol of the club. And to coincide with the move to Rudding Lane, the club has introduced a new official club badge inspired by the vintage crest and incorporating a modern illustration of the famous red cockerel.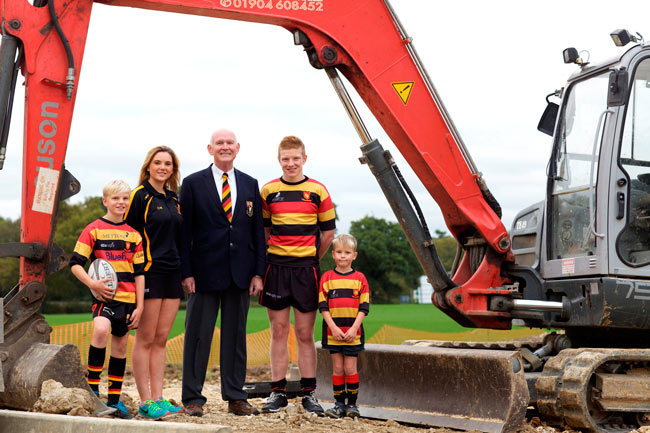 There are many ways to support The Cockerel Appeal – from sponsorship packages to direct donations. The sponsorship packages include match sponsorship, supporting the club's annual junior festival – the largest in the North of England – and the club's annual dinner.
Mr Finnegan added: "Harrogate Rugby Club is a key part of the community and we warmly invite new members and businesses to visit our new facilities and see for themselves what we have to offer the people of the Harrogate district."
To find out more about The Cockerel Appeal and the sponsorship/donation opportunities available, contact the club's commercial chairman Clive Wright: clive.wright@clarityarts.com