Belinda Bauer has tonight (17 July 2014, 9pm) scooped the Theakstons Old Peculier Crime Novel of the Year Award for Rubbernecker.
Celebrating its tenth year, the Award is considered one of the most coveted crime writing prizes in the country.
The CWA 2010 Gold Dagger Award-winning author received glowing reviews for Rubbernecker featuring Patrick Fort, a medical student with Asperger's Syndrome.
Belinda was presented the award by title sponsor Simon Theakston and broadcaster Mark Lawson at the opening night of the Theakstons Old Peculier Crime Writing Festival. The annual Festival, hosted in Harrogate, is the world's biggest celebration of the genre.
She beat off stiff competition from the shortlist of six, whittled down from a longlist of 18 titles published by British and Irish authors over the last year.
Belinda said: This is really unexpected; it feels like a very lucky accident to win this award when my fellow shortlisted authors seem so much smarter than me! I'm delighted. It's a wonderful festival and such a prestigious prize. I'd like to thank the judges who read all the shortlisted books, and Simon Theakston for sponsoring the Festival. I'd particularly like to thank my publishers, Transworld, and my wonderful agent, Jane Gregory.
The 2014 Award is run in partnership with T&R Theakston Ltd, WHSmith, and Radio Times. Belinda collected a £3,000 cash prize, as well as a handmade oak cask provided by Theakstons Old Peculier.
Simon Theakston, Executive Director of T&R Theakston, said: It was a very tough decision as it is every year as all the books on the shortlist were outstanding but I'm delighted to hand the trophy to Belinda.
A special presentation was made to Lynda La Plante – the winner of the fifth Theakstons Old Peculier Outstanding Contribution to Crime Fiction Award.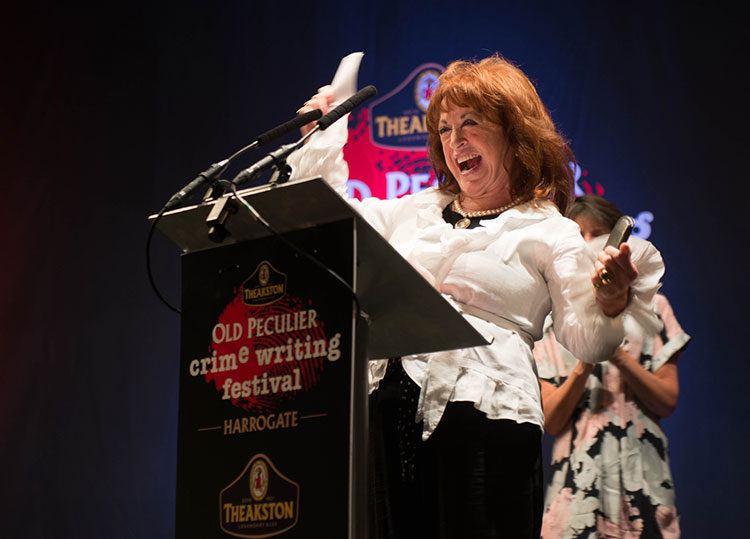 Lynda said: I am delighted to be at the Festival this year and it is a great honour to be the recipient of such a prestigious award. I've decided to dedicate my award to the late Verity Lambert, who had faith in me at the very start of my writing career when she commissioned Widows.

Also to the readers of my books and viewers of my television productions, they give me such enthusiastic and valuable feedback and without them I wouldn't have this wonderful career that I enjoy so much.
La Plante joins Ruth Rendell, PD James, Colin Dexter and Reginald Hill as recipients of the Award.
The Liverpool author began her career as an actress before turning to scriptwriting. La Plante has written over 170 hours of award winning television drama including Widows, Prime Suspect and Above Suspicion. She recently announced she has begun writing TENNSISON, based on her character Jane Tennison (played by Helen Mirren in Prime Suspect), which will follow the character from the age of 21 when she first joins the police force as a WPC.
La Plante's new standalone novel, Twisted continues La Plante's run of internationally acclaimed best sellers.
Simon Theakston added: It's also a great privilege to welcome Lynda La Plante to Harrogate to collect her Outstanding Contribution to Crime Fiction Award. This award acknowledges her huge contribution not only to crime fiction, but to British culture as a whole with her iconic television oeuvre.