Carer Wendy Sonley received a Hero Award at the Trading Standards Institute's (TSI) Conference in Harrogate on Tuesday (1 July 2014) for the significant contribution she made to consumer protection in North Yorkshire.
Mrs Sonley is a carer for an elderly male with Parkinson's Disease. In October 2012 Mrs Sonley discovered that he had repeatedly made substantial payments to an organised crime group posing as property repair tradesmen. Overall he was defrauded of £250,000 over eight years.
Mrs Sonley made a Safeguarding Alert to North Yorkshire Police who referred the matter to North Yorkshire Trading Standards Investigations and Safeguarding team. Trading Standards began an investigation called Operation Opal.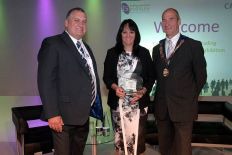 Through Operation Opal, it was discovered that another elderly man with mental health difficulties had been defrauded of £12,200; a woman in her 80s with dementia had lost £18,532; and a couple in their 80s and 90s had been defrauded of £26,638. It was apparent that this gang would have continued targeting elderly and vulnerable people until they had no money left. Indeed, they were found to have committed similar offences whilst on bail.
In October 2013 four members of the gang pleaded guilty to an eight year conspiracy to defraud and associated money laundering offences. In February 2014 they were sentenced to five years, two and a half years, one year and a 15 month suspended sentence. In May 2014, the Court of Appeal increased the sentences for the two main offenders to seven and a half years and four years.
County Councillor Chris Metcalfe, North Yorkshire's Executive Member for Trading Standards said: We are deeply grateful to Wendy for her vigilance and her courage in alerting officers to this terrible crime against a vulnerable and elderly member of our community.

She is an example to all of us of the role we can play in the fight against doorstep crime. Members of the public must not under-estimate the vital role they can play in reporting such offending and doorstep callers to us immediately.
Offenders need to be aware that we are utterly committed to bringing them to justice and using all available tools to target their behaviour.
TSI chief executive Leon Livermore said: As the recent TSI Workforce Survey shows, funding for trading standards services across England and Wales will decline on an average of more than 40% over the lifetime of this parliament.

While we work toward a more consistent funding mechanism, heroes like Wendy play a vital role in helping trading standards officers protect vulnerable members of the community.

I am delighted to present Wendy with a TSI Hero Award, giving it well deserved national recognition both at the level of the individual volunteers and at the collective trading standards level.
The Hero Award is a fantastic opportunity for TSI to celebrate outstanding contributions by individuals or groups of people to consumer protection in our communities.
Every year TSI is deeply inspired by the stories of winners from around the country – their bravery, altruism and hard work, which too often does not receive due recognition – and presents them with an award at TSI's annual conference.