A Yorkshire charity's trainees have learnt the art of tea making from the best in the business – namely Bettys Cafe Tea Rooms.
Charity and social enterprise, Disability Action Yorkshire – who specialise in creating opportunities for disabled people to live the lifestyle of their choosing – brought in the experts to teach its trainees how to make the perfect cuppa.
Staff from the iconic brand behind Bettys Cafe Tea Rooms led the session at the charity's Hornbeam Park headquarters and training centre.
After Betty's training co-ordinator Jo Smith demonstrated her tea-making skills, she then supervised the DAY trainees as they too aimed to make a "nice cup of tea"!
The charity works with people with a wide range of disabilities and, for some, even tasks that seem relatively straightforward can prove difficult but with a little help and guidance they can come on leaps and bounds.
Disability Action Yorkshire's chief executive Jackie Snape, said: "Making a cup of tea is a basic skill that everybody should learn.

With this in mind, we decided to invite the experts in to give us a master class in tea making.

Now, not only are our trainees able to make a cup of tea that they actually enjoyed drinking, they'll be able to make them for friends, family and hopefully colleagues in order to improve their days too.

It's the little things like this that really make a big difference and give people living with disabilities more independence and freedom to live the life they want to – our prime directive.

I'd like to thank Jo very much indeed for sparing the time to visit us, and showing us all how to make the perfect pot of tea.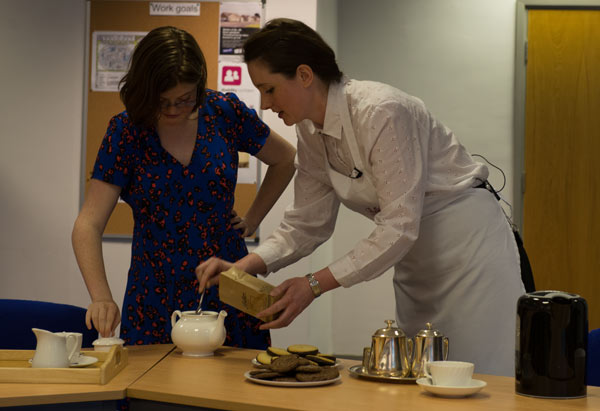 Disability Action Yorkshire, which was founded in 1937, also owns a residential care home on Harrogate's Claro Road for adults, aged between 18 and 65, with physical disabilities.
Last July, the organisation moved its Home Care team from a first floor office in Thirsk into a new, accessible building.
From here, the 30-strong team of home care assistants carry out a wide range of duties and services to people living in their homes in Thirsk, Northallerton, Bedale, Richmond, Easingwold and Ripon.
Main photograph: Jo Smith (centre) shows Disability Action Yorkshire's Imogen Dickinson (left) and Louise Dakin how to make the perfect cup of tea