A Northallerton man has been handed a prison sentence of  four years by Teesside Crown Court for  assaulting a woman while holding her against her will.
Ryan Daniel Elsworth, 21, of Hilton Square, Brompton, was jailed on Tuesday 17 June 2014 after pleading guilty to false imprisonment.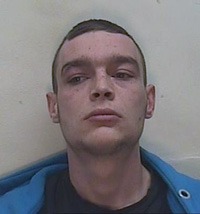 Elsworth was arrested in April 2014 after assaulting the woman by punching, kicking and smearing dog excrement over her face at a property in Brompton.
The assault left the victim, who was 16 at the time, covered in bruises and with a cut, bleeding face. She was heavily pregnant at the time.
Detective Constable Sarah Campbell of North Yorkshire Police's Protecting Vulnerable Persons Unit, said: Elsworth committed a disturbing and sustained assault on his victim who was heavily pregnant at the time.

It has had a lasting effect on the victim, leaving her living in fear for both herself and her baby.

By pleading guilty, Elsworth has at least spared her the distress of re-living the ordeal through a crown court trial.

The victim found it very hard to come forward and report what had happened to her, which is a situation we see all to often when victims of domestic violence are reluctant to speak to the police.

I hope the sentence handed out to Elsworth allows the victim to move on with her life and also gives other victims the confidence to come forward to the police in the knowledge that the police and criminal justice service will take their report seriously and do everything they can to bring the perpetrators to justice.
If you are a victim of domestic abuse, you can get help from a number of agencies.
To report an incident to the police, please call 101, but if you are in immediate danger or your safety is threatened, always call 999.
North Yorkshire Police have specially trained officers and work with many partner agencies to provide support and advice through any legal proceedings as well as helping victims with housing, safety planning and help for the perpetrator to address their offending.