A couple who first met under a clock in Harrogate's Royal Hall have returned to the spot to celebrate their diamond wedding anniversary and unveil a new timepiece at the theatre.
The family of Jim Alderson, 87, and wife Joan, 84, funded the new clock in honour of the pair, who met at a dance in the historic theatre, during the Second World War.
Joan said: It was 1945 and I was still at school but had gone to the Saturday dance with my sister at The Royal Hall.

Because I was very tall I didn't sit down at dances because I didn't want the men, who weren't as tall in those days, to get a shock when I stood up.
Joan said she was standing by the clock, which was then to the left of the Royal Hall's stage, when she caught the eye of a young soldier.
Jim said: I spotted her standing there and I thought 'she's nice and tall'. I was six-foot-two back then and thought there wouldn't be any competition.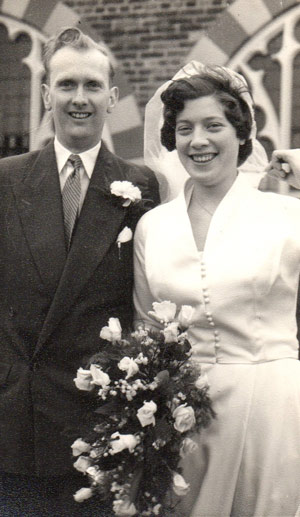 The couple shared their first dance that night but, with Jim posted to the Far East and Joan leaving school to pursue a career in nursing, it wasn't until three years later that they met again at a whist drive and dance evening in Woodlands School.
Joan explained: I remember seeing him and thinking 'who's that nice-looking man in the uniform?' He asked me to dance and we both said 'I know you, don't I'.
Jim and Joan were married on June 2, 1954 and went on to have four children, Elizabeth, Kevin, Jane and Sarah. They also have 13 grandchildren and three great grandchildren.
As well as that first fateful meeting at The Royal Hall, the couple both share strong links with the theatre. Jim's great aunt, Mary Elizabeth Alderson sung at the hall when it opened, under her stage name of Madame Goodall.
Joan still works as volunteer usher at The Royal Hall and has appeared on stage alongside daughter Liz, in various pantomime productions.
Liz said a new clock seemed like to perfect way to mark her parents' anniversary, after the original was removed during the recent the latest restoration work.
It was unveiled by Jim and Joan on June 7 in a surprise ceremony which was also attended by all but one of their grandchildren. The couple then enjoyed a meal at Bettys – the location of their wedding reception in 1954.
Andy Lane, Royal Hall event planner, said: I discussed the clock with the Restoration Trust and they thought it was a really nice thing to do. We want to celebrate local links.

The whole thing was a surprise to Jim and Joan and we arranged to have flowers and champagne for them and also seats for that night's performance.