Two hairdressers from leading Harrogate salon Halo Hair and Beauty have reached the UK and Ireland Finals of the hairdressing industry's most prestigious competition.
Kirstie Bowdin and Natalie Garcia Sanz are two of just 36 hairdressers from across the UK and Ireland to make the finals of the Wella Professionals TrendVision Award 2014.
The annual competition received more than 900 entries, and, following the regional heats in Manchester last week, Kirstie and Natalie won their individual categories – Young Talent and Colour – to reach the finals.
Created to discover and acknowledge the industry's most skilled hair stylists and colourists, the TrendVision Award focuses on all aspects of hair styling and colouring. Judges include the UK's leading hair icons Nicky Clarke, Darren Ambrose and Claire Chell.
The Young Talent Category is open to stylists under 30 years old to showcase their styling, technical and finishing skills, whilst the Colour Category gives colourists of any age the opportunity to express their creativity and put their colouring skills to the test.
Natalie and Kirstie, who joined the Leeds Road, Harrogate, salon 12 months ago, are delighted with their success – and are looking forward to the UK Finals being held at London's Roundhouse in October.
Joseph Ferraro (main photograph), owner of Halo Hair and Beauty and 2014 Hair Awards finalist himself, is very proud of his stylists' success.
Joseph said:Wella TrendVision is the UK's most prestigious competition and Natalie and Kirstie were up against some very tough opposition.

For both of them to win their individual categories is fantastic news and a testament to their talent and creativity. I feel very proud of them, as does the entire team at Halo Hair and Beauty.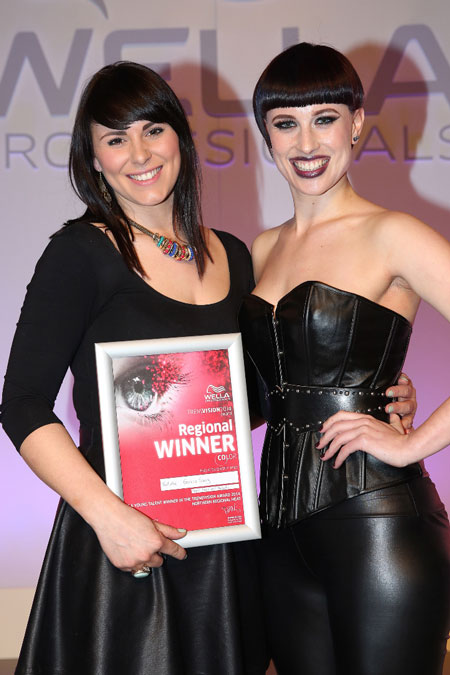 If Kirstie and Natalie win the UK and Ireland finals, they will take part in the International TrendVision Award, due to take place in Monaco in November 2014.