MORE help is on the menu for the growing number of children in Harrogate and Ripon who give up their time to look after a loved one who is ill or has a disability.
To mark the launch of its charity cookery school, The Square bar and restaurant on Princes Square has created a special signature dish that will benefit hundreds of young carers.
It will donate £1 for every Chateau de Campugnet ordered – plus proceeds from the cookery classes – to Soroptimist International of Harrogate and District, whose members were the first to sample the new dish.
The Club is part of the worldwide women's organisation, and it is supporting President Andrea Trimmer's chosen charity, Young Carers, by raising money for young carers at the Carers' Resource, a charity with offices in Harrogate and Ripon that has offered a wide-range of specialist support to young carers for more than a decade.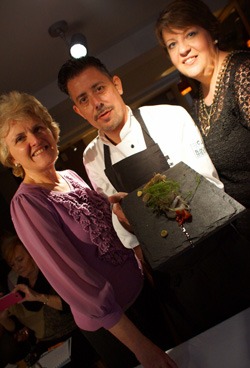 Darren Gladman, the award-winning head chef and proprietor of The Square, said: We are a small independent restaurant and always wanted to give something back to local people of Harrogate and Ripon.

We want The Square to be more than just a place to eat, offering cookery classes and the chance to learn simple dishes. This is a great way for us to engage with our customers – and to be able to support such a worthwhile charity at the same time makes it even more special.
Anne Wells, events and fund-raising coordinator for the Carers' Resource, said: Our community has a growing number of young carers looking after a parent, brother or sister and we provide them with support in many different ways.

This includes one-to-one mentoring at difficult times, to arranging fun trips and a youth club to give them a break from the day-to-day pressures they face.

We are grateful to both The Square and the members of Soroptimist International for cooking up an initiative that will help us to add an extra dimension to the lives of these children and support them in achieving their full potential at school and later life.
Darren's created his charity dish from a recipe including drum of beef fillet wrapped in bacon ,basque stew, tapenade mash, bacon crackling, chorizo, peppercorn, Roquefort and wild garlic oil .
It took the starring role in a cookery demonstration that also showed Soroptimist members and other guests how to cook a cod carpaccio; sea bass chowder; king and queen scallop salad; pickled oysters with a glazed sabayon; and mussels cooked penguise style catta planna.