Hundreds of business people from across Yorkshire flocked to Harrogate on Monday for the 10th annual Yorkshire Business Market.
With more than 100 organisations exhibiting and a programme of seminars and networking events running throughout the day, the hundreds of visitors had more than enough to keep them busy.
Held at Pavilions of Harrogate, the event was packed from first thing in the morning until it closed at 4.30pm. It was officially opened by Andrew Jones, MP for Harrogate and Knaresborough, who told the gathered crowd that it was a significant event in the town's business calendar.
Andrew Jones MP said: This event is now in its 10th year, and it has been growing over that time – in numbers attending and especially in its status, to become one of the major business event of the north.
Since we met at the Business Market last year, much has changed. The business environment had been improving for a couple of years, but that pace has quickened markedly.
The purpose of this event is 'promoting Yorkshire business'. It is clear to everyone visiting or exhibiting here today that there is much to promote.
The range of organisations here is fantastic – the products and services available fantastic. There are opportunities here to reach people – contacts old and new – and to learn from the business seminars.
The track record of the Yorkshire Business Market is of proven success.

Mayor of Harrogate, Coun Michael Newby

Welcoming guests, the Mayor of Harrogate, Coun Michael Newby, said: Yorkshire Business Market provides an opportunity to actually see people, look them in the eye and chat with them normally, rather than doing it all online.
I would like to thank everyone involved in organising the event – all those in Harrogate Chamber of Trade and Commerce. I'm looking forward to meeting lots of people here."
The leaders of Harrogate Chamber of Trade and Commerce said the number of people registering in advance to attend from across Yorkshire showed the reach the event has achieved in its first decade. Hundreds of business visitors also turned up on the day to take advantage of the chance to find out about more than 100 organisations represented in the exhibition halls, or pick up tips from experts in the seminar rooms
Chamber President Sandra Doherty said: Yorkshire Business Market has a fantastic reputation among companies across the region and this year's event has reinforced the reasons why.
As I visited the rooms, I was told repeatedly how important the day is in the business calendar and how much it brings to the exhibitors. There was a real feeling of positivity and a sense of anticipation from people in a huge range of sectors.
If Yorkshire Business Market is representative of the wider business economy, which I believe it is, then we can look forward to an excellent year in Yorkshire.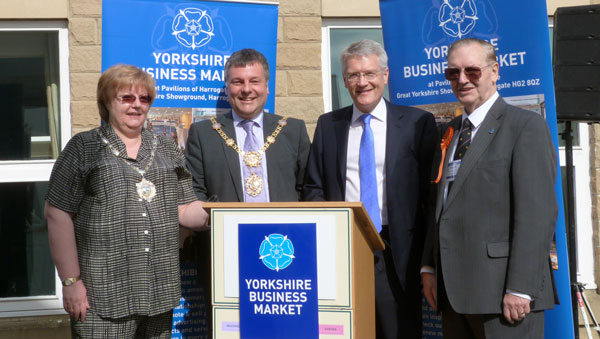 Chamber Chief Executive Brian Dunsby added: A huge amount of work goes into organising Yorkshire Business Market. To see the halls packed on the day with hundreds of people making new contacts and preparing to do business makes it all worthwhile.
We hope everyone who joined us will follow up on the many useful contacts they have made and that today's hard work will contribute to a growth in business over the coming weeks and months.