Thousands of volunteers are preparing for the ride of their life after being selected as the first ever Tour Makers for the Tour de France in the UK.
The Tour Makers will be the volunteer force that will welcome millions of visitors when the Tour de France Grand Départ begins in and races around Yorkshire for two days and a third stage from Cambridge to London.
Now, official applications have been completed and almost 12,000 people have been named as successful applicants and will become a Tour Maker.
The ground-breaking Tour Maker project is a first in the history of the Tour de France's Grand Départs.
The next step for volunteers is to complete an online event training module before attending the motivational training and uniform collection days in May and June.
Mr Amaan Sadiq, 18, from Harrogate, is volunteering alongside his family members and said: I'm really pleased to be selected as I like to give back to the community, so it promises to be really good. I'm really into sports like football, badminton and squash, so hopefully after the event cycling's next on the list! It's going to be so exciting – instead of watching it on TV, I'll be part of it.
New Tour Maker, Mrs Heather Smith, 47, from Wetherby, said: I am so excited about this opportunity and I'm hoping to be a flag marshal so my friends and family might see me on TV! I am very much into cycling and cycle myself – I'm hoping to do the Brownlee Triathlon later this year so busy training at the moment. I've only ever seen the Tour on the TV so to be part of making it happen will be great.
New Tour Maker, Ms Becky Clarke, 35, from Bingley, said: It's so exciting! I was really hoping to be chosen as I've watched the Tour for years and my dad's a big, big fan. I'm so excited it's coming to Yorkshire and I'm involved, it's going to be very special and a great privilege.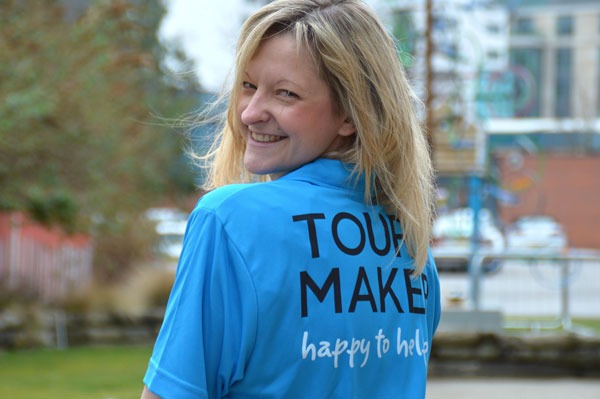 Gary Verity, Chief Executive of Welcome to Yorkshire, the agency who led the winning bid to bring the Tour de France to Yorkshire and devised the Tour Maker idea, said: The response since day one to the Tour Maker project has been unbelievable, with so many people wanting to be directly involved with this historic event. This project is now becoming a reality – and whatever role a Tour Maker plays wherever that is, they can say for years to come 'I was there and I helped make it happen'.
Tour Maker roles include wayfinders at transport hubs, route marshals, flag marshals and crossing marshals along the route. Volunteers will be allocated roles by the TDFHub2014Ltd who are delivering the Tour Maker programme.
Nicky Roche, chief executive of TdFHUB2014 Ltd, which is managing the Tour Makers, said: I'm delighted that we now have our 12,000 Tour Makers for Stages 1, 2 and 3. The team look forward to working with them and getting to know them over the next few months as they go through the training process. The standard of applications was incredibly high, and I know that come July we will have a team of incredible, talented Tour Makers ready to welcome the world to the Tour de France in the UK.
Grand Départ of the Tour de France takes place in Yorkshire on the weekend of the 5th and the 6th July. The first stage races from Leeds to Harrogate via the Yorkshire Dales National Park and the second stage races from York to Sheffield via Pennine Yorkshire and the Peak District National Park. A third stage also takes place on the 7th July racing from the cycling city of Cambridge to historic heart of London before it returns to northern France.
Tour Maker applicants with any questions can contact the dedicated team on questions@tourmakers2014.com or call 0844 848 4517.
Main photograph: Tour Makers Becky Clarke, Vijay Dayalji and Claire Brown