North Yorkshire Police have led a nationwide investigation, with assistance from Trading Standards officers, into the activities of a number of conmen from the Newark area.
The trio operated across the country and were arrested in Ripon by North Yorkshire Police after a resident became suspicious about the men's claims and quality of work.
Two of them were today (Thursday 30 January 2014) jailed for a total of nine years after conning 48 elderly victims out of tens of thousands of pounds.
A third man was given a suspended sentence and ordered to carry out unpaid work.
Today, at York Crown Court, William King, 35, of Sandhill Sconce, Tolney Lane, Newark was sentenced to six years' imprisonment having previously pleaded guilty to charges of fraud by false representation and conspiracy to defraud. He was given three years for the offences highlighted below and three years for separate offences committed in Surrey and Kent but were delayed for sentence until today. (Dealt with by a separate investigation).
Gavin James Findley (pictured above), 30, of Elizabeth Road, Newark was sentenced to three years' imprisonment after previously pleading guilty to charges of fraud by false representation and conspiracy to defraud.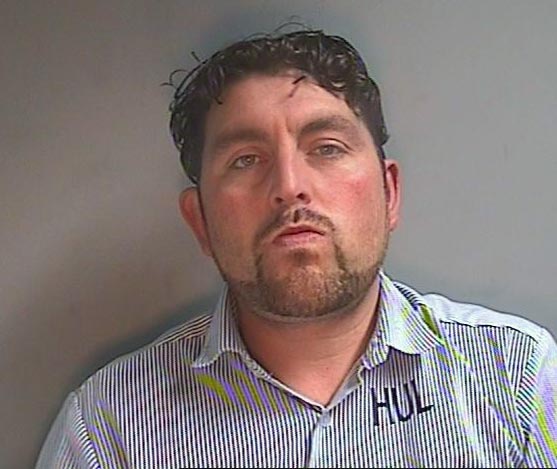 20-year-old Todd Berridge now of Marshland Drive, Holbeach, Spalding, Lincolnshire (previously of Tonley Lane, Newark) was given 12 months' detention, suspended for 24 months and ordered to carried out 180 hours of unpaid work. He had previously pleaded guilty to charges of aiding and abetting King and Findley.
The victims lived in:
Ripon, North Yorkshire
Honiton, Devon
St Austell, Newquay and Bugle, Cornwall
Tupton, Derbyshire
Warrington, Cheshire,
Newbury, Berkshire
Coleford, Gloucestershire,
Mansfield and Newark, Nottinghamshire
Sunthorpe, Humberside (only King was involved in the Humberside crimes).
His Honour Judge Shaun Spencer commended the officers who dealt with the case for their professionalism, tenacity and resilience in bringing the case to court. They include North Yorkshire Police's Detective Constable Lesley Raffan and Detective Sergeant Fionna McEwan and Detective Constable Angela Galasso from Devon and Cornwall Police.
The gang targeted elderly people living in park mobile home sites in the UK, claiming that work needed doing to their property.
They then went on to quote excessive amounts for this work which was then carried out on the spot. They "traded" under the name of Quality Park Homes and Modern Park Homes.
The conmen took in total, around £100,000 from their unsuspecting and trusting victims.
Investigating officer, Detective Constable Lesley Raffan of Harrogate CID, said: These men targeted vulnerable, elderly people and took advantage of their trusting nature. They acted with impunity across the country often targeting several people in one neighbourhood.

Thanks to the vigilance of a Ripon resident who did exactly the right thing by calling the police, the men were caught and brought to justice. They deserve every minute of their jail sentence which gives them ample time to reflect on their despicable crimes.

Our advice to anyone who is approached by cold callers is simply do not buy anything from them. They may appear charming and will try to talk you into agreeing to the work, but please do not be taken in by them.

If you need some work doing, always use recommended tradesmen. Speak to trusted friends, neighbours or family and ask them to help you select a company.
Remember, if you are not sure who is at your door, don't open it. A genuine caller will not be offended by this. Not sure? Don't open the door!
A typical scenario involved the suspects offering to insulate the underneath of a chalet for a relatively modest fee of £200 or so. Once underneath the chalet, they claimed to have discovered rotting supports or beams which were in need of replacing. In some instances, they have identified "problems" with the roof.
They also offered to carry out block paving work, operating under the name of King's Paving. Once they started the work, they claimed further drainage work was required and quoted inflated prices for the work.
The suspects insisted that the victims pay them with cash in advance, and have in some cases escorted their victims to the bank to withdraw the money.
After being paid, the suspects have either not completed the repair work – which was not needed in the first place – or not done the work at all. In some cases they have actually caused damage and then not repaired it.
Any work that was carried out was always to a very low standard with inappropriate materials being used. In some cases, the victims have had to pay for further remedial work to repair the damage caused by the gang.