Chainsaw carvings in Ripon Spa Gardens have been created depicting characters from Lewis Carroll's Alice's Adventures in Wonderland.
Using the trunks of thinned out cypress trees, Harrogate Borough Council's Parks Team commissioned Lincoln's Chainsaw Mick to create the carvings. The brief was to make the connection with the city's famous son Charles Lutwidge Hodgson (1832-1898).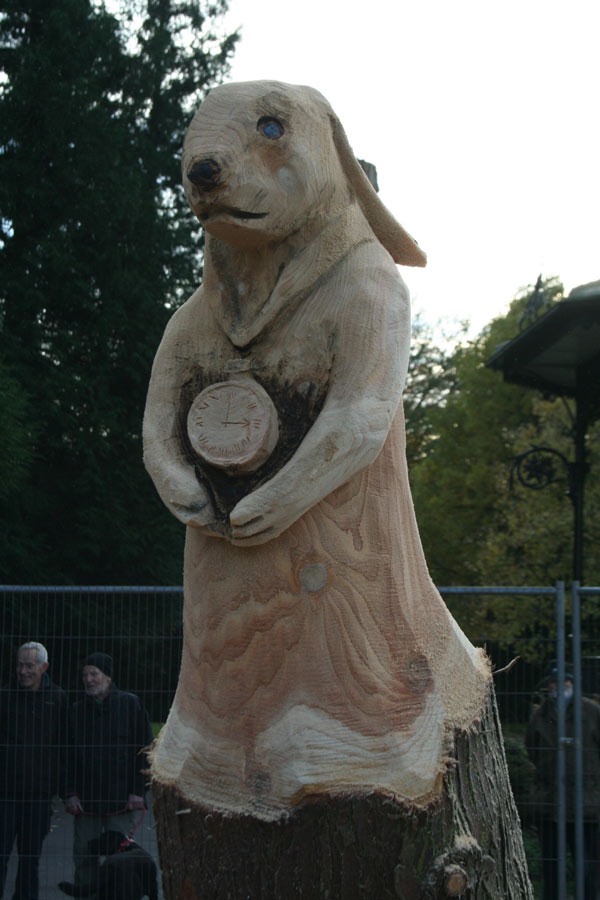 Charles, who millions of young people will know by his pen name Lewis Carroll, was a regular visitor to Ripon during his father's time as the cathedral's canon in residence.
Legend has it that the inspiration for Alice's Adventures in Wonderland came from the time Carroll spent as a choirboy in Ripon Cathedral. He would stare at the cathedral's animal carvings whilst rehearsing or singing with the choir. And it is said that the idea of Alice following White Rabbit down his hole came from the tunnel leading to the cathedral's underground crypt.
As well as a very life-like Alice, these garden sculptures include Caterpillar and White Rabbit, whose pocket watch has stopped this time giving him time to 'stand and stare' with his only 'important date' to bring pleasure to visitors to this award winning park in the heart of Ripon.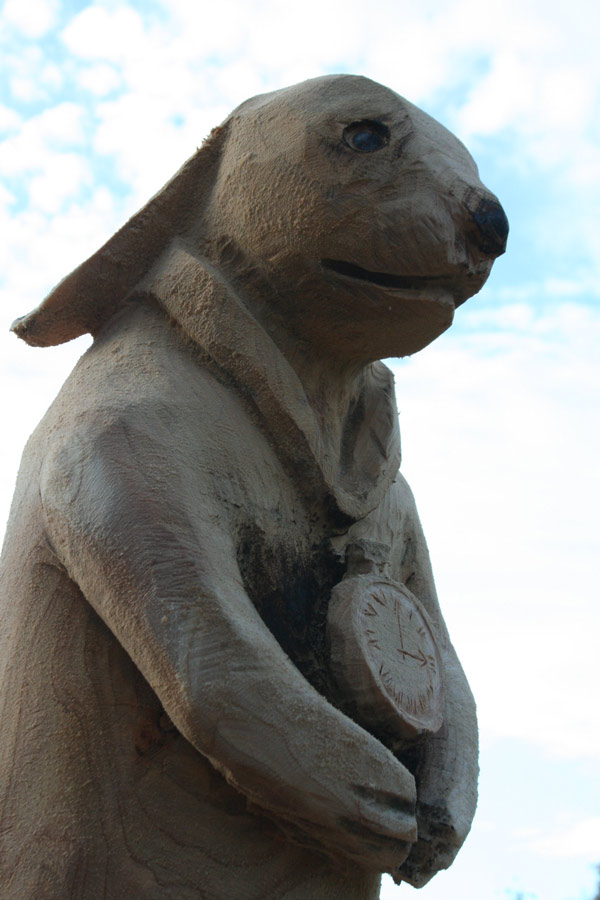 Patrick Kilburn, Harrogate Borough Council's Head of Parks and Open spaces said:

We are very proud of Ripon Spa Gardens which has been awarded 14 consecutive Green Flag Awards.

They may be small but they are packed with things to do – including an excellent café, beautiful floral arrangements, pitch and putt and a pristine bowling green.

I hope we can build on the Lewis Carroll connection to the city and be an attraction for visitors from home and abroad. By the time of his death, Alice had become the most popular children's book in England, and by 1932 it was one of the most popular in the world.